Hariyali paneer tikka
is a restaurant style
paneer recipe
, i tasted this last year  in a restaurant, when we visited New Delhi. I have noted down that i should try this hariyali paneer tikka at  home. Recently came across thsi recipe of paneer tikka in a old cook book which i had with me. Incidently, I had all the ingredients in hand  and made this yesterday on a rainy day. I altered the original recipe according to suit my taste. I have made this hariyali
paneer tikka on stove top
. I have given the options to make this recipe in oven and microwave oven too. Please check the notes section to see
how to make paneer tikka in oven and microwave
too.
Check out my
Tandoori gobi recipe
, which is similar to this recipe. I have also tried a veg tikka recipe which i will post it soon.
Hariyali paneer tikka
  Preparation Time : 20 mins | Cooking Time : 20 Mins |   Serves : 4
     Paneer cubes       250 gms 
     Coriander leaves     1/4 cup
     Mint leaves      1/4 cup
     Palak        5 leaves (optional)
     Besan | gram flour  2 tsp
     Onion      1
     Green chili  1
     Thick yogurt     2 tblsp
     Garlic     3 pods
     Kasoori methi   1 tsp
     Garam masala     1/2 tsp
     Oil      2 tblsp
     Chaat masala   a pinch  
     Capsicum | bell pepper  few cubes 
     Salt     as needed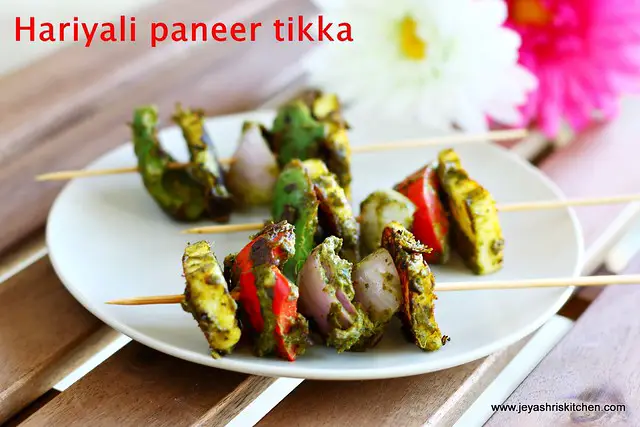 Method:
Cut the paneer ,onion and capsicum into cubes. Half onion will be enough for this.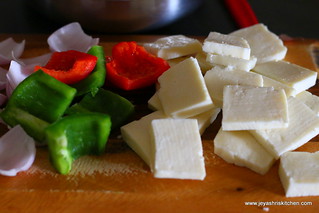 In a pan add oil and the green chili, kasoori methi, garlic pods, remaining onion and saute till the onion turns nice brown colour. Keep the flame into very small and add the coriander leaves and mint leaves. If adding palak add that too.

Add the besan and garam masala too.

Allow this to cool and grind this into a smooth paste . While griding add the yogurt and salt to this.
Add this ground paste to the paneer cubes.

Marinate this for 30 minutes to 1 hour. I didn't marinate as i started very late and wanted to finish clicking before kids come back from school.
Before making add the capsicum and cubed onion.
In a non stick pan or tawa sprinkle few drops of oil and place the paneer cubes and capsicums and onions . Do not crowd the pan.

Cook on both sides till golden brown. Always ensure the flame is low. Else the paneer will get burnt fast.
Wash the skewers and arrange the paneer on the sticks.
While serving sprinkle a dash of chaat masala. This will enhance the taste of the paneer tikka.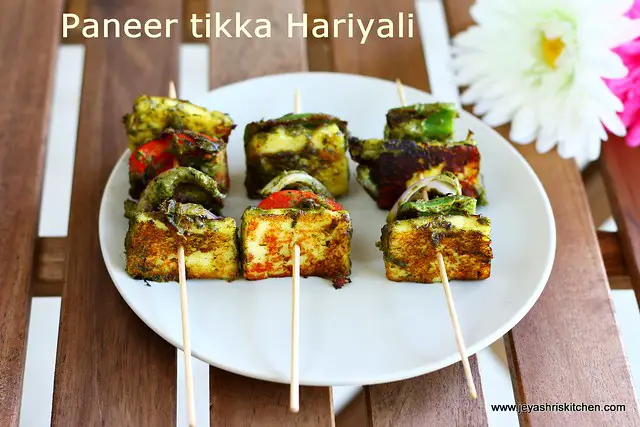 Notes:
This paneer tikka can be made in microwave or a baking oven.
If using a baking oven, soak the skewers in cold water for 30 minutes.
Arrange the marinated paneer in the wooden skewers and place it in a greased a oven proof tray and brush with little oil.
Bake for 5 minutes and turn it on the other side and bake for 5 minutes.
Do not over bake else it will turn chewy.
If using microwave oven do not put this in a skewer , just place the marinated pieces in a microwave safe plate and cook in high for 5 minutes or till it turns brown on the edges. Turn it and cook for another 5 minutes.
Timing differs from oven to oven.
You can add tandoori masala to give and extra flavour.
Instead of yogurt you can add sour cream. Addition of 1 tblsp of fresh cream to the marination will make the paneer tikka more richer in taste.
If don't have cream you can add few cashew nuts while sauting the onion and garlic. And grind along with all the ingredients.