Masala dosa rolls , yes even i was wondering how i become so innovative. Generally i am not a creative person to make fusion recipes. When i tried channa pulao when Varsha was 3 years old, those days we don;t have internet to see innovative recipes and i don't have any cookbooks with me too. I thought i have discovered something new and felt very happy. This bread masala dosa roll gave me the same feel . This is a quick and easy snack recipe ,can be made for kids snacks box or for lunch too. Even can be made for evening snack when the kids are back from school.
Last weekend i went to chennai for 2 days to attend a function. While returning back i finished all the airport formalities so qucikly and was waiting in the airport for 2 hours . It was 12 am in the night and when i was sitting and thinking this idea flashed me. I was just thinking about the sweet french roll ups recipe which i have seen in a magazine in Higgin bothoms book shop in airport. Then this idea suddenly flashed up. So i tried it yesterday and it was a super hit at my place. Check out my other
easy snack recipes using bread
too.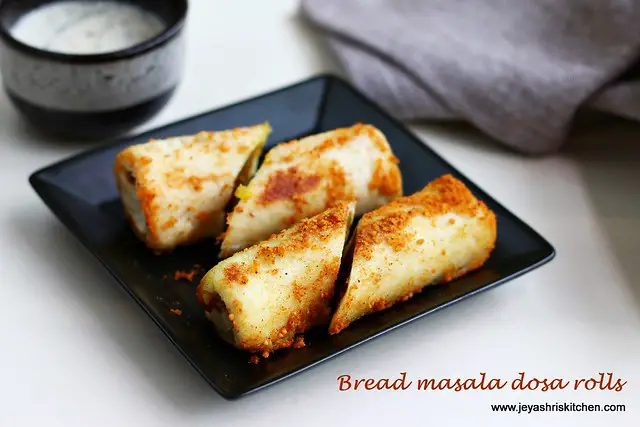 Method:
Mash the potato curry with the fork nicely. So that it will be easy to stuff and roll.
Trim the edges of the bread and roll them using a rolling pin. Just roll it once on all sides.

If the filling is hot, allow this to nicely cool. Place a tblsp of the filling in the edge of the rolled bread. Roll this gently and tightly . If needed slightly apply water in the edges and cover it fully. else the masala will come out while dipping in batter or while cooking it.

Dip this in dosa batter and immediately and trasnfer to a tawa or a pan and drizzle few drops of oil to this .

Cook on all sides in a medium low flame till it becomes nice golden brown colour.
Once done, take it out from the tawa and roll it in the molagapodi and serve this .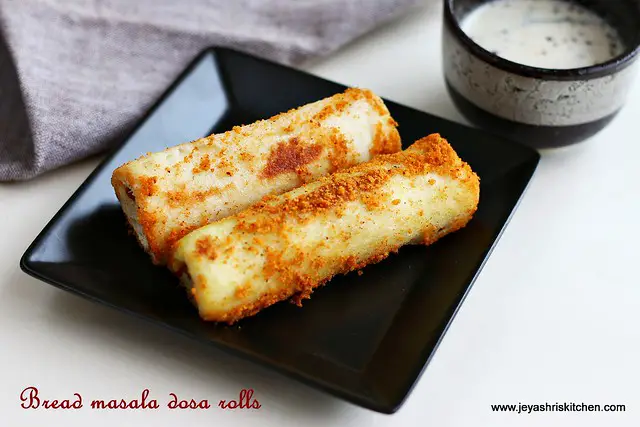 Notes:
While rolling the bread after placing the filling, roll it tightly and also gently do it.
Feel free to make the filling of your own. It may be italian, mexican, north indian….
Even after 3-4 hours these rolls stayed nice and tasted well.
To make it more healthy use wheat bread and for a chane dip in Ragi dosa batter
You can serve this with tomato sauce too.