How to freeze legumes
How to freeze legumes | dried beans
Ingredients
1

cup

Rajma| Chole | black bean each
Video
How to freeze legumes | Frozen beans, post updated with full video and detailed tips.
Salads always find a place in my everyday meal. I just take a little portion of some salad into my food daily. After registering into this Bluetiful world, almost all days my dinner will be salads. That doesn't mean i am crash dieting. I eat rice for lunch but everything in moderate quantity. The salad is quite filling one. I add a portion of legumes into the salad to make it more filling. Also for vegetarians, dals and legumes are good source of protein. So to make your salad filling and healthy legumes such as chickpeas, rajma, black channa etc. But the main problem with me is i keep on forgetting to soak the legumes overnight. Once a friend of mine told me she always soak in bulk and freeze it so that whenever kids ask her for chole, rajma masala or kala channa masala it will be easy for her to do. From that day i am using the same technique for my salads. Later i started telling to my friends who are registered to this bluetiful world. Then thought i can post this here, so that many of you can be benefited by this.  Check out my post on  salad dressing ideas. Also check the other salad recipes in jeyashris kitchen.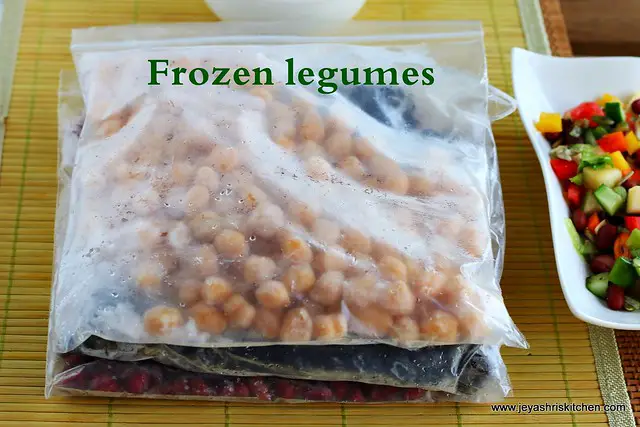 Method:
Soak the beans overnight separately in a wide bowl. I used rajma, chickpeas and black beans. You can use peanuts, black channa and any other legume of your choice.

Next day morning, wash it nicely and drain the water completely.  Drain the water in a colander and keep it for 5 minutes.

Put them in a separate zip lock covers and keep it inside the freezer. Keep this flat inside the freezer, so that it will not stick to each other after frozen and easily you can take them out too.

This can be kept inside the freezer for 1-2 months. Whenever you want you can take out the required portion and freeze it back.
I mostly use this frozen beans for salads.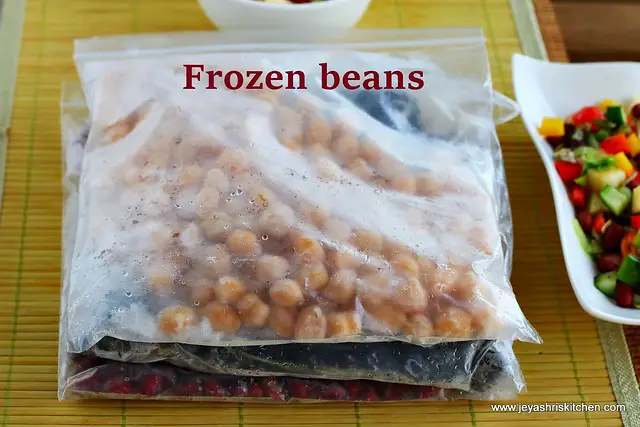 Notes:
If you are cooking the beans and freezing it use it in 2-3 days.
Freeze it once it is completely cool.
You can freeze karamani, mochai, thatta payaru, green peas, white peas also like this and store in the freezer.