How to make vathal kulambhu with instant podi.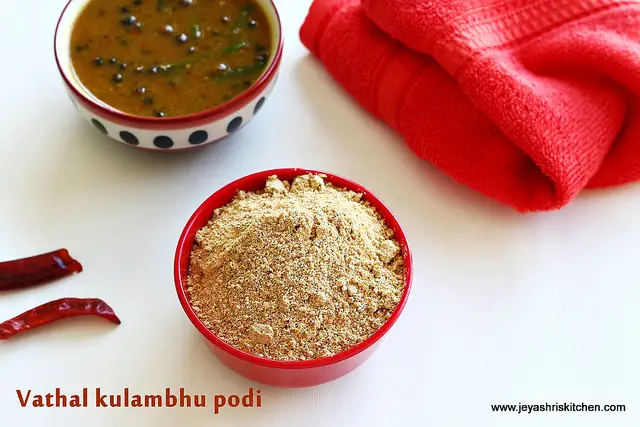 Those who follow Jeyashri's kitchen regularly, know that i have started the Indian kitchen basics , Microwave recipes and Bachelor recipes, few weeks back. Check out this series  
HERE .
This week i am posting the instant vathal kulambhu podi. Just add this powder to the tamarind paste and water and bring it to a boil, yummy vathal kulambhu is ready. It was very flavourful. you can make puliyodarai with this podi too.
Check out my other authentic Vathal kulambhu recipes too.
Arachuvitta Vathal kulambhu
Vengaya Vatha kulambhu
Ingredients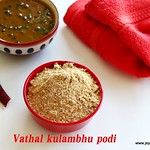 Preparation Time
: 15
 mins
|
Cooking Time
: Nil |
  Yields
 1 cup
For making podi
     Toor dal   3 tblsp
     Coriander seeds  3 tblsp
     Channa dal    3 tblsp
     Urad dal        1 tblsp
     Red chilli        7-8
     Black pepper   4-5
     Vendayam (methi seeds)   1 tsp   
For making Vathal kulambhu- Serves 2
  Tamarind paste            1 and 1/2 tbslp
  Water       1 and 1/2 cup
   Instant vathal kulambhu powder   2 tblsp
   Sesame Oil  2 tsp
   Mustard seeds   1/4 Tsp
   Salt     As needed
   Turmeric powder  1/4 tsp
   Asafoetida   a pinch
   Any veggie or vathal of your choice  
  Curry leaves    few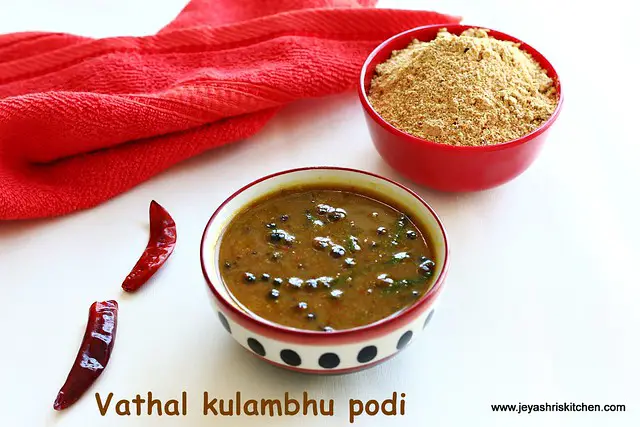 Method:
  Dry roast all the ingredients without getting them burnt.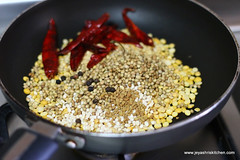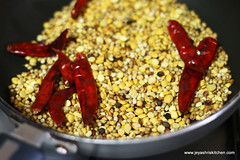 Allow this to cool and grind it into a fine powder.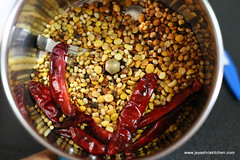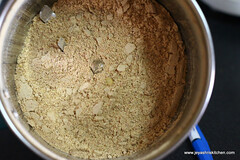 Let us see how to make vathal kulambu with this instant vatha kulambhu podi.
In a pan add sesame oil and throw in the mustard seeds.
Add the veggie or vathal (i used manathakkali vathal).
Add tamarind paste and water.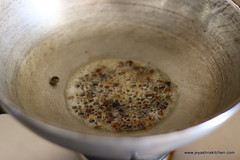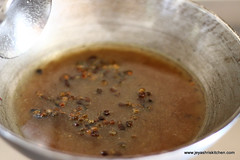 Add the instant vathal kulambhu podi, salt , turmeric powder, salt and asafoetida.
Bring it to a nice boil till it reaches the gravy consistency.
Switch off the flame and add curry leaves.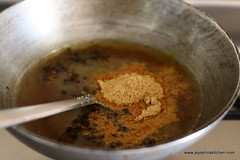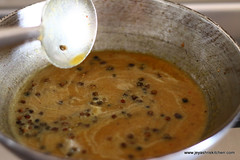 Enjoy with hot rice and a roasted papad.