Tea, so many of us make tea as a routine basis everyday. In our home me and Suresh take plain tea every morning. I always love this ginger-cardamom tea, especially after a heavy breakfast or an deep fried tea time snack. I never keep any proper measurements for making tea on daily basis. I hope it is with the case of every one of us. When we do on a daily basis it will easily come for us. For my tea generally i add milk more and water will be less. If you prefer the tea to be bit light, that is more of water and less of milk, adjust the ratio of milk and water accordingly. Rest of the procedure is same.
Last week when i was teaching my helper ,
how to make tea
, i thought i will post this here, so that it will be useful for many bachelors and first timers who make tea. Always use good quality of tea leaves. My preferred tea brand are Tata gold, Wag bakri, Society Tea. While i was in chennai i use 3 roses,red label or Taj mahal tea.
Check out my
Filter Coffee.
Looking for Tea time snacks ? Check out this
Snacks recipes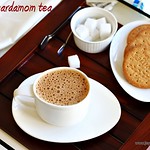 Preparation Time
: 5
mins
|
Cooking Time
: 10 minutes|
Yields
: 1 cup
Milk 3/4 Cup
Water 1/2 Cup
Tea or tea leaves 1 and 1/4 tsp
Ginger A small piece
Cardamom 1
Sugar As needed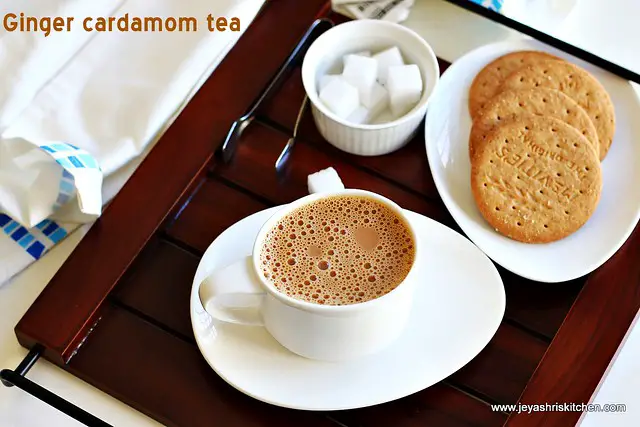 Method:
Crush the ginger and cardamom using a mortar and pestle. Crush the cardamom seeds nicely so that it will give a nice flavour to the tea.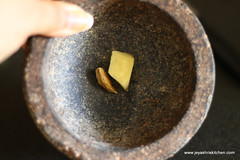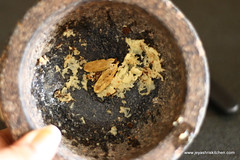 Boil the water in a sauce pan and add the crushed ginger ,cardamom and tea leaves|powder. Let this boil for 2- 3 minutes in a very low flame. The flavor of the tea, ginger and cardamom will now get infused into the water. Add the milk now.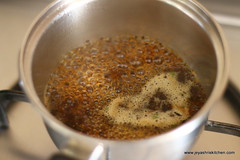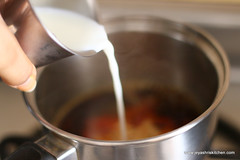 Keep the flame little high and when it comes to boil, lower the flame. Keep it in sim for 5 seconds.
Cover it for 3 seconds. Switch off the flame. Filter this now.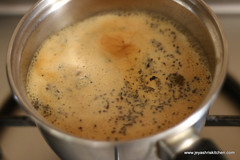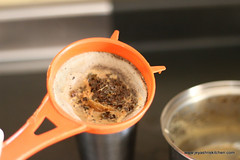 Add sugar as desired . Mix well and serve hot.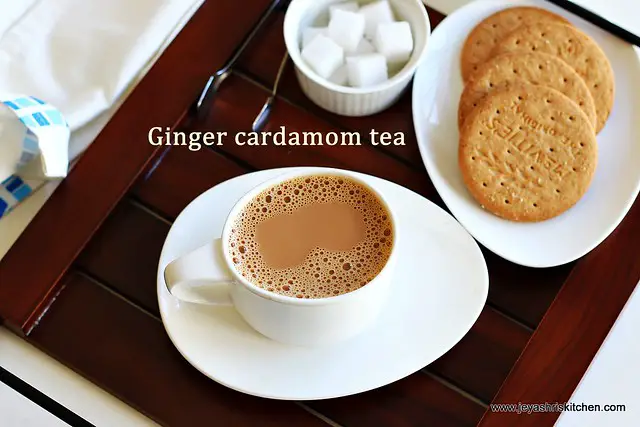 Notes:
Always use fresh milk for making tea.
Select good quality of tea powder.
If you want the tea to be more dominantly ginger then add some more crushed ginger at the end , before putting off the flame and cover for 5 seconds.
Never reheat the tea after it is made. Either reheat in the microwave oven or use double boiler method.(heat water in a pan and keep the tea on this in a tumbler). Do not reheat directly on the flame.
Always add sugar after the tea is done. Never add sugar when the tea is boiling. It will not taste good.
The ratio of milk and water depends upon your preference.
The amount of tea powder depends on the brand and how strong you need it.