Methi thepla with video
I have already posted Methi Paratha recipe here but this methi thepla i learnt from my friend and i am big of this and after tasting this twice at her place, you know what i told. If you say i asked for the recipe, no- I told her whenever you make this methi thepla you give the dough for me also to make 4 rotis. Till date i didn't try the dough on my own,(as she send me dough every week) even for this recipe too i called her home and asked her to make for me. We had a good chatting session while making this methi thepla. Thanks anitha for the wonderful recipe and making the theplas for me.
These theplas if handled in a proper way, like without touching with wet hands and not packing when it is too hot, is best suitable for travels too. So if you are planning for a summer vacation trip or any picnic you can prepare this and pack for your trip. This can stay for 2 days. Check out my Methi khakra recipe.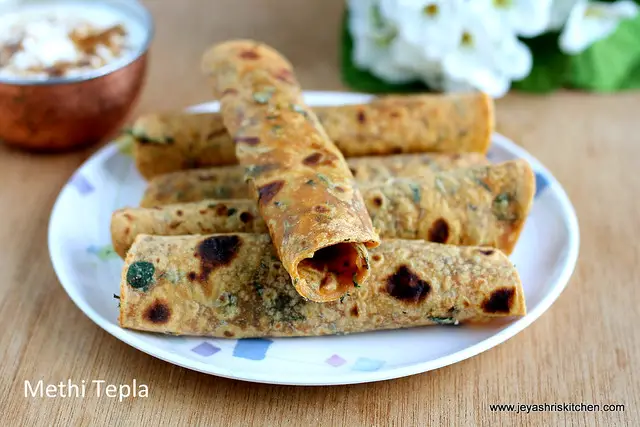 Methi Thepla
Preparation Time : 15 mins | Cooking Time : 3-4 Min per roti |Makes: 8
Whole wheat flour| atta 1 cup
Methi leaves 1 cup
Mint leaves 1/4 cup
Red chili powder 3-4 tsp
Yogurt 2 tblsp
Salt as needed
Cumin seeds | jeera 1 tsp
Video of methi thepla

Method: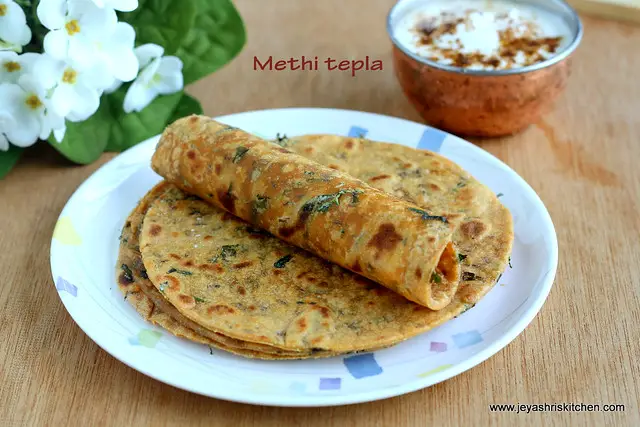 METHOD:
Wash and chop the methi leaves and mint leaves finely.
In a wide bowl, add red chilli powder, yogurt ,oil,salt and cumin seeds.
Let this sit for 10 minutes.

Now add the chopped methi leaves and mint leaves.
Mix well.

Add atta to this.
Mix well and slowly add little water to make a smooth dough.

Keep it covered. Take out a medium lemon sized dough .
Roll it into a medium sized thin rotis.

Heat a griddle and cook the rotis on both sides and drizzle little oil on it.

Repeat this for the rest of the dough.
The variation of color of the thepla in the stepwise picture and the main picture is due the colour of the red chili powder used. Since the step wise pictures are updated with new pictures the variation.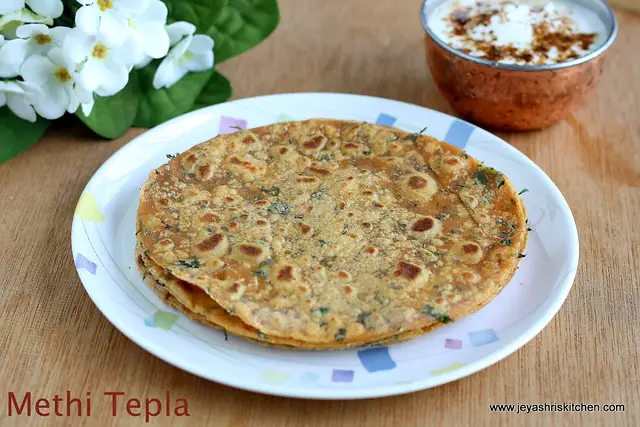 Note:
If planning to pack for trips, when it is completely cool, roll it in a aluminium foil with clean hands.
If making in bulk ,pack in small batches.
You can add or less the spiciness according to your taste.