Mexican fried rice recipe, as i told in my previous post of Home made enchilada sauce, posting today the rice recipe. This Mexican fried rice recipe is made using Enchilada sauce, which  again i did for the cookery show on Mother's day. The rice was got a good welcome among all and it is quite a simple recipe too. If you have sauce, veg stock and frozen beans in hand, then Mexican rice can be made quickly. I have already posted a Mexican rice recipe long back, but this recipe is with home made enchilada sauce. Try this Mexican cuisine at home for a change and let me know the feed back.

Mexican fried rice recipe
  Preparation Time : 10 mins | Cooking Time : 25 Mins |Serves: 3
   Basmati rice   1 cup   
   Veg stock | Veg broth  1 cup
   Enchilada sauce   1/4 cup
   Black bean  or Red kidney bean   1/4 cup  
   Capsicum  1/4 portion
   Sweet corn  2 tblsp
   Olive oil   1 tblsp
   Salt    little if needed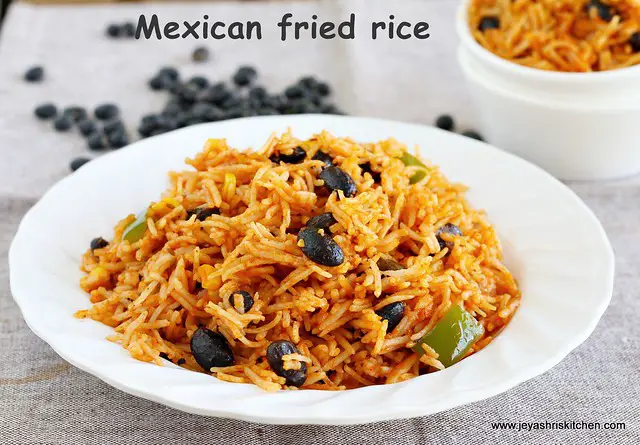 Method:
Wash and cook the basmati rice with 1 cup of vegetable broth and little salt and few drops of oil in pressure cooker for 3 whistles. Spread it in a wide plate and keep it in the refrigerator. Let this become firm and separate grains.
Cook the beans also in the cooker with little salt. This time i used the black beans , which is soaked over night. You can use red kidney bean (rajma) or canned beans too.

Chop the capsicum into big cubes, and cook the corn kernels and keep it aside. I used frozen corn.
In a pan add oil and add the capsicum and corn kernels. Cook for 2 minutes and ensure the capsicum should be crunchy.

Add the enchilada sauce and cook for 2 minutes.

Add the rice to this now and mix well gently without mashing the rice. Check for salt.

Mexican fried rice is ready to serve.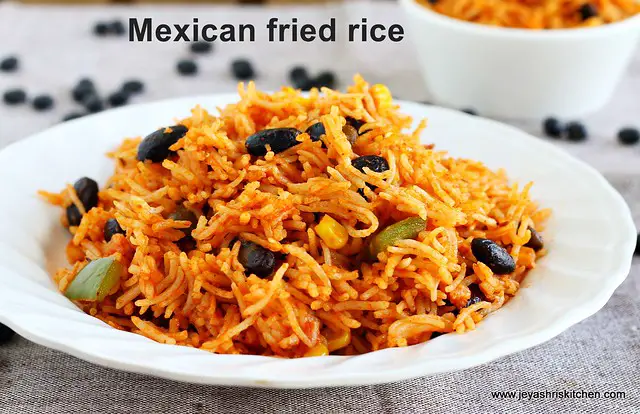 Notes:
Ensure the rice is cooked with grains separately.
If using canned beans, just drain the water completely and add after adding the capsicum.
Check for salt in the last as we have salt in the rice and sauce. If needed only add salt.
The same rice can be wrapped inside a tortilla and served as a burrito.
Traditionally mexican rice is served with grilled vegetables.