Millet is gaining more popularity now a days. Also including millets in your diet, is very healthy too.
Tomato dosai i wanted to try for a long time. During my vacation to Chennai, my sister made this for me but with normal idli rice. I thought i will replace rice with millet and tried tomato dosa with Kuthravali millet also called as Barnyard millet in English|Odalu in kannada|Jhangora in hindi, is a healthy variety of millet, helps to reduce cholesterol and also good for diabetics too. You can try out this dosa with samai and varagu too. Somehow thinai dosai gives little dry dosa. Check out my
Millet Tomato Dosai
Preparation Time : 3 hours | Cooking Time : 4 Min per dosa |Makes: 8-10 dosa
Kuthravali arisi 1/2 cup
Urad dal 4 tblsp
Poha | aval 1 tblsp (optional)
Tomato 2 (big)
Red chili 3-4
Toor dal 1 tblsp
Salt to taste
Oil as required to make dosa
Onion 1 (optional)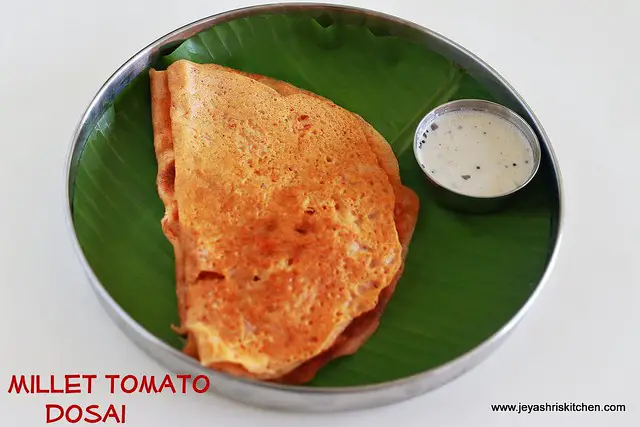 Method:
Wash and soak the kuthravali rice, toor dal, urad dal and poha together for 3 hours. Even if you want to make this for morning breakfast can soak this overnight too.
Drain the water and grind this along with red chili. Pulse it once in the mixie and add the tomato. Just roughly cut the tomatoes and add to this and grind this into a fine paste.
Add salt and also finely the chop the onions and add to the batter. Adding onion is optional.
Mix the batter well and let this stay for 15 minutes. This step is optional. You can make it immediately too.
| | |
| --- | --- |
| | |
Heat a tawa and when it is hot, keep the flame low. Pour a ladle full of dosa batter and spread the dosa into a round shape using the back of the ladle.
Once done on one side flip on the other side.
| | |
| --- | --- |
| | |
Serve dosa immediately . Coconut chutney will go very well with this dosa.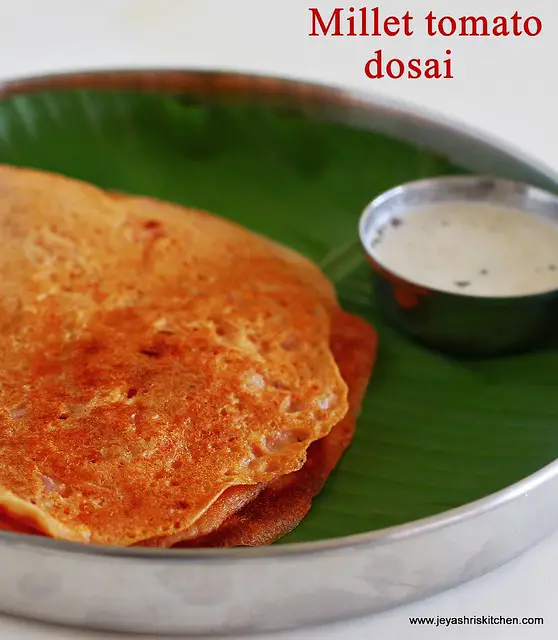 Notes:
Since tomatoes are added 3 chilies will not give much spice to the dosa.
Adding onions is optional but if you are adding chop them very finely, else you can not spread the dosa smoothly.