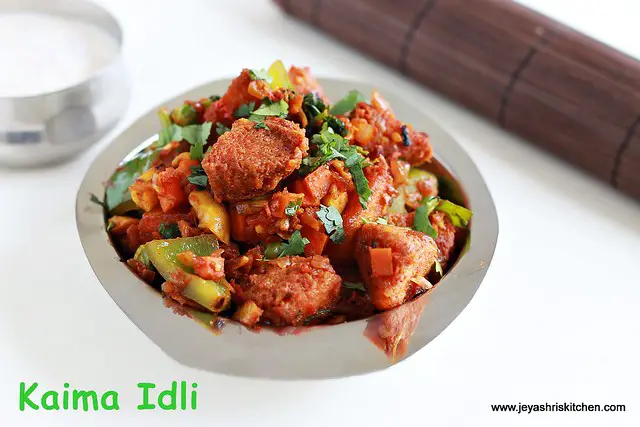 Kaima idli | fried idli is a must one in the list of order whenever we go to Saravana Bhavan. This time also during our vacation heartily had this kaima idli there. But i have never attempted to make this at home. Deep frying healthy food like idli makes me to feel guilt. But wanted to surprise my daughter Varsha, who is a big fan of this idli, i made this today. She loved this very much and surprisingly Varun also liked this. I referred Yummy tummy's blog for this recipe of kaima idli. Give it a try at home and once in a while deep fried is ok. It was too juicy and was very flavourful too. This can be done with left over idlis too.
Kaima Idli
  Preparation Time : 20 mins | Cooking Time : 25 Mins |Serves: 2-3
     Idli     4
     Oil    for deep frying + 1 tblsp
     Onion      1 
     Ginger Garlic Paste    1/2 tsp
     Tomato    1 
     Carrot    1/2
     Green peas   3 tblsp
     Cashew nuts    few
     Capsicum    half
     Sambar powder    1 tsp
     Red chili powder   1/4 tsp
     Tomato Ketchup    1 tsp
     Garam masala     1/2 tsp
     Turmeric powder   1/4 tsp
     Saunf powder |sombu powder   1/2 tsp 
     Coriander leaves    to garnish
     Salt    to taste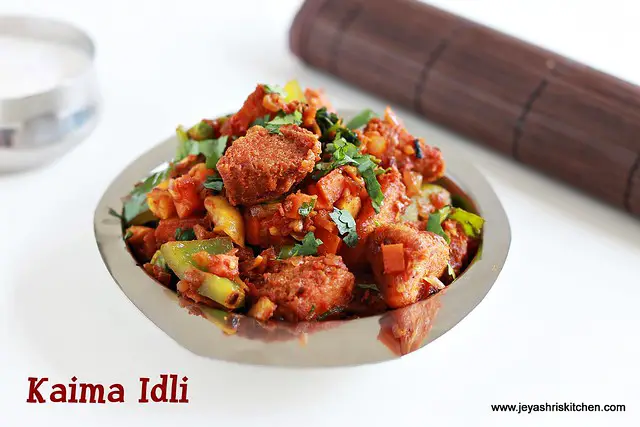 Method:
Make idlis and keep them in the freezer for 3-4 hours. If you are making in the morning for breakfast and you can keep the left over ones in the freezer  till the evening to make this kaima idli.
Chop the onions finely and the carrot into small cubes. Chop the capsicum into cubes. Cut the idlis took from the freezer into big cubes.
| | |
| --- | --- |
| | |
In a pan heat the oil and deep fry the idli till it becomes golden brown.
Drain the excess oil in the kitchen towel.
| | |
| --- | --- |
| | |
In another pan add oil and add ginger garlic paste. When the raw smell goes, add the chopped onions. Saute them and add the cashew nuts too. Saute for few minutes.
Grind the tomato and add the puree to this. You can use store bought puree too.
| | |
| --- | --- |
| | |
Add sambar powder, turmeric powder, salt, sombu powder, garam masala, red chilli powder and tomato ketchup.
Cook this nicely in a low flame till the raw smell goes.
Add the carrots, peas and capsicum to this.
| | |
| --- | --- |
| | |
Add 1/4 cup of water and cook for 2 minutes in medium low flame.
Add in the fried idlis to this.
| | |
| --- | --- |
| | |
Mix well and garnish with coriander leaves. If needed squeeze little lemon juice.
Notes:
Always refrigerate the idli before frying, else idlis will break in oil.
Add more red chilli powder and few green chilis will make it super hot. Mine was mild spicy.
Sweet corn kernels can also be added.
If you do not have fennel powder|sombu podi at home just temper with fennel seeds while adding ginger garlic paste.