Though mixed nuts chikki is not a recipe which we make for diwali at our home but i have heard from few of my friends that they make this during Diwali  of Holi. This one sounded very easy to me and so i made with the dry fruits which I had in my hand. Go ahead to make this easy mixed fruits Chikki for this Diwali. Also check out my
INGREDIENTS: ( YIELDS 15 PIECES APPROX)
| | |
| --- | --- |
| MIXED NUTS | 1 CUP |
| SUGAR | 3/4 CUP |
| LEMON JUICE | 2 TSP |
| SAFFRON | A PINCH |
| WATER | 2-3 TBLSP |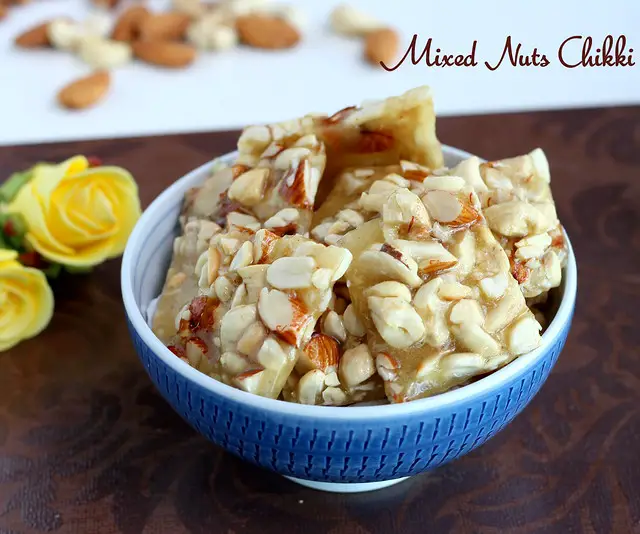 METHOD:
Dry roast the mixed nuts (I used cashew nuts, badam,peanuts )in a pan for 2 minutes in a medium flame without getting it burnt.
Keep it aside and Chop them roughly.
Before start with the sugar, grease a butter paper with ghee | butter and grease the rolling pin too.
In a pan, add sugar and add 2-3 tblsp of water.
When the sugar starts melting add the saffron. Keep the flame low.
Add lemon juice to this. The addition of lemon juice is to avoid crystallisation of sugar.
Saute till the sugar gets caramalized and you see a light golden color.
Now add the dry roased mixed nuts to this and give it a quick stir and transfer this to the greased butter paper. At this stage for me it is difficult for me to handle the camera in one hand and do the stirring too.
Spread them evenly using the greased rolling pin and when it is warm cut them into desired shapes. You have to just put the lines .After it is completely cool you can break them into pieces according to the marks u made.
Store them in airtight containers and enjoy these chikkis.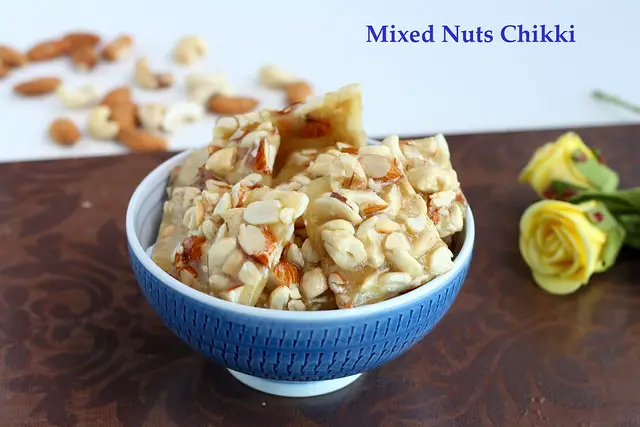 Note:
Do not add too much lemon jiuce as it will make the chikkis sour.
Do the entire process in low flame.
I actually took it little early as i had a fear that it will get burnt, so the chikkis look pretty pale.
You can add pistas, raisins too in the chikki.
I used unsalted de skinned peanuts.