Mixed veg pakora | vegetable pakora | pakoda is a popular tea time snack recipe, made with any veggies of your choice. I have tried this once for my guests but that time i didn't have time to click the pictures for the post. As the past 2 days the weather is pretty cool here due to rains, i thought of making this mixed veg pakoras. Enjoy this pakora with green chutney and ginger cardamom tea. Check out my corn palak pakoda , thool pakoda.

Mixed vegetable Pakora
  Preparation Time : 15 mins | Cooking Time : 25 Mins |Serves: 3-4
     Mixed Vegetables*    2 cups
     Besan | kadalai maavu | Garbanzo flour  1/4 cup
     Rice flour   1/4 cup
     Salt  as needed
     Red chili powder  1-2 tsp
     Chaat masala   1 tsp (optional)
     Ajwain | omam  1/2 tsp
    Coriander leaves   few
    Oil   for deep frying
    *Carrot, capsicum, onion and cabbage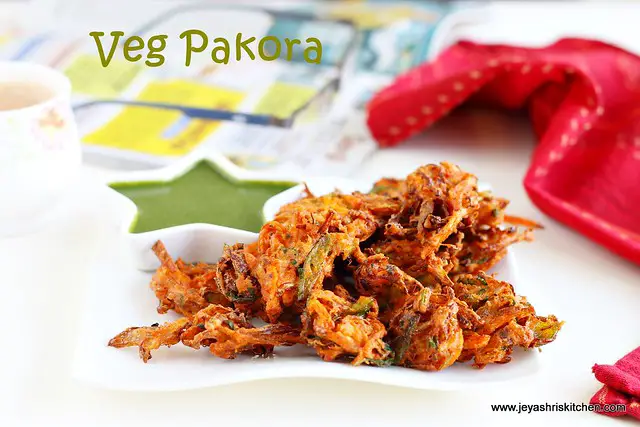 Method:
Cut the veggies into thin long as shown in the picture.
Put that in a wide vessel and mix this nicely with hands.

Add the rice flour, besan, red chili powder, chaat masala and salt to this. as chaat masala has salt in it , add little less salt.

Mix well and add ajwain and coriander leaves. Mix it. Leave this for 5 minutes.
The onions will ooze out the water so need to add water. If you feel it is dry and not binding well, sprinkle little water.

Heat oil for frying. When the oil is hot put the pakora mix in oil in small quantities.
Cook till the pakoras becomes golden brown.

Drain the excess oil in a kitchen towel.

Pakoras are ready to serve with hot tea and green chutney.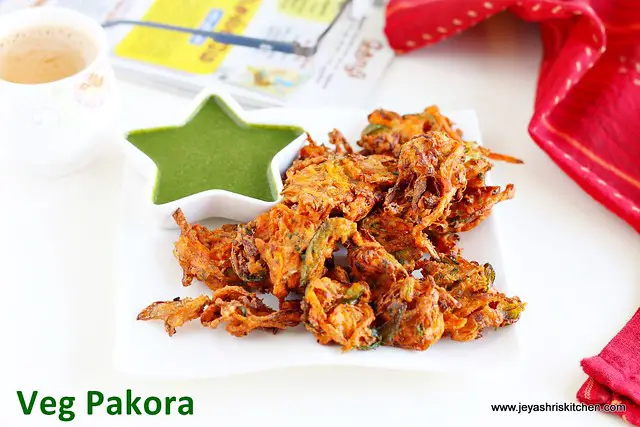 Notes:
You can skip onions if you do not want.
Mint leaves can also be added to the pakoras.
You can also added thinly sliced zucchini, beetroot too.
Amchoor powder can be added instead of chaat masala. Even crushed fennel seeds and crushed garlic can be added
Finely chopped spinach can also be added.
Do not fry the pakoras in low flame, else it will become soggy.