Murmura chivda | Kara pori is a healthy tea time snack, with less oil.  I have tasted this for the first time when we had my first tea time party with my friends here, when we moved to the new apartment here. After that though i have tasted it many times,only now it came to my mind to post this recipe. Many readers asked me post video recipes, though i have made few videos but never made full video recipe so far. I have difficulty in taking videos in my kitchen stove and so i bought a separate single portable one. I was introduced to this Iwatani gas stove during one of my cookery show which i did in Singapore for Mother's day. It was quite comfortable and quite easy to handle.  Also i  have started teaching traditional brahmin recipes, through skype . This i am not doing as a business, but just to share my knowledge for a set of people who are learning vedic traditions.  For that also, i needed this single stove and so finally i bought that last weekend. First time used it for the skype class yesterday.  Finally tried my hands on video and for that i chose and easy recipe. I will try to post videos for my recipes whenever possible. I am still in the learning process, but will surely improve and post more quality videos in the future. Check out my beach style karapori recipe and pori upma 

Murmura Chivda
  Preparation Time : 5 mins | Cooking Time : 15 Mins |Makes: 2 cups
     Murmura | Pori | Puffed rice  2 cups
     Peanuts    3 tblsp
     Gram dal | Pottukadalai   2 tblsp
     Red chili powder   1-2 tsp
     Turmeric powder  1/4 tsp
     Garlic   5 pods (crushed)
     Mustard seeds   1/4  tsp
     Red chili  2 
     Curry leaves   few
     Oil   2 tsp
     
     
Method :
In a pan add oil and add the mustard seeds.
When it splutters add the crushed garlic, curry leaves and broken red chili. Instead of red chili you can add slit 2 green chili. Cook in a medium flame.

When it turns brown add the peanuts and pottu kadalai.  Cook till it gets brown. Be careful not to get it burnt.
Add the red chili powder to this.

Add turmeric powder and salt to this.

Keep the flame low. Add the murmura to this.
Mix well and keep it in a medium flame for 2 minutes. Stir continuously.
Switch off the flame.

Store this in a clean air tight box. Enjoy this as a tea time snack.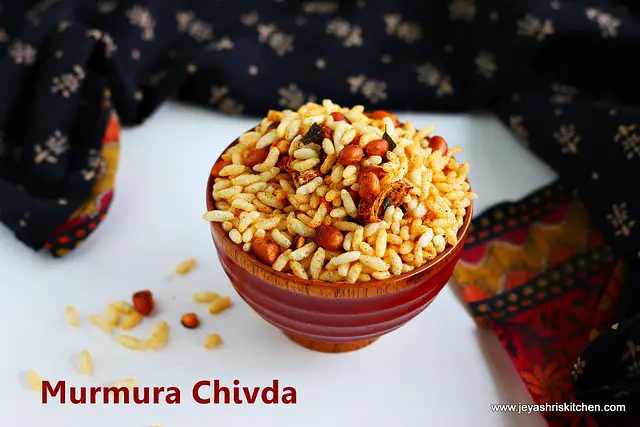 Notes:
Thinly sliced dry coconut can be added along with the peanuts.
Always use this with dry hands so that it can be stored for a long time.
Raisins | dry grapes can be added along with peanuts.
Add 2 tsp more oil if you are adding dry coconut or dry grapes.
You can add 1 tsp  powdered sugar to balance the spiciness.