LAst month when we celebrated my daughter's birthday, we took her and her few friends for bowling and followed by a lunch in Pasta Mania here. Somehow me and my hubby don't prefer pizza huts or pasta mania now a days. But as kids love those outlets once in a while we take them. We both munched on a pasta and kids enjoyed pizza, pasta and cold drinks. My helper who also joined us, ordered for al funghi for her. As soon as it came, she told me to take little from that as it was bit more for her. I was bit hesitant as i always feel pasta in white sauce will be very heavy. But the blogger in me was so active !!. And i tasted it. Last week i bought mushrooms and made it for her. The taste was very similar to the one we tasted in PAsta mania. Check out my
homemade pasta sauce recipe
too
Mushroom pasta
  Preparation Time : 10 mins | Cooking Time : 20 Mins |Serves: 1
     Pasta     1/2 cup ( i used fusilli)   1 cup
     Mushroom   7
     All purpose flour | maida    1 tsp
     Butter     1 tsp
     Mozzarella Cheese    2 tsp
     Olive oil    2 tsp
     Garlic    4 pods
     Milk    3 tblsp
     Pepper powder     to taste
     Salt    to taste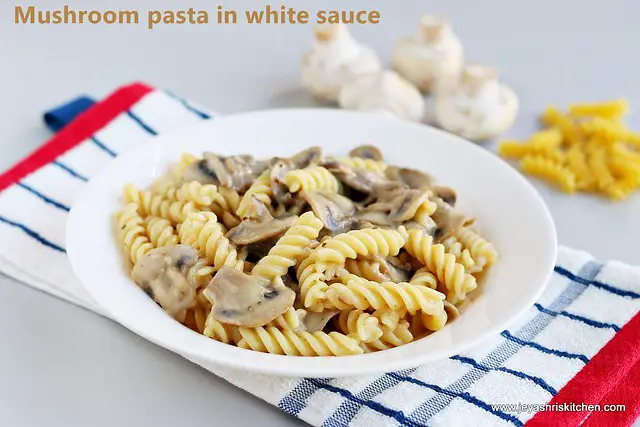 Method:
Soak the pasta in water for 5 minutes and add little salt to this . Cook it till it becomes soft. Drain the water and keep it side. Do not discard the water,

In a pan add butter and when it starts melting add the all purpose flour to this. Keep the flame low and mix this well without forming lumps.

Add 3 tblsp of milk to this and mix well. Let this paste becomes smooth without any lumps.

Add the cheese to this. Mix well and it will takes few minutes for the cheese to melt. Once it is melted add the pepper powder and salt. I added white pepper powder.

Now the white sauce is ready. Chop the garlic finely.
In a pan add olive oil and add the chopped garlic.

Clean the mushroom and slice the mushrooms. Add the sliced mushrooms to the pan. sprinkle little salt. Cook for 2 minutes. The mushroom gets cooked fast.

Add the white sauce we made to this mushrooms and stir well.

Add the cooked pasta to this. Add little(1 -2 tblsp) of the reserved water which we kept aside .

Add orgegano to this. Mix well. Keep in low flame for 2 minutes and switch it off.

Mushroom pasta is ready to serve. Always serve this pasta hot.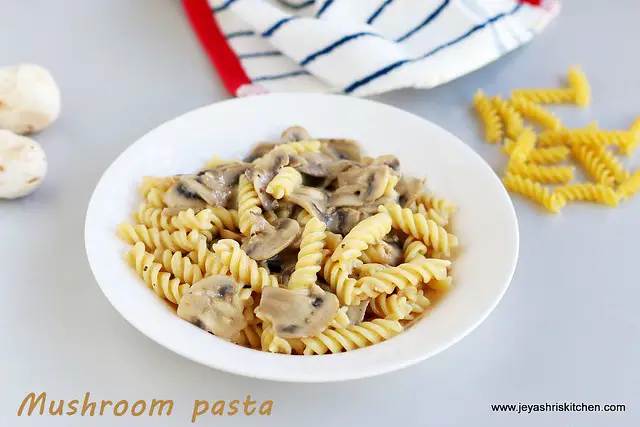 Notes:
Do not cook the mushrooms for a long time. Let it retain its shape.
Instead of mozarella cheese you can use parmesan cheese too.