Recipe of rava dosa with Video
If you wonder on reading the title of the post, yes it is Rava dosa recipe only. IT has been six years now i have been blogging but never posted this recipe of rava dosa in jeyashri's kitchen. Some how during my childhood days it was never made at my house. Whenever we go to eat out, my parents will order for Onion Rava Dosa and me and my sister will order Parrota. Always out neighbour aunty makes rava dosa and many times she either call us when she is making or send it to home too. So i always have the inhibition to try out this Rava dosa at home. It has been a request from my readers for a very long time and finally i asked the recipe from that aunty, and got it perfect for the first time. Then i wondered why i was such reluctant to try this recipe at home and keep on postponing for a long time. Now Rava dosa i make at home once a week and all of us are a big fan of crispy rava dosa. Try this rava dosa at home and let me know your feedback. Check out my crsipy dosa recipe and Instant wheat flour dosa too. I halved the original recipe given by her. Sorry my dear readers for making this post very late.

 Rava dosa recipe
  Preparation Time : 15 mins | Cooking Time : 5 Mins per dosa|Yields: 3
     Sooji | Rava    1/4 cup
     Rice flour     1/4 cup
     Maida | All purpose flour   1 tbslp
     Onion    1 
     Green chili   1
     Mustard seeds   1/8 tsp
     Jeera   1/8 tsp
     Whole pepper corns 4
    Curry leaves    few
    Salt   as needed
    Oil   1 tsp + oil to make for dosa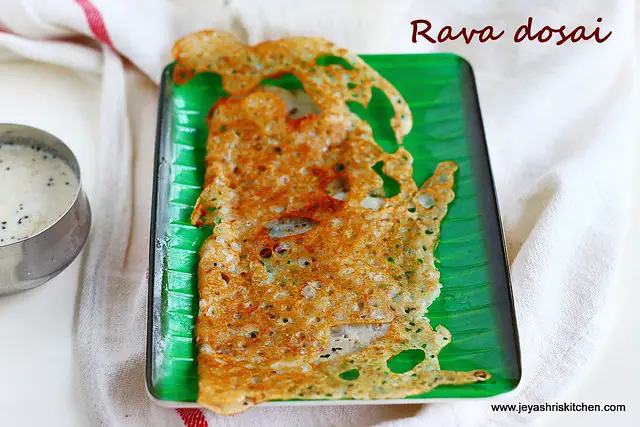 Method:
In a wide bowl add the rice flour, sooji and maida. No need to roast the rava.
In a pan add 1 tsp of oil and throw in the mustard seeds, Add the finely chopped green chili, onions,whole pepper corns and curry leaves to this and cook till the onion turns pink. Do not let it brown.
Switch off the flame and ad the cumin seeds.

Add water to this and add salt. Mix well without any lumps. This batter should be like a thin buttermilk. So mix it very well. Even after making the dosa everytime, mix the batter well.
Keep it aside for 15 minutes.

Heat the non stick tawa and sprinkle little oil on it and spread it well.
Let the tawa becomes hot.
Take a ladle full of batter and sprinkle it on the tawa. Some people even used to sprinkle it with hands too. But i think it comes by practice.Add oil | ghee to the this.
Let it cook and starts browning nicely. Keep the flame in medium .
Generally rava dosa takes little more time to cook than normal dosa.
Flip the dosa and cook for few seconds .
Rava dosa is ready.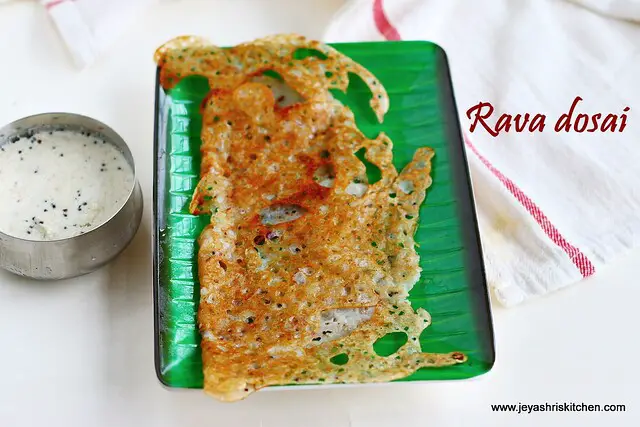 Notes:
Always ensure the batter should be thin.
Keep mixing the batter well every time before making the dosa.
Always ensure the pan is hot before making he dosa.
You can skip onions and just add the seasoning to the dosa.
Some people add little buttermilk to the batter too. You can add if you wish.