South Indian kuzhambhu recipes
Last weekend when i went to the nearby Indian shop, found a fresh bunch of methi leaves there. After that made the
vendaya keerai sambar
and also
methi thepla
too. Just casualy looking for some methi leaves recipes around the net and found this vendaya keerai kara kuzhambu
here
. So i tried this yesterday and it tasted out of the world. I slightly tweaked the recipe according to my preference. The aroma of the kuzhambhu is filled around the house and enjoyed it very much.
Vendhaya keerai kara kuzhambu
Preparation Time : 15 mins | Cooking Time : 25 Mins |Serves: 6
Vethaya keerai | methi leaves 1/2 cup
Small onions |shallots 20
Garlic 10
Tamarind a lemon sized piece
Sambar powder 2 tsp
Red chili powder 1 tsp
Coriander powder 1 tsp
Turmeric powder 1/4 tsp
Fennel powder 1/2 tsp (optional)
Salt as needed
Sesame oil 1 tblsp
Mustard seeds 1/4 tsp
Jaggery |vellam a small piece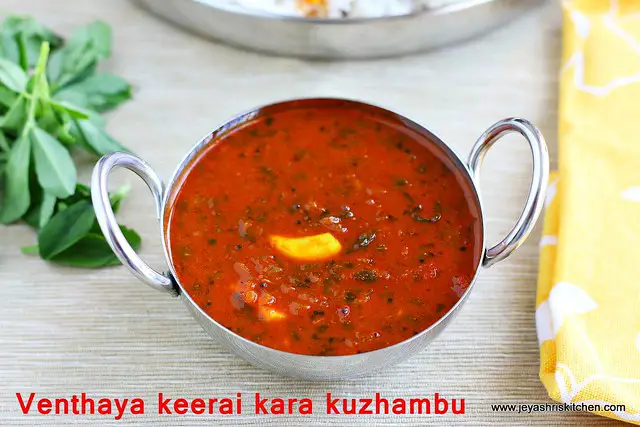 Method:
Wash the methi leaves and chop them finely. Chop the small onions finely. You can use big onions too, but shallots gives a nice taste to the gravy. Chop the tomatoes and peel the skin of the garlic.
Soak a lemon sized tamarind in water and extract the juice using 2 cups of water.
In a pan add oil and add in the mustard seeds. Add the garlic and chopped onions to this and cook till becomes translucent.

Add the tomatoes and saute for a while. Add in the finely chopped methi leaves.
Saute for a minute and add the tamarind extract to this.
Add the sambar powder, turmeric powder, red chili powder, coriander powder, salt and fennel powder(if adding). Add salt to this.

Allow this to boil for sometime till the raw smell of the gravy goes and the gravy comes to a kuzhambu consistency. Add jaggery to this and boil for a minute.

Switch off the flame. If you wish you can add 1/4 tsp of sesame oil on the top.
Serve this with plain rice along with any curry of your choice. We had with beetroot poriyal and brinjal curry.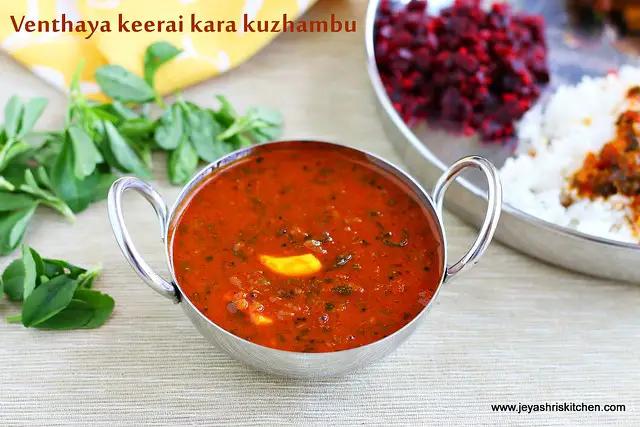 Notes:
You can replace shallots with big onions too. But small onions are highly recommended.
The gravy tasted so flavourful the next day.
The original recipe used only red chili powder and coriander powder. I reduced the quantity and added sambar powder.