Pesarattu recipe, dosa made using whole green gram dal, a popular Andhra style recipe. Pesarattu is generally served for breakfast or dinner. Though I have heard this but never tasted this and attempted to make this at home. My in-laws side used to make a pessarattu with yellow moong dal and rice, which somehow doesn't fascinate me, and it will be slightly dry too. This recipe with green moong dal I learned from my friend who regularly makes pesarattu at her place. When I made this last week, we all liked it especially the kids. Here is the recipe for easy and healthy pesarattu. Traditionally they serve Pesarattu with Rava upma inside and they call this MLA pesarattu. Check out my Thina pesarattu recipe
Pesarattu recipe
Recipe Cuisine: Indian|  Recipe Category: Breakfast
Prep Time: 10 mins + 4 hrs soaking   |  Cook time: 25 mins |  Makes: 8 | Author: Jeyashri
Pesarattu recipe,dosa made using whole green gram dal,a popular Andhra style recipe.
    Green moong dal   1 cup
    Rice    1 tblsp (optional)
    Ginger  a small piece
    Asafoetida  a pinch
    Salt    as needed 
    Oil   as needed (for making the pesarattu)
    Green chili  3
    Onion   1-2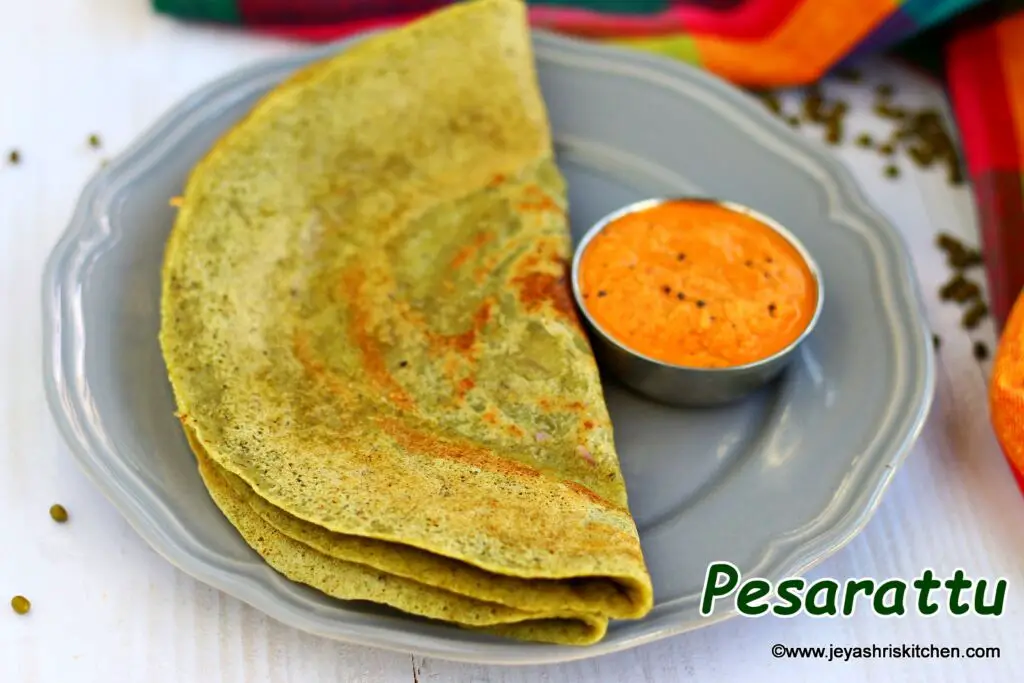 Method with step wise pictures:
Wash and soak the green moong dal along with rice for 4-5 hours or overnight too.
After 4-5 hours drain the water grind in a mixer along with green chilli and ginger,into a fine paste.

Add little water to adjust the consistency. The batter can be in the consistency of dosa batter.
Add salt and asafoetida. Mix well.

No need to ferment the batter. It is now ready to make pesarattu.
Chop the onions finely.
Heat a griddle |tawa and when it hot pour a ladle full of pesarattu batter to the tawa and make a thin circle like a dosa.

Sprinkle some chopped onions on the top and pat gently with a spatula.
When cooked on the top, flip it over and smear with little oil.
Enjoy hot with any chutney or even you can have it as it is too.
We had this delicious pesarattu with tomato ginger chutney.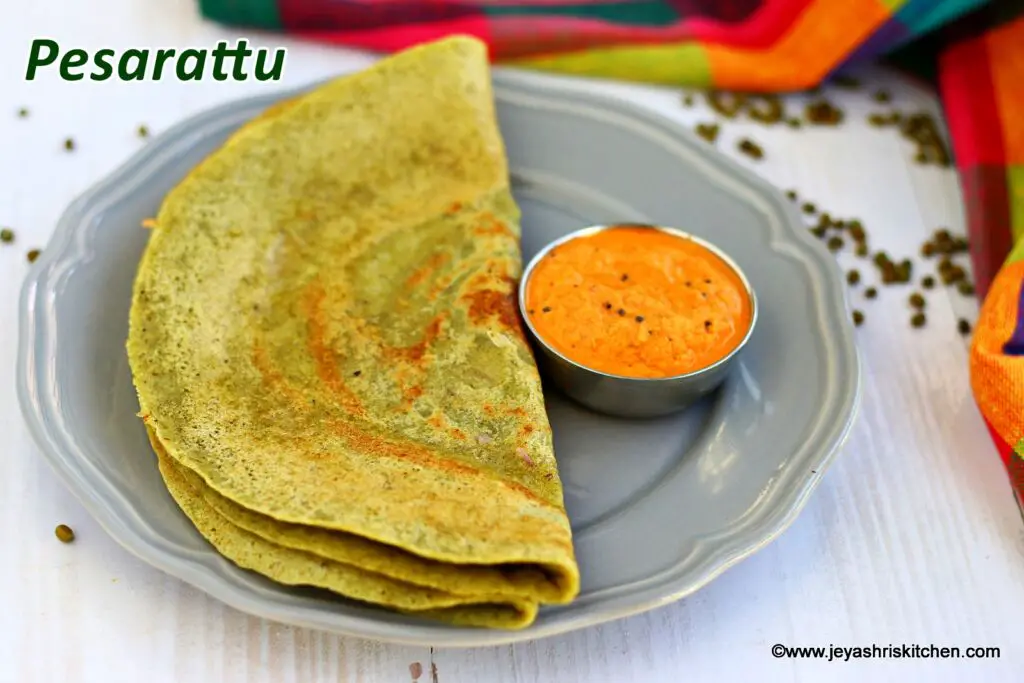 NOTE:
You can add grated carrots while adding onions.
You can add finely chopped onions in the pesarattu batter itself.
Sprouted green gram also works well for pesarattu recipe.