Potato Cheese sandwich is a easy sandwich recipe and always a super hit among kids too. This post lying in my draft for a long time. As my sister is here for a vacation, we are having super fun here enjoying movies, non stop chatting, eating, roaming around. So i am not in a mood to click anything new. Will be back with some interesting posts in 2 days. This potato cheese sandwich is a perfect snack for kids, when they come back from school or for kids breakfast.
Check out my 
Corn cheese sandwich, Grilled cheese sandwich, Veg cheese pizza sandwich
Potato cheese sandwich
  Preparation Time : 15 mins | Cooking Time : 15 Mins |Serves: 1-2
     Bread slices        4
     Potato   1 (big)
     Grated Cheese   as needed
     Red chili powder     1/2 tsp
     Salt    to taste
     Cumin seeds | jeera    a pinch
     Paav bhaji masala     1/4 tsp
     Butter   as needed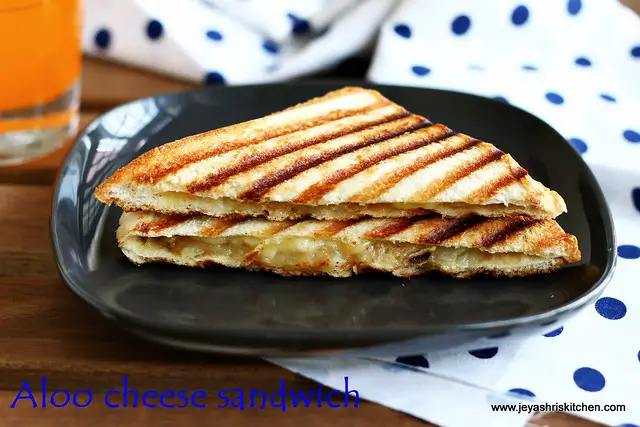 Method:
Pressure cook the potato and mash it nicely with the back of the fork.
Add cumin seeds, jeera, salt and  pav bhaji masala.

Mix this well. Spread butter one side of the bread . Keep the buttered slice on the sandwich maker facing the buttered side down.
Spread some potato mixture on the top the bread.

Sprinkle grated cheese on this . Place one more buttered slice of the bread on top of this. Let the buttered slice be on the top. This will make the top portion grill perfectly.
Toast this in a sandwich maker.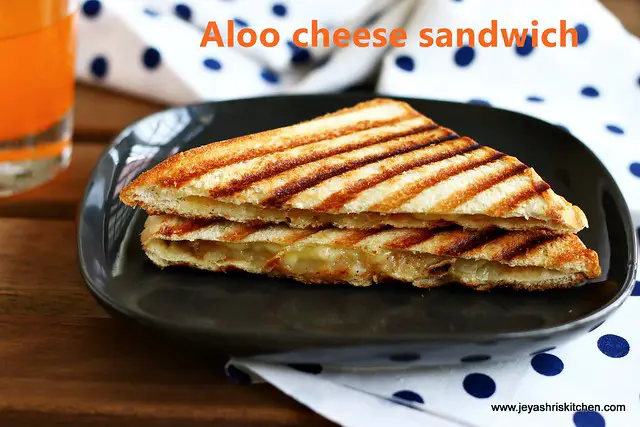 Notes:
I used pizza cheese. You can use cheese slice too.
Instead of red chili powder and masala , you can add oregano and red chili flakes too.
You can add green sandwich