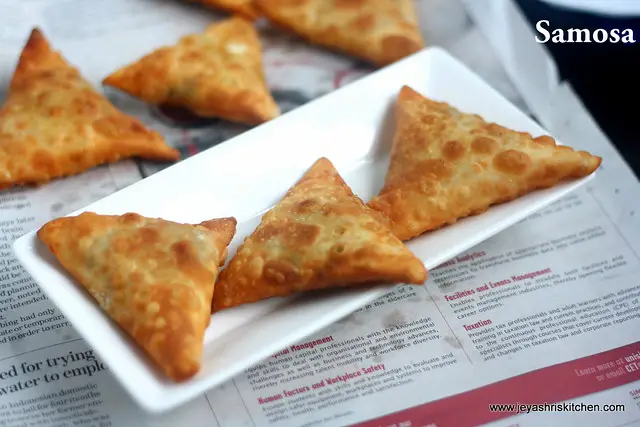 Samosas, generally we order as a tea time snack or as a starter for birthday parties . I have never attempted to make this at home as i always felt it is time consuming. My friend's mom makes delicious Onion samosas , which she makes for all of us whenever she visits her daughter. when she came 2 weeks back to Singapore i have decided to go to her place and learn how to make samosa. I made the potato filling for samosa and made the dough too at home and took to her place. Aunty very patiently taught me how to make samosa and i clicked the step wise pictures and i too learnt the process of making samosas.  Though the process may seem bit laborious but actually it is not and you will end up getting super tasty samosas. Unlike the punjabi samosas this one is quite light and not too heavy to eat.
Go ahead and make you own filling  for the samosa. I will post some samosa recipes with other filling too later. Will post a video also soon.


  Preparation Time
:
1 hour
|
Cooking Time
: 20 Mins |
  Yields
: 12 Samosas
   For Filling
    Potato 2
    Green peas 1/4 cup
    Onion 1
    Cumin seeds 1/4 tsp
    turmeric powder 1/4 tsp
    Coriander powder 1/2 tsp
    Red chilli powder 1 tsp
    Cumin Seed powder 1/4 tsp
    Salt as needed
    Oil 1 tblsp
    Kasoori Methi   A pinch
    Garam Masala   A pinch


   For Outer Cover


    Maida 1cup + 2tblsp
    Water As needed
    Salt As needed
    Oil 1 tblsp
   Other Ingredients
    Oil for deep frying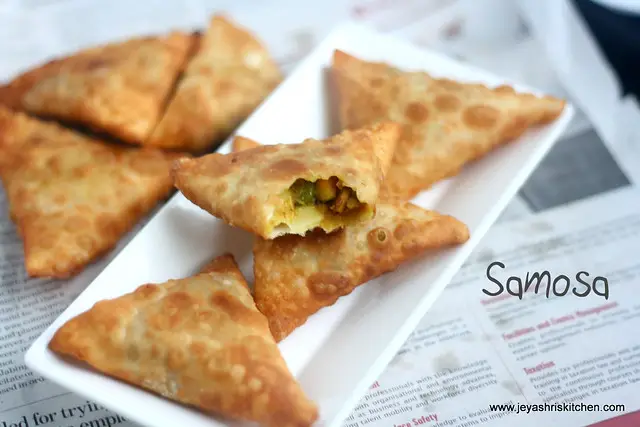 Method:  To make filling
Boil the potatoes and peel the skin.  Chop the onion finely. Boil the green peas till they become soft. i used frozen peas. Mash the potatoes and green peas.  In a pan add oil and add the cumin seeds. Add the onions and saute till they become translucent.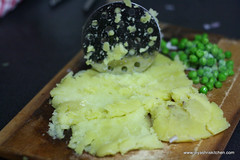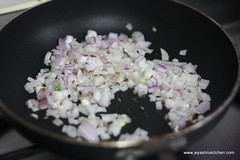 Add the  mashed potato and peas and add saute for aminute.
Add in the red chilli powder, coriander powder, garam masala, turmeric powder, cumin seed powder and salt.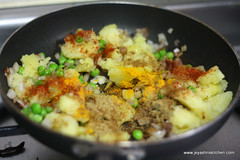 Add kasoori methi and mix well. Let this cook in a low flame till the raw smell disappears. The filling is ready . Let this be cool.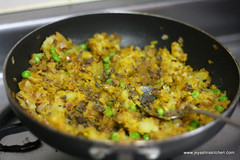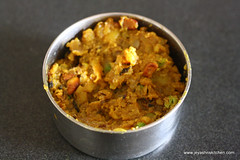 For outer Layer
Knead the maida |all purpose flour into a pliable dough.Add salt and oil while kneading. Keep this covered for 15 minutes.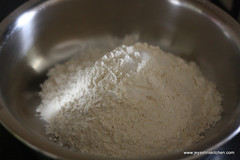 Make the dough into 4 equal portions .  Roll each portion of the dough like a roti.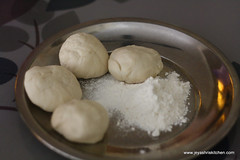 In a rolling board place one rolled roti and spread little oil on this and sprinkle generously with maida | all purpose flour.
spread it nicely and stack on other roti and do the same process of applying oil and sprinkling flour and stack other roti on this. Repeat this for the four rotis.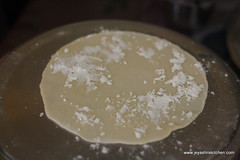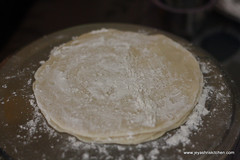 Roll this again into thin rotis. If you want you can dust this with flour too. roll them into a big circle.
Heat a pan and carefully place the stacked and thinly rolled maida roti . When it becomes warm on one side turn it carefully. do not over cook. even no need to cook till spots come. Let it become white itself.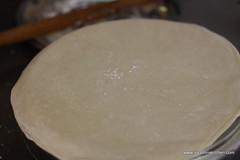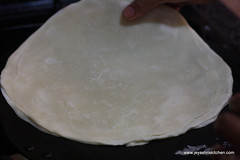 Carefully take out one sheet. ( you could easily take out after few minutes) Slowly you can take out 4 sheets. the outer layer for samosa are ready.
Stack the sheets on the rolling board.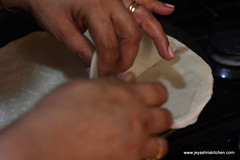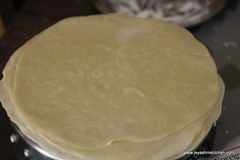 Cut them into four halves as shown in the picture below.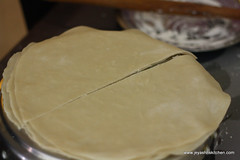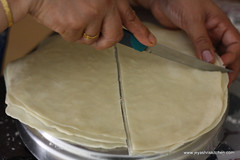 Now the cut sheets are ready to make samosas. Actually these are the spring roll sheets which you can use for making spring rolls.
Make a paste of maida with little water in a small bowl. this is to seal the edges of the  samosas.
Add the maida paste at the bottom edge (semi circle portion) of the one sheet.
Bring both the edges to center.
It will be like a cone.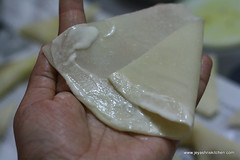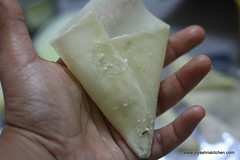 Add the filling (about 1-2 tblsp) inside the cone .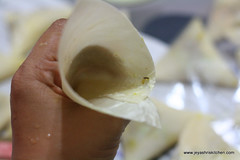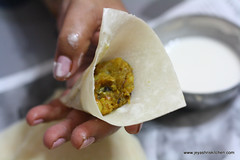 Bring the edge to the bottom side of the cone and seal this with maida paste.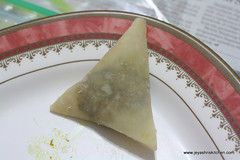 Repeat this for all the samosas. the filling i made i managed to use for all the 12 samosas.
You can put in it in a ziplock cover and freeze it and fry it whenever you want.
When frying keep oil in a pan and deep fry the samosa in a medium flame till it becomes golden brown on both sides. Drain it in a kitchen towel.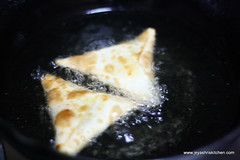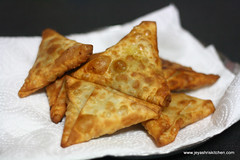 Hot samosas are ready to serve. Enjoy with coffee | tea.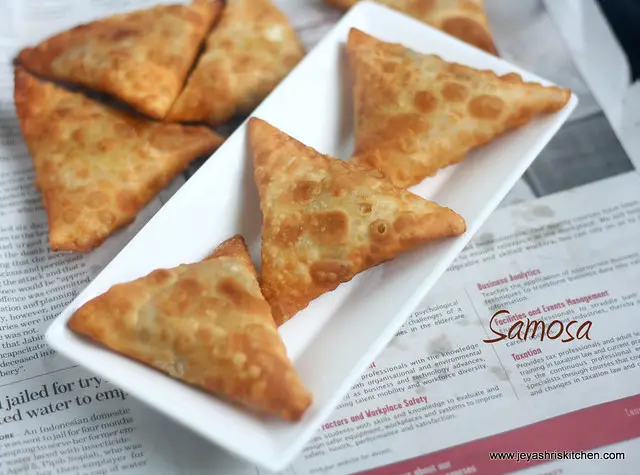 Notes:
You can choose the filling of your  choice.
Do not attempt with whole wheat flour as it will not come out crispy.