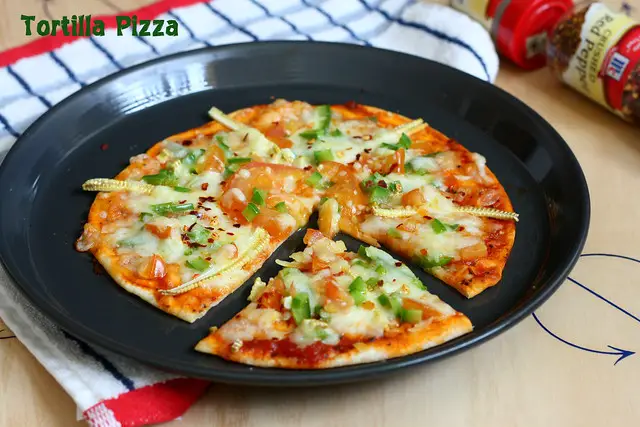 Pizza , the name itself makes the mouth water for  almost all of us. Though we know it is high in calorie we still enjoy pizza and especially kids love pizza the most. All the time it is not economical to buy pizza for them at Pizza outlets and not good for health too. This tortilla pizza is the easiest way of making pizza. If you have ready made tortilla at home just go ahead and make this pizza. Even you can make this with left over Chapathi too. I made in Oven and 2 days back i tried this tortilla pizza in tawa too. It turned out well. so even if you don't have oven at home also you can still make this pizza.
Ingredients

  Preparation Time
:
10 mins
|
Cooking Time
: 5 Mins per pizza |
  Serves
: 2
    Tortilla       2
    Baby Corn    1
    Onion            1
    Tomato          1
    Pasta Sauce          As needed
    Capsicum     1/2
    Grated Cheese(pizza cheese)   As needed
    Red chilli flakes   As needed
    Olive Oil       To grease
    Oregano       As needed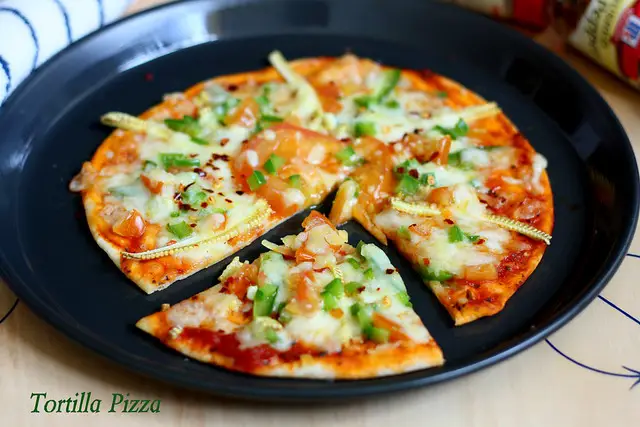 Method:
Cut the baby corn and capsicum length wise.
Cube the onions and thinly slice the tomato into roundels.
In a greased baking tray place the tortilla and spread the pasta sauce on this.
Spread grated cheese on this.This is optional.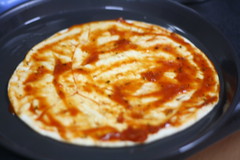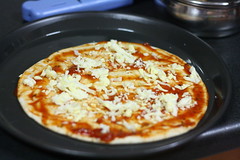 Arrange the baby corn, capsicum and tomatoes. You can arrange this as per your choice.
Sprinkle cheese generously on this and add the oregano on this.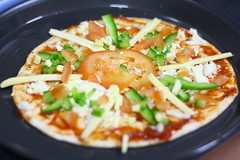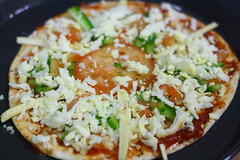 Bake in the Oven at 170 degrees for 5 minutes or till the cheese melts.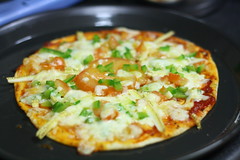 Cut into slices and serve by sprinkling red chilli flakes on this.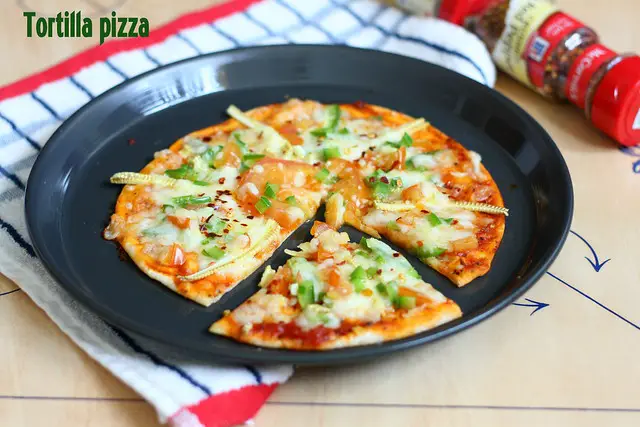 If making on tawa, just heat the tawa and cook the tortila on both sides for less than a minute.
And take itout from the tawa and arrange the toppings. Keep in again on the tawa and cover and cook in a very low flame for 5 minutes or till the cheese melts.
this can be made with left over Naan too
Note:
You can use any vegetable of your kids choice. Mushrooms, Olives, cubed pineapples can be added.
Even if it is cool the pizza tasted nice. So you can pack for their snack box or lunch box too.