Kootu with any veggies is a comfortable food for all of us in my home. It can be made with any veggies and this time i made with snake gourd. You can make this with any veggies of your choice. Normally we use beans,chow chow, drumstick,or eggplant to make kootu. Check out my
avarakkai poricha kootu
and
poosanikaai kalyana kootu.
Snake gourd Kootu recipe
Preparation Time : 15 mins | Cooking Time : 25 Mins |Serves: 3-4
Snake gourd 2 small
Yellow moong dal 1/2 cup
Channa dal 1 fistful
Urad dal 1 tblsp
Cumin seeds 1/2 tsp
Grated coconut 1/4 cup
Cooking oil 1 tsp
Red chili 2-3
Coconut oil 2 tsp
Mustard seeds 1/4 tsp
Asafoetida a pinch
Turmeric powder 1/4 tsp
Salt as needed
Curry leaves few


Method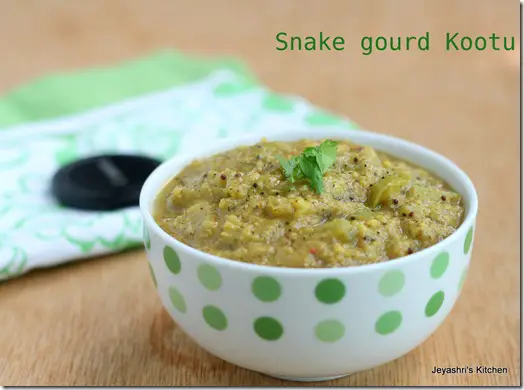 Wash and slit the Snake Gourd and remove the seeds from the center.
Cut it into half circles.
Soak the yellow moongdal and channa dal in water and add the snake gourd on the top of it.
Add salt and turmeric powder.
Pressure cook it .
In a kadai, add the urad dal and redchillies and saute till golden brown.
Add the cumin seeds and coconut scraping.
Grind it into a smooth paste by adding little water to it.
Heat a kadai add the cooking oil and temper with mustard seeds and asafoetida.
Add th cooked dal and veggie mixture and the ground paste to it.
Mix well.
Switch off the flame.
Add coconut oil to it.(ONLY IF YOU ARE USING)
Garnish with curry leaves.
Serve with hot rice.
I couldn't take any pictures at this stage since my camera's battery was exhausted.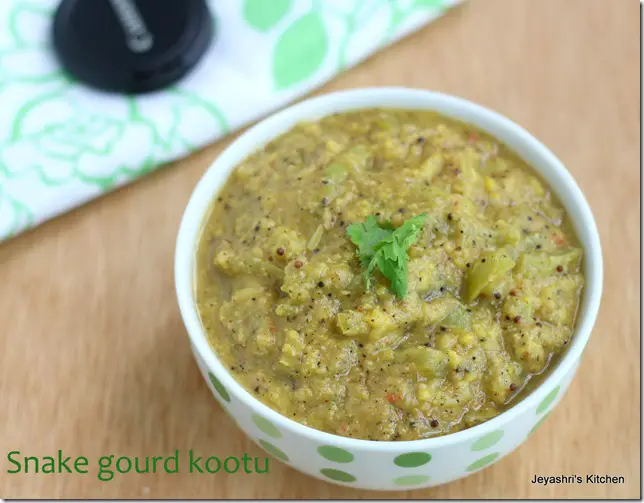 VARIATION:
YOU CAN REPACE REDCHILLIES WITH 1/2 –3/4 TSP OF BLACK PEPPER.