This is the recipe of Soft dosa which is the best suitable one for travels and picnics.  You can prepare it a day in advance and the dosa will remain super soft the next day. During our childhood days, we used to travel to Trichy from Madurai during our summer holidays to visit our uncle's place. Also sometimes we go to Chennai to visit our aunt's family too. During those days, whether the distance is short or long we pack food for our travel. As the entire family is a great fan of dosa  we mostly pack dosa for our journey. My grandmother makes this special soft dosa for the travel, which will stay soft even the next day too. When i asked my mom about this recipe some time back she couldn't recall it. Recently my perimma, aged 80, visited my mom's place and she sent me a voice note in what's app for the recipe of the dosa. She calls this as "Kattu dosa", kattu means parcel.
We a group of friends were practising for a half marathon(21 km).  Every Sunday morning we go to the nearby walking track and practise jogging there. During one of our long running practise sessions we decided to take breakfast and have it after the run. Since we start early in the morning for practise, it will be difficult for to make any breakfast and pack and go. When we are discussing about this, i told them i will make this Dosa and bring it. It tasted very nice and stayed super soft the next day.  Pack this dosa the before day night and have it the next day for breakfast, even if handled properly it will stay good till the next day evening too.

Soft dosa for Travel
  Preparation Time : 15 mins + 8 hours fermentation | Cooking Time : 3 Min per dosa |Makes: 12
     Raw rice    4 cups
     Urad  dal    1 cup
     Salt   to taste
     Oil   to make dosa
     Idli milagai podi   as needed
     Sesame oil  to mix the podi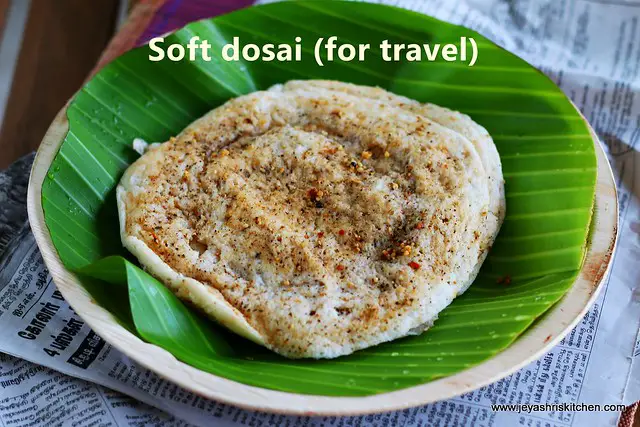 Method:
Roast the raw rice in a pan till it emits a nice aroma. Take care not to change the colour of the dosa. In tamil if we have to say, soodu parakka varukanum.

Soak this along with urad dal for 4 hours. Grind this into a fine paste. Actually my perimma told me to soak it separately and grind them it separately and later mix it. But i soaked and grind it together.
After grinding the batter, add salt and mix well with clean hands.
 Ferment the batter for 7 to 8 hours  or till it raises up nicely. The fermentation times depends on the place you live.

Once the batter is fermented, mix this well with a ladle and if it is too thick, add little water and bring it to the right consistency.
Heat a pan and grease with oil. Pour a ladle full of dosa batter on it and spread it into a circle.

Do not add oil, only greasing the pan with a drop of oil before making every dosa is enough.
Flip the dosa and cook on both sides.
This dosa will not be crispy and will be soft , spongy and white.
Do it for the rest of the batter and stack it up.

Add idli molaga podi and sesame oil in a plate. Mix well. Sprinkle little water to the molagapodi oil mix. This will make the dosa more softer. Do not sprinkle more water. Just add few drops.
Spread the molagai podi on the dosa and place it on the banana leaf.

While doing this if the podi mixture gets dried up, add little more oil and sprinkle few drops of water.

Do the same for the rest of the dosas and stack it up on the banana leaf.

Cover it with another leaf and close it tightly. If it is a big leaf fold it in that leaf only.
Place it in a clean towel and wrap it nicely and tightly.
Keep it in a dry place in the kitchen.

The next day you take open it and pack in convenient packs and take it for your travel.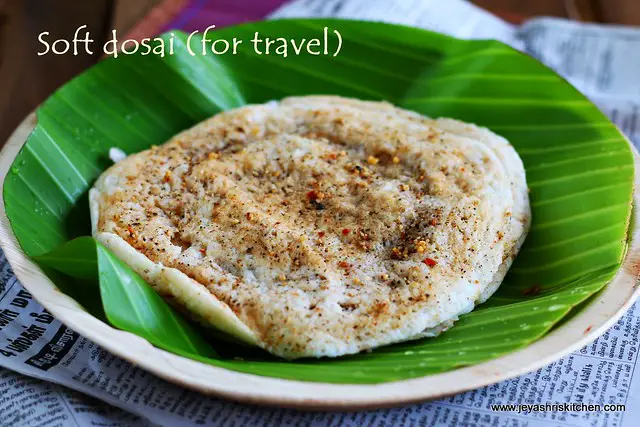 Notes:
Ensure not to burn the rice while roasting.
Do not smear oil while making the dosa. Just grease the pan before making each dosa.
Always handle this dosa with dry hands, so that it stays longer.