Alvas Yogurt – A review
Yogurt|Curd|Thayir, we Indians include in our everyday meal, either in the form of
curd rice
or
buttermilk
or
masala chaas. 
 I got a mail from Alvas, an Indian Diary Producer in Singapore, to  write a review on their yogurt. I readily accepted it and they sent me their products in 2 days.
Alvas Natural curd comes in 3 different sizes, 200ml, 500ml and 1litre.
Alvas Natural Yoghurt is available in Sheng Shiong outlets, FairPrice shops and Mustafa Center in Singapore. I felt the availability of the yogurt is quite reachable to all, as we have Sheng Shiong and FairPrice outlets island wide. Apart from these places, it is available in all Indian Mini marts. Coming  to the price, the 200 ml is priced 1.20 SGD , the 500ml is 2.80 SGD and the 1 litre is priced 5.40 SGD.
This review is based on my personal opinion. I am not paid by the company to write the review. I was given only the yogurt by Alvas Natural.
The texture of the yogurt is creamy and is not sweet unlike other store bought curds. The best part is that this yogurt tastes more like home made curd and is completely chemical free. They do not add any preservatives or additives to their yogurt. The yogurt tasted exactly the same as home made yogurt . The 200 ml pack tasted slightly sour but the rest were perfect. Since this yogurt is homemade, every batch carries its own level of tangyness. Both my kids are a big fan of yogurt and they loved Alvas yogurt very much. Trust me, they are my best critics, especially my daughter.
I made curd rice using Alvas yogurt, added it in Peas masala and also made Spicy pomegranate raita with it. One more important thing is that when I used this for setting yogurt it turned out perfectly, without the texture of a dosa batter. Generally when I use any store bought yogurt for setting yogurt, it turns out to be slimy. But this one turned out perfect. I would recommend my readers in Singapore to try Alvas Yogurt too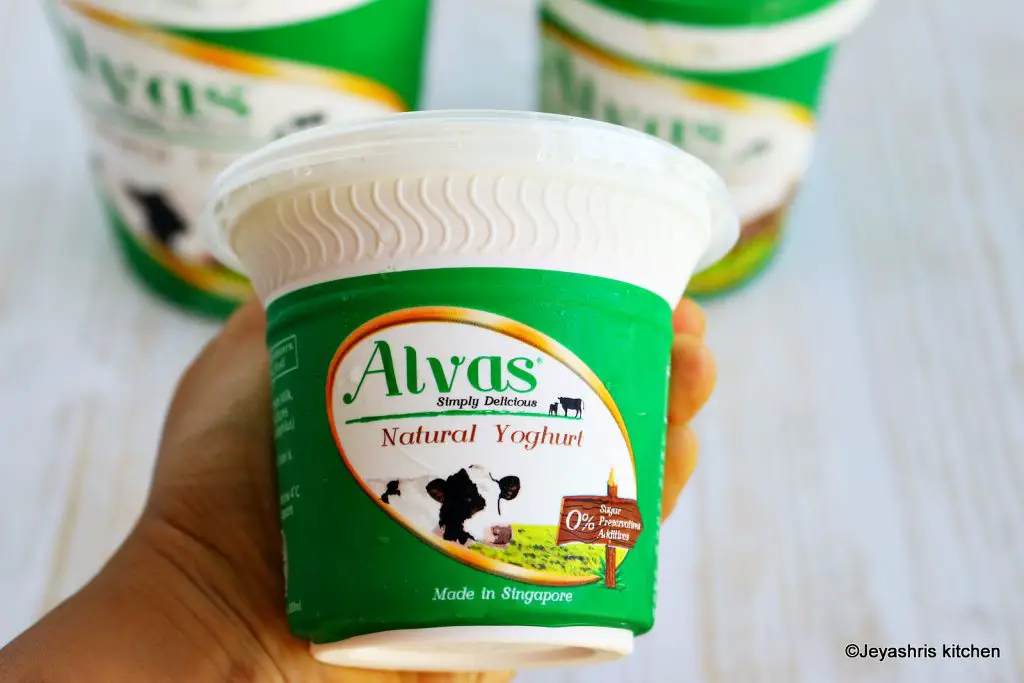 As i mentioned in my Masala Square paratha post, here is the recipe for Spicy Pomegranate Raita.
Spicy pomegranate raita- Alvas Yogurt
  Preparation Time : 10 mins | Cooking Time :Nil |Serves: 2
    Alvas Yogurt   3/4 cup
    Pomegranate  1/2 cup
    Red chili powder  1-1 and1/4 tsp
    Cumin powder | Roasted jeera powder  1/4 tsp
    Salt  as needed
    Sugar  2 pinches 
                                        Video of How to make Spicy Pomegranate raita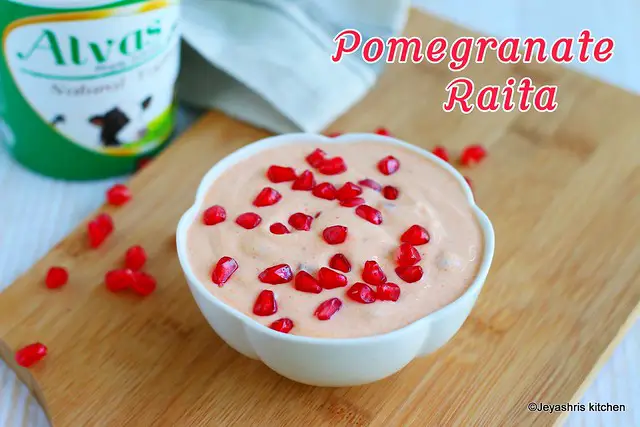 Method:
In a wide bowl add the thick creamy yogurt. Whisk this well without any lumps.
Add red chili powder, roasted cumin powder,salt and sugar.
Mix well.
Add the pomegranate to this.
Fold gently.
Serve chilled with any spicy biryani or parata of your choice.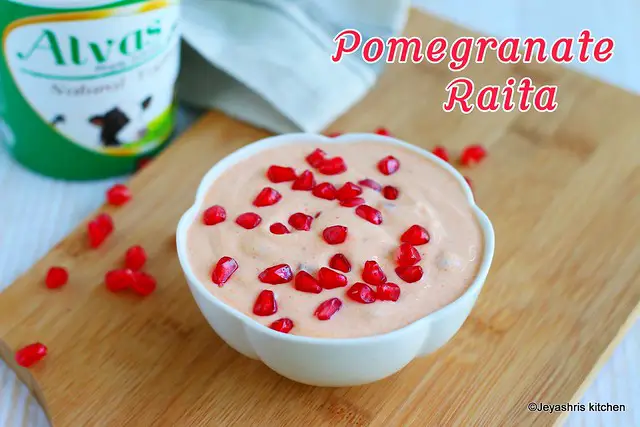 Notes:
Reduce red chili powder according to your taste.
You can replace pomegranate with potato or cucumber. In that case add little red chili powder.
Pomegranate seeds balances the spiciness in the raita.