Rumali roti is a popular Indian flat bread. I have already posted the recipe of rumali roti. Recently when we went to a restaurant, we saw the spinach rumali roti |Palak rumali roti in the menu card. Though we didn't order that, the idea was lingering in my thought and finally i tried it today at home. It turned out pretty well and kids too enjoyed this rumali roti. You can try the same by adding finely chopped methi leaves to the dough instead of adding spinach puree. You may also like this.
Spinach rumali roti
Preparation Time : 25 mins | Cooking Time : 40 Mins |Makes: 12
Whole wheat flour 1 cup
All purpose flour| maida 1/2 cup
Spinach| palak 1 cup (approx.20 leaves)
Milk 1/4 cup
Rice flour | maida 2 tblsp (for dusting)
Ghee 2-3 tsp
Oil 2 tblsp
Salt to taste
Sugar 1/4 tsp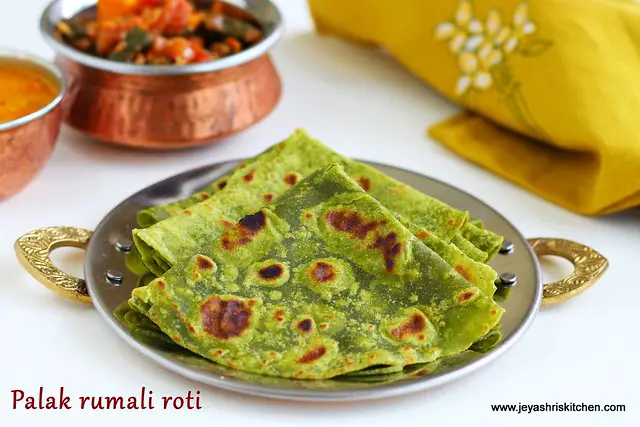 Method:
Wash the spinach leaves and put them into hot water and add the sugar. Adding sugar is to retain the colour of the spinach. After 2 minutes take it out from the water or put some ice cubes into the water to prevent it from over cooking and thus loose its vibrant green colour.

When it is cool grind this into a puree along with milk. Let the milk be cool.

In a wide bowl add the wheat flour and all purpose flour. Mix this well. Add salt to this.
Add oil to this and mix well.

Add spinach puree to this and knead this into a soft dough.

Cover it and keep it aside for 15 minutes.
Make small equal lemon sized balls out of this.
Take one spinach ball and place it on the rolling board.

Roll it into a small disc of roti. Roll one more spinach ball into a small disc . Apply ghee on the top portions of both the rotis.

Sprinkle maida or rice flour on one roti . Place the other roti on the top of it.

Roll this into a thin roti, as thin as possible. Place this in a very hot tawa.
Ensure the tawa should be super hot.
Palce the rolled roti on the tawa and cook on both sides quickly.

These actions should be quickly done , otherwise it will get burnt and end up in crispy rotis.
Once the rotis are warm enough to handle, slowly seperate the two rotis. This can be easily done.

Repeat the same for remaining dough. Super soft rumali rotis are ready to serve.
Fold it into a triangle and serve. These rumali rotis will be soft like a kerchief.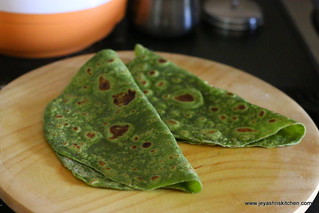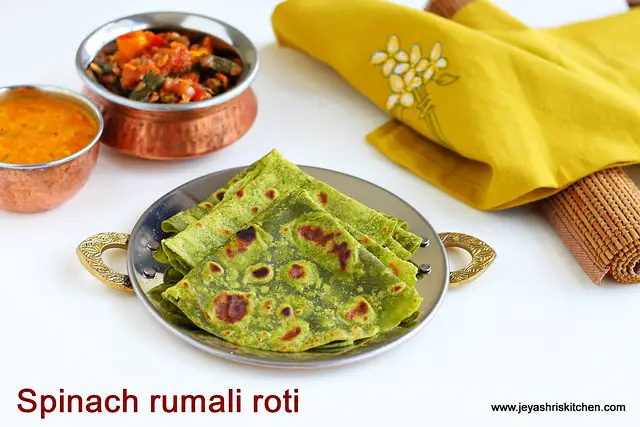 Ensure that the dough should be soft. else the rotis will turn hard.

Also the tawa should be very hot when you put the rotis on that.

Since we are rolling it thin, no need to worry about the inner side being cooked or not.

It will get cooked.

While placing one roti over another do not completely seal it . Press it nicely.

If it is completely sealed, you will find it difficult to separate it, once it gets cooked.