Chapathi, my mom used to make it very rarely when we are kids.
Dosa
will be the most  made tiffin at home and we all enjoy dosa like anything. Chapathis amma will make once in a month when she has off day. Though appa is diabetic, she makes more of
Godhuma dosa
, also he doesn't like chapathi much. Even if she makes chapathi,
veg kurma
will be the only side dish she knows to make and later she learnt
channa masala
from my athai. Sometimes she makes simple
onion tomato gravy
or coconut chutney too. We used to scold her if she makes
coconut chutney
for chapathi. But nowadays i like that combo.  But whenever she makes chapathi, she makes this sweet chapathi for us and it is our most favourite one too. My paati makes this sweet chapathi in triangle shape and mom do it in round shape. My mil makes regular chapathi like triangle parathas and later we changed it to phulkas as they are healthy.
Few days back when me and my hubby were talking about the childhood food memories, we both remembered about this sakkara chapathi . So i thought i will post this recipe here. Do you have any childhood memories related to this sweet chapathi, i would love to hear. Share in the comment section below.
Triangle sweet chapathi
  Preparation Time : 20 mins | Cooking Time : 5 min per chapathi |Makes: 4
     Wheat flour| atta       1/2 cup
     Sugar            1 tsp per  chapathi
     Ghee      few drops for each chapathi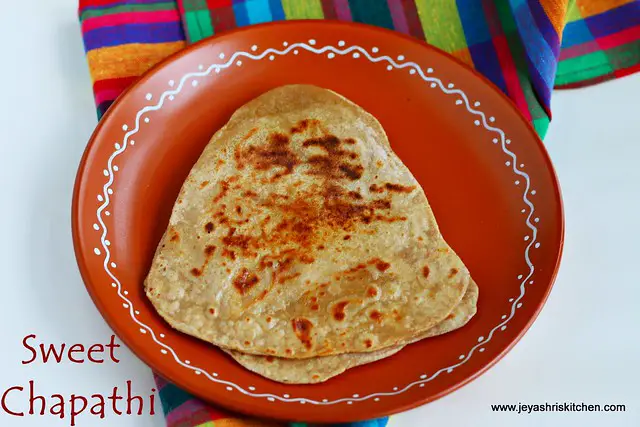 Method:
Knead the atta into a soft dough. Make big lemon sized equal balls.

Roll this into a medium sized thick chapathi. Add few drops of ghee to this and spread ghee on it .

Sprinkle sugar on this and fold it and make a semi circle.

Join the 2 ends together and form a triangle. Roll this gently into a triangle chapathi.

Heat a tawa and put the rolled chapathi on the tawa. Cook the triangle sweet chapathi till brown spots appear on one side.

Flip the chapathi and cook on the other side too.
If needed you can add few drops of ghee while cooking the parathas.

The aroma of the chapathis while cooking will be awesome.
Serve this hot.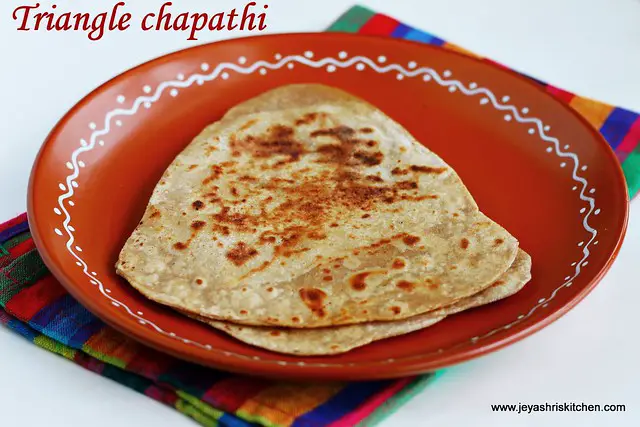 Notes:
Do not add more ghee else it will ooze out while rolling.
You can make this in round shape too as how we make parathas.
You can add grated coconut while sprinkling sugar.
Sugar can be replaced with powdered jaggery too