Tomato pulao is the one which i wanted to post for a long time, but whenever i make this , it never turned out perfectly. My mom makes it in a different way,though i like her method, i wanted to make puloa. Check out my
After so many trial and error, i finally got my perfect recipe.
INGREDIENTS:
| | |
| --- | --- |
| TOMATOES | 2 NO |
| ONION | 1 NO. |
| BASMATHI RICE | 1 CUP |
| CLOVE | 2 NO |
| PEPPER | 5-7 NO |
| ELACHI | 1 NO |
| GARLIC | 10 PODS |
| GINGER | A SMALL PIECE |
| RED CHILLI POWDER | 1/2 TSP |
| OIL | 2 TSP |
| GHEE | 1 TSP |
| MINT LEAVES | FEW(OPTIONAL) |
METHOD:
Chop the onions and tomatoes.
Ground the garlic, ginger and half of the onions into a fine paste.
Wash the rice and soak it in 1 1/2 cups of water.
In a pressure cooker, add the oil and ghee and throw in the pepper ,cloves and elachi.
Add the onions.
Add the onion ginger garlic paste.
When the raw smell disappears,add the tomatoes , redchilli powder and salt to it.
Saute for few minutes.
Now add the soaked the rice to this and fry for 2 minutes.
Add the water. Add the chopped mint leaves(if using)
Close the lid and wait till the cooker gives one whistle.
After that keep it in low flame for 15 mins.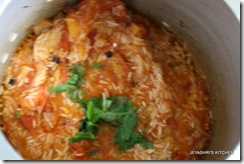 Enjoy hot with any raitha of your choice.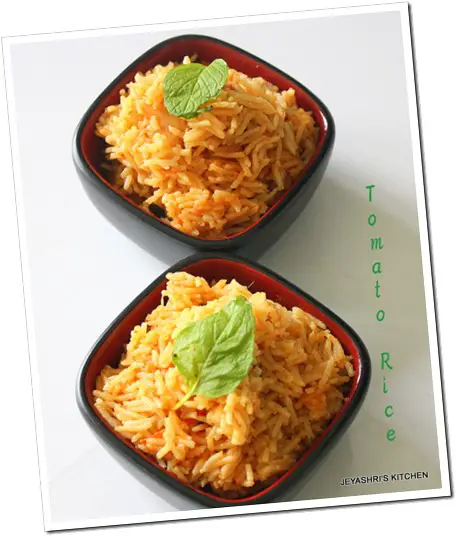 Note:
If you are doing in rice cooker, add 1 3/4 cups of water.
Since the tomato also give away water water, dont add water more than this.
Otherwise the rice will be soggy.
If you want it more spicy,you can grind 2 green chillies along with the garlic and ginger.