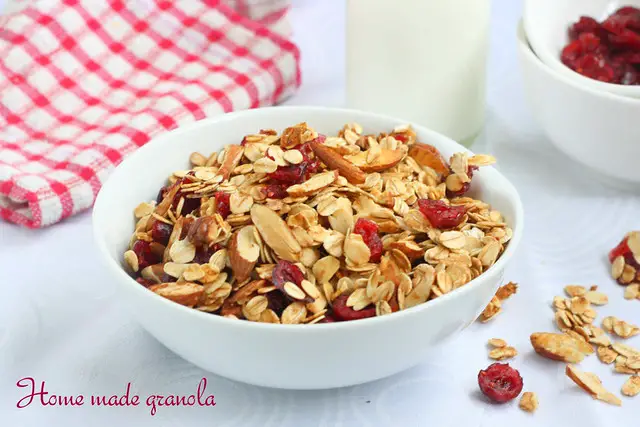 Granola i generally buy from supermarket. When Suresh completed his full marathon last week i though i will make something super healthy for him at home. I have a big box of Rolled Oats lying down in the kitchen shelf , which i bought for making my 
Oats Tikki .
I bought apricots, almonds,cranberry in bulk as he started preparing for the marathon. So tried this Cranberry granola at home and it turned out super yummy and i have stopped buying Granola from super market now a days. Try this super easy recipe and enjoy your breakfast.
Ingredients

  Preparation Time
:
5 mins
|
Cooking Time
: 15 Mins |
  Yields
: 1 and 1/2 cup
    Rolled Oats   1 Cup
    Olive oil        1 tblsp
    Honey            1tblsp
    Almonds           1/4cup
    Dried Cranberry       1/2 cup
    Cinnamon powder   1/2 tsp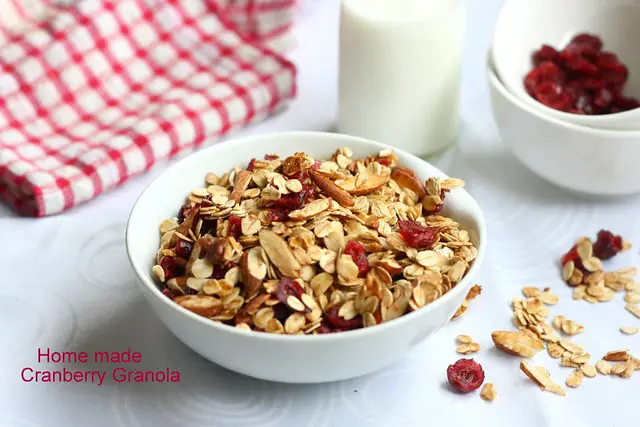 Method:
Chop the almonds into thin slices. In a baking tray, place a butter paper.
Add the rolled Oats, sliced almonds, olive oil, honey and cinnamon powder . Mix well.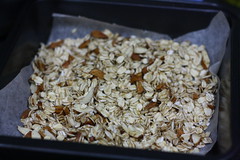 Preheat the Oven for 5 minutes at 160 degrees.
Bake the granola mix for 15 minutes till it becomes crunchy. Stir in between for even toasting.
When done , take out from the Oven and add in the Dried cranberry. Mix well.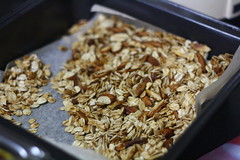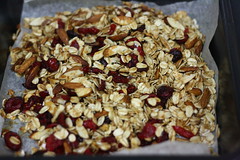 Store in  ait tight container when it is cool. You can serve this for morning breakfast along with warm milk or even with yogurt too.
I loved it eating as it as too , when i have craving for snacks.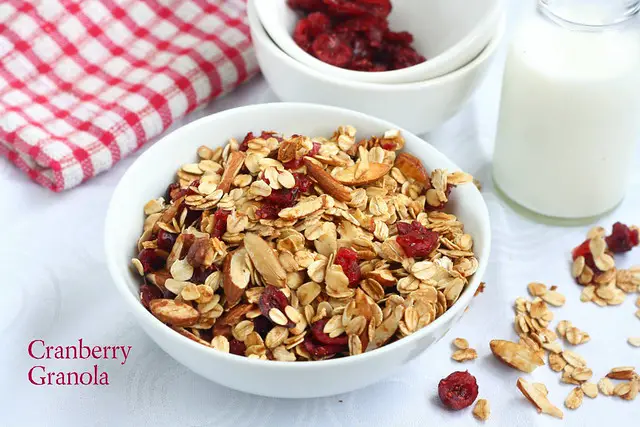 Note:
You can add walnuts , pecan also to the Oats while making this.