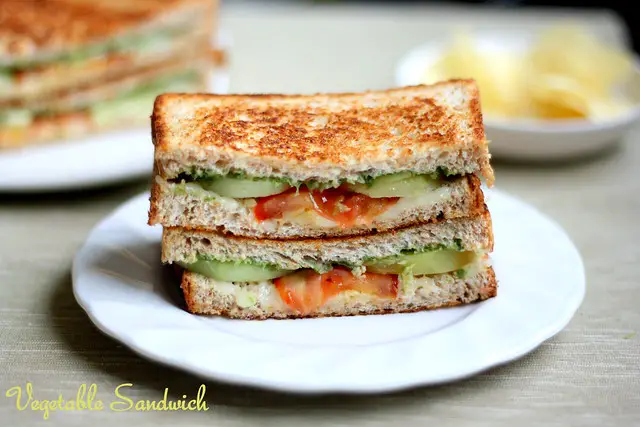 Bread Sandwich |Vegetable Sandwich , though everyone have their own versions, i tasted this version in Kailash Parbhat in Singapore. When me and Raji visited Kailash Parbhat during our Diwali shopping time i ordered the this Bread sandwich which they "College Girl Sandwich". though i have sandwich maker i made it in tawa so that it will be easy for all who do not  own a sandwich maker.
I have been postponing to post this as i am not happy with the pictures which were took on a rainy day noon. I don't have time to re click but sometimes i feel if the  recipes turn out fantastic and if the pictures are not satisfactory as i expected i some how manage to make it up and post. I don't want my readers to miss out some yummy recipes. I am enjoying my vacation in Chennai and have very little time to spend on Blogging. So please bear with any delay in replying query. Over to Vegetable  Bread Sandwich recipe.
Ingredients

  Preparation Time
:
10 mins
|
Cooking Time
: 10 Mins per Sandwich |
  Serves
: 1-2
    Bread    4
    Potato            1
    Tomato          1
    Green chutney     1- 2 tblsp
    Grated Cheese(pizza cheese)   As needed
    Cucumber   Few slices
    Butter|Ghee       To grease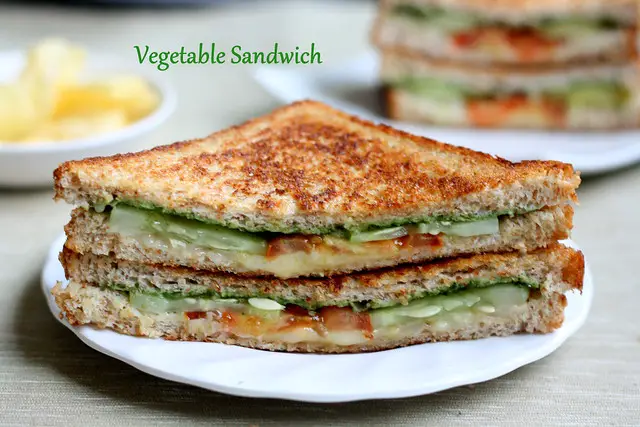 Method:
Boil the potatoes. Let this be firm not too soft.
Cut this into round slices. Cut the cucumber into roundels
Cut the tomatoes into thin slices
I used WholeWheat bread. Take 2 slices of bread. Generously grease butter | ghee on one side of two breads.
 Spread green chutney on the side which is not roasted.
Place the potatoes, cucumber and tomatoes on this top side and add the grated cheese.
Close this with the other bread.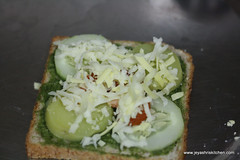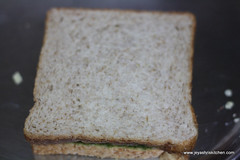 Carefully take this and place it on a tawa. Toast till on both sides. Flip carefully.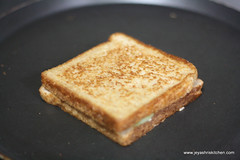 cut them into squares or triangles as desired. Repeat this for the rest of the slices.