Spring rolls are an easy to make starter, which can be made in advance too and kept frozen. When kids ask for quick snacks or when you have unexpected guests Spring rolls are more easier and handy one. The filling for spring rolls purely depends on your choice. I made a simple vegetable stir fry filling for my spring roll and i wanted to make a video of making folding Spring rolls , so i have put a video too. the quality may be little poor as it was taken from my phone. I got the readymade Spring roll sheets(small one) from the local Fairprice Shop. Do check out the wrap for with egg and without egg sheets.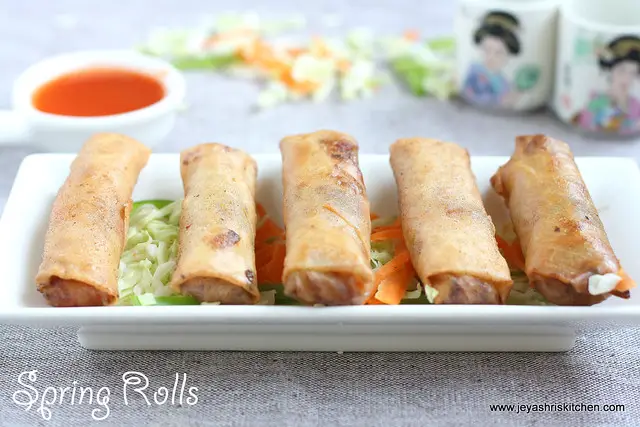 INGREDIENTS: MAKES 4-5 SPRING ROLLS
| | |
| --- | --- |
| SPRING ROLL SHEETS | 4-5 |
| CABBAGE (SHREDDED) | 3 TBLSP |
| CARROT (THINLY SLICED) | 2 TBLSP |
| CAPSICUM(THINLY CHOPPED) | 1-2 TBLSP |
| PEPPER POWDER | TO TASTE |
| SALT | TO TASTE |
| OIL | TO DEEP FRY + 1 TSP |
| SOYA SAUCE | 1 TSP (OPTIONAL) |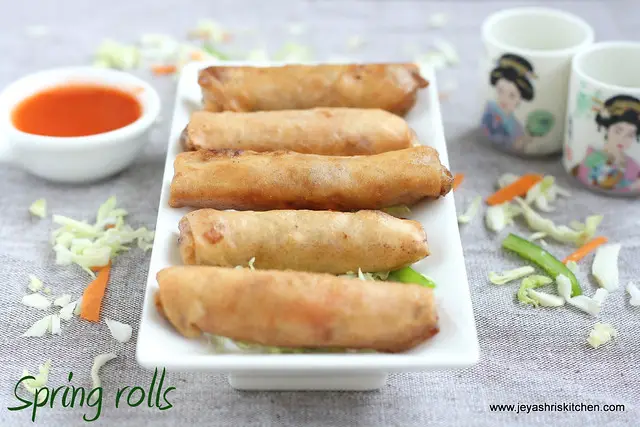 METHOD:
Take out the spring roll sheets from the frrezer and thaw this for 45 minutes.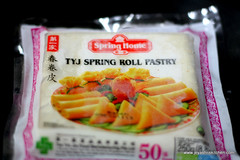 In the mean time, let us make the filling for spring rolls.
In a pan add the thinly chopped veggies and add the pepper and salt.
If adding soya sauce, add at this stage. Saute for 2 minutes in high flame. Let the vegetables be crunchy. Do not over cook.
Allow this to cool.
Take a clean damp cloth ( i used kitchen tissue) and cover it to avoid the sheets from drying. Carefully take out one sheet.
Place little filling on the one edge of the sheet.
Roll this till half of the sheet. Fold the sides and bring it to the center.
apply little water on the edges and roll it tightly. If you feel it is not sealed properly, you can use corn flour paste. apply on the edges.
Just watch the video of rolling the spring rolls in the video below.
Repeat the same for the rest of the filling.
If you want to freeze place it in a ziplock cover and freeze it.
Keep oil for deep frying. Place the spring rolls into the oil. Do not over load.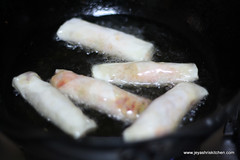 Fry on both sides until golden brown. Drain excess oil in kitchen towel.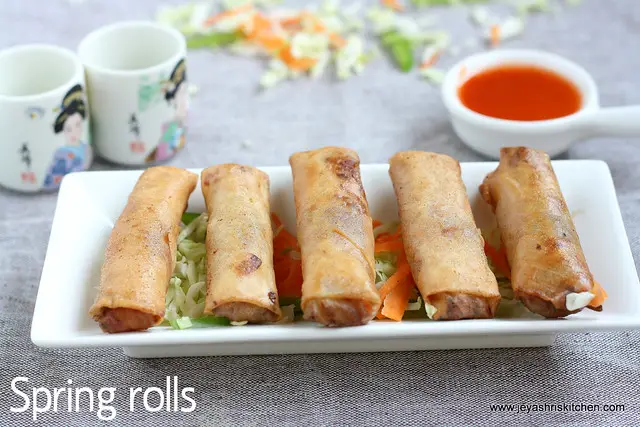 Note:
You can add any filling of your choice. Even a potato filling will taste nice.
Always serve hot.