whole wheat naan on stove top.
Naan generally when we go out and eat in restaurants will be in our order. No wa days we always order tandoori roti and sometimes kids order naan. Naan generally made with all purpose flour| maida. I have already posted
Plain Kulcha recipe.
I wanted to try naan for a long time and finally tried it with whole wheat naan. I tried this recipe from
here
. I have heard and read about this rich peshwari naan. So wanted to try this at home and it was a very successful attempt. Generally naan goes well with
malai kofta
, paneer butter masala
and
chole masala.
Whole wheat peshwari naan
Preparation Time : 15 mins+ 2 hrs resting time | Cooking Time : 5-7 Mins per naan |Yields: 12
Whole wheat flour 2 and 1/2 cup
All purpose flour | maida 1/2 cup
Active dry Yeast 2 tsp
Baking powder 1/4 tsp
Salt to taste
Sugar 1/2 tblsp
Warm Milk 1/4 cup
Yogurt 3/4 cup
Oil 2 tblsp
Butter to make naans
For stuffing
Pista 10
Badam 8
Dry coconut | kopparai 2 tsp
Sugar 2 tsp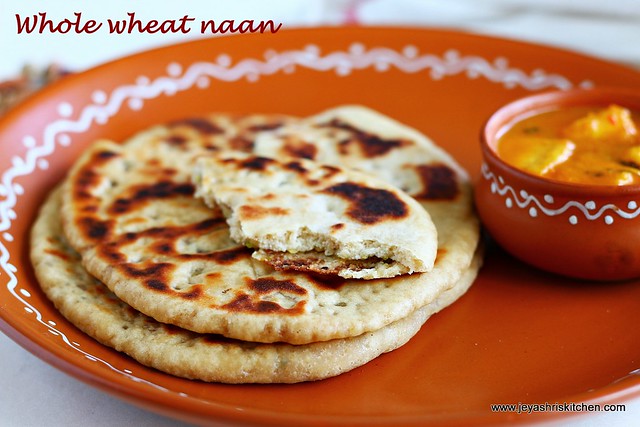 Method:
Warm the milk. Do not make it hot, just luke warm is enough. Dissolve the yeast in the milk and keep it aside.

In a wide bowl add the wheat flour, maida, salt, baking powder and sugar. Sift this for even mixing.
Make a dent in the center and add the yeast mixture, yogurt and oil to this.
Slowly Knead this into a smooth dough. You can add little warm water to knead the dough into a soft pliable dough.

Keep this covered with a damp cloth for 2 hours.
Meanwhile take the nuts and the dry coconut. Pulse this in a mixie into a coarse powder. The stuffing i have done for only 2 naans. Rest all i made as butter naan only. So this stuffing will be for 2 naans only not for the entire dough.

After 2 hours, the dough would have raised .

Punch down the dough and take a big lemon sized portion of the dough. Dust the rolling board with flour.

Roll this into a small disc and place 1 tblsp of stuffing(coarsely powdered nuts) into this.

Close this and ensure that it is perfectly sealed. Roll this gently into an oblong shape.

Heat a tawa and cook this on both sides in a medium flame.

Apply butter once it is cooked on both sides.

If not using stuffing, just go ahead to make plain butter naans.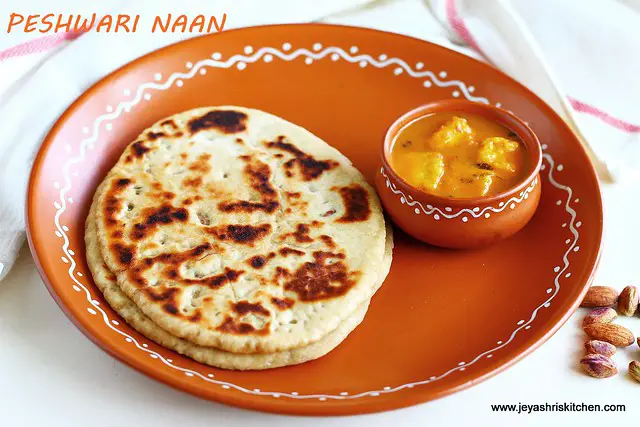 Notes:
Always ensure the yeast is actuve . Else it will not raise.
Ensure that the milk is luke warm while dissolving the yeast. Hot milk will not make the yeast raise.
You can add finely chopped garlic to the dough and make garlic naan.
For stuffing you can add few raisins and fennel seeds.
Instead of wheat flour you can add maida too.
You can bake the naan too in an oven.
Any left over dough can be kept in the refrigerator and can be stored for a day.