Ammini Kozhukattai , made  from the left over kozhukattai maavu(outer layer) while making
Modakam
for ganesh Chaturthi.  This ammini kozhukattai itself makes a tiffin or snack and it is a quite a healthy and addictive snack too. Though there are different version of making this ammini kozhukattai I am sharing the one which my mom usually makes at home. Check out the notes to see the different ways of making ammini kozhukattai.
Check out my
Ammini kozhukattai recipe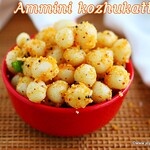 Recipe Cusine: Indian
Prep Time: 20 Minutes
Cook time: 20 Minutes
Serves: 4
Author: Jeyashri
Recipe Category: Lunch | Dinner
Description: Ammini Kozhukattai , made from the left over kozhukattai maavu(outer layer) while making Modakam for ganesh Chaturthi.
     Rice flour   1 cup
     Salt  1/2 tsp
     Water   to make the dough
     Sesame oil  2 tsp
    Coconut oil  1 tblsp
    Mustard  seeds  1/2 tsp
    Urad dal  1 tsp
    Curry leaves  few
    Idli milagai podi   3- 4 tsp
    Coconut  2 tblsp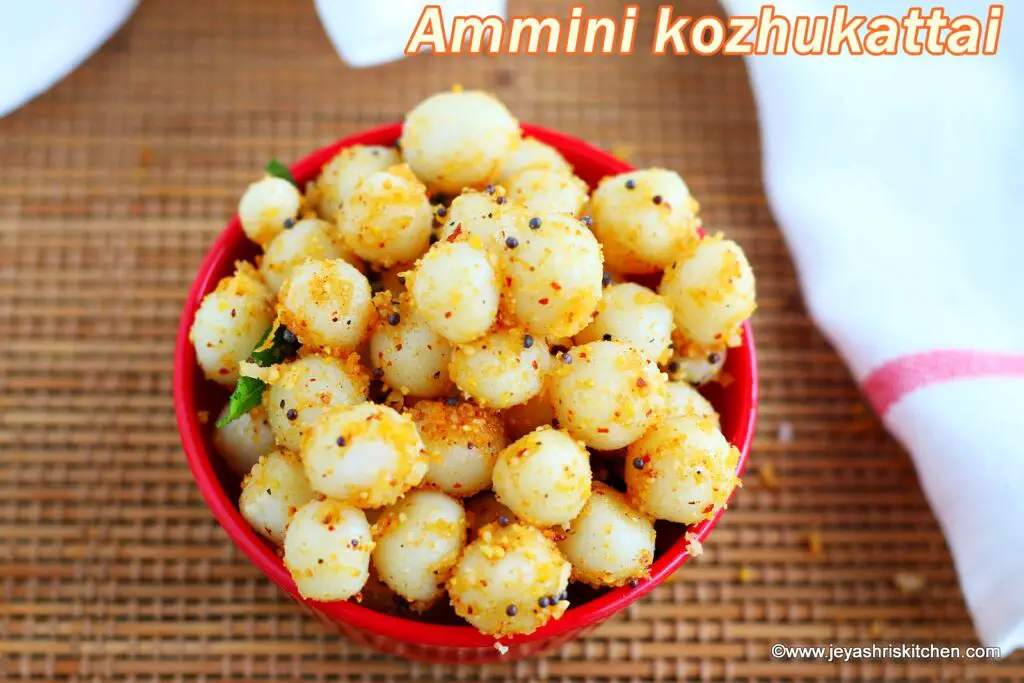 Method with step by step pictures :
Boil the water by adding salt and sesame oil to it.
Keep the rice flour|idiyappam flour in a wide bowl.
When the water comes to a rolling boil,slowly add the water to the flour.
Normally for idiyappam flour it will take 1 and 1/4 cup of water for 1 cup of flour. But for store bought rice flour it will be little less.
Just mix with a spoon while adding water.
This should be of a smooth dough consistency.

When it is warm knead it with your hands and add a tsp of sesame oil if you want.
Cover with a moist cloth to avoid dryness.
Grease your hands with oil and make a small size balls out of the rice flour dough.( I am not good in making even sized balls)
Steam this in a greased idli plates for 8 minutes in medium flame.

Heat a pan and add the coconut oil.
Temper with mustard seeds and curry leaves.
Add the steamed balls to this and add the idli milagai podi.

Gently mix it well.
Add coconut to this and mix well.

Check for salt.
Enjoy this guilt free snack for evening tiffin.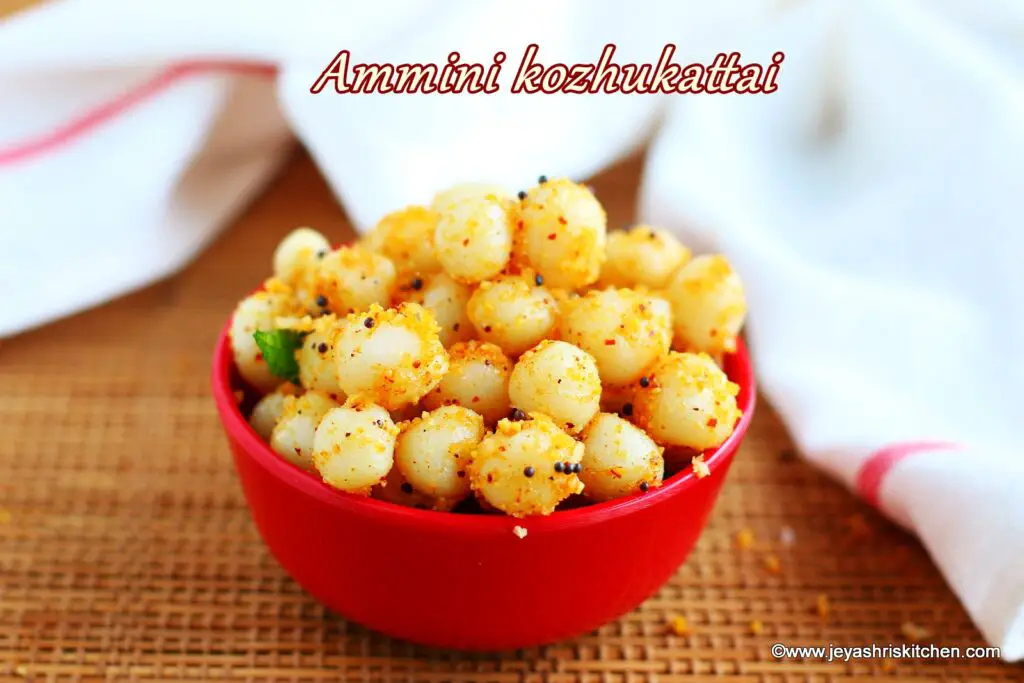 Notes:
Do not over steam this kozhukattais as it will turn hard and chewy.
Instead of Idli Milagai Podi you can add redchilli powder while kneading the dough and make balls. the rest of the procedure is same.
You can add pepper powder to the seasoning and make it as pepper ammini kozhukattai.
Thengai molagapodi can be added and in that case you can skip the coconut.
Alternatively while tempering mustard seeds chopped green chilies or red chilies can be added to give spicyness to the ammini kozhukattais.