Apple pie
,i have tasted in McDonalds long back , but never thought i will make it at home one day. Last week i have seen making of an mini apple pie in a cookery show . I actually wanted to  try a vegetable pie , but my daughter Varsha who watched the TV show with me , was so particular to make the apple pie. So finally ii tried the mini apple pie today and it turned out very well. She totally enjoyed and the house is filled with fantastic aroma.
Apple pie recipe

  Preparation Time
: 20
 mins
|
Cooking Time
: 40 mins|
  Yields
: 5 pie
    For the Dough
  All purpose flour  1 cup
  Cold butter   2 tblsp
  Ice water   3-4 tblsp
  Salt    A pinch
  Baking powder 1/4 tsp 
  For the filling
   Apple   2 
   Sugar    1/3 cup
   Lemon juice  3-4 drops
   Cinnamon powder  1/4 tsp
    All purpose flour   1 tblsp
    Vanilla essence     1/2 tsp
     Butter    for brushing
     Milk    for brushing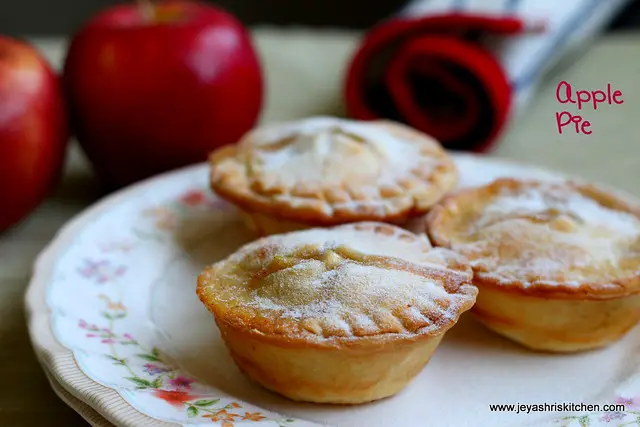 Method:
Make dough by mixing flour, cold butter, salt and baking powder. Add little cold water while kneading the dough. let the dough be stiff.
Cover the dough with a cling wrap and keep it in the fridge for 30 minutes.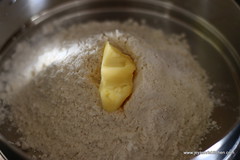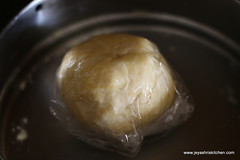 Cut the apple  into 2. Put them in a big bowl of water. Add a pinch of salt to this water. This is to avoid getting the apples become dark.
Chop
In a pan add 1/4 tsp of butter and chopped apple, cinnamon powder, vanilla essence, flour, sugar .
Cook for 2 minutes. Switch off the flame. Add lemon juice.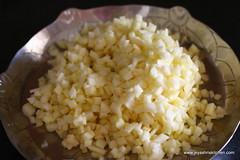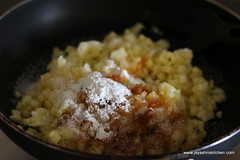 The filling is ready.Do not make the filling well in advance . It will ooze out water.
Cut the apple and keep and do this cooking later.
Take out the dough. dust the rolling board and pin and start rolling the dough .
Roll it into medium thick . Using a lid or cookie cutter (use one big and one small), choose a size according to the size of your muffin pan, cut the rolled dough into 5 small and 5 medium size base.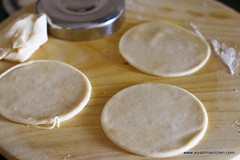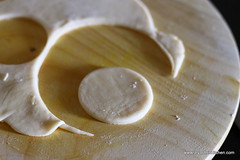 Grease a muffin tin with butter and put the big sized rolled dough into the pan as a base.
Put 1 tblsp of filling into this .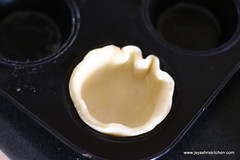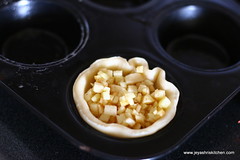 Take the other small rolled portion and with a sharp knife cut it small in the center.
Cover this on the top of filled part, by properly sealing the edges.
Be careful while sealing, ensure whether it is properly sealed. Else it will come out separately while baking.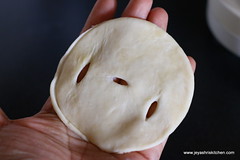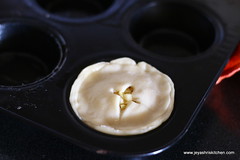 With a fork, just put some marks on the edges so that they will look nice.
Preheat the oven for 5 minutes at 170 degrees.
Brush the pie with milk and melted butter. This is to avoid the top becomes dry.
Bake for 30 to 35 minutes , till the top becomes golden brown.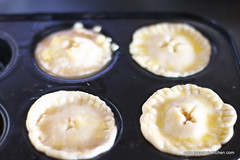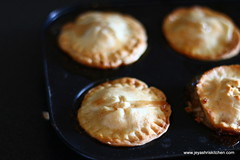 Cool them in a wire rack and serve hot with sugar powder sprinkled on this. Sprinkling sugar powder is optional.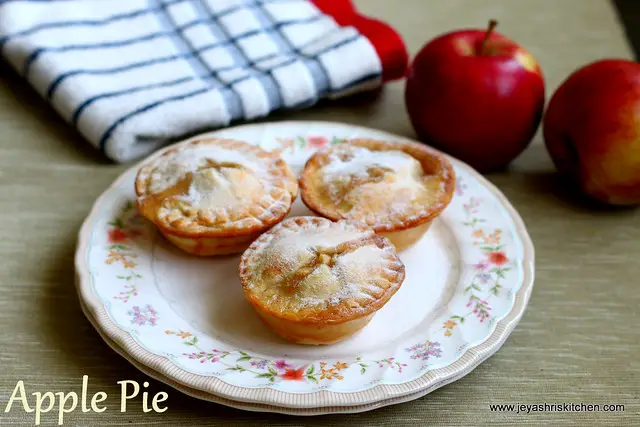 Notes:
Always make the filling just before you are ready with cutting the rolled dough. Else it will ooze out water.
Adding flour to the filling is to reduce the oozing of water.
Seal the pie carefully and nicely. Else top will come separately while baking.
Serving it hot or warm is recommended.