Arai puli kuzhambhu is a not a different dish, it is a vathal kuzhambhu with pidi karanai and black channa. Last year during our December holidays, when i was staying in my mom's place , i learnt this . My perimma made this and tasted very well. I have never cooked pidi karanai (not the elephant foot yam), but with vathalkuzhambhu it tasted super yum. We all really enjoyed it a lot. I took step wise pictures there but the final one were not good. So after coming here i made this twice and clicked the pictures also. Sharing the recipe of arai puli kuzhambhu. Though the name signifies half tamarind(arai puli) never know why it got the name. Quantity of tamarind water is same as we do for normal vathal kuzhambhu
Ingredients

Preparation Time
: 10
mins
|
Cooking Time
: 30 |
Serves
: 5-6
Pidi karanai 2
Sambar powder 4 and 1/2 tsp
Black Channa(kondakadalai) 1 cup
Sundakkai vathal(turkey berry dried) 1 tblsp
Dry red chilli 2
Tamarind extract (from big lemon sized tamarind) 3 cups
Fenugreek seeds (vendayam) 1/2 tsp
Mustard seeds 1/4 tsp
Asafoetida 2 pinches
Urad dal 1/4 tsp
Sesame oil 3-4 tblsp
Jaggery 1/2 tsp
Curry leaves few
Salt as needed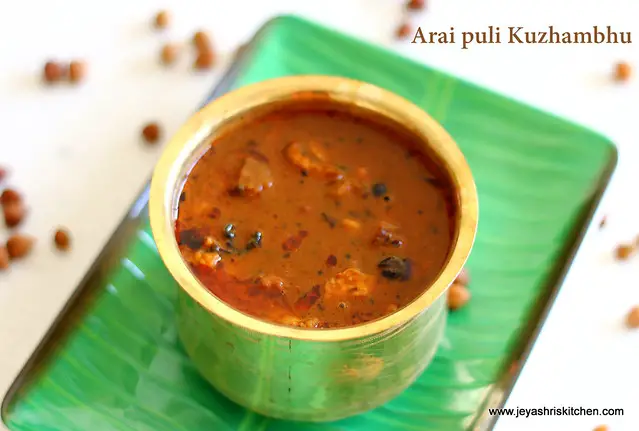 Method:
Soak the black channa in water for 6 hours or overnight.
Pressure cook this with very little salt.
Drain excess water and keep it aside.
Soak tamarind and extract water also.


Peel the skin of the pidi karanai.Wash them nicely. I don't know exactly what it is called in English.
Chop then into slices.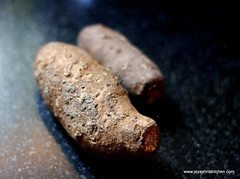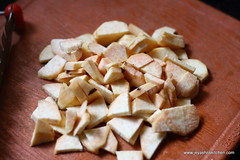 Heat oil in a deep pan and add sesame oil. Throw in the mustard seeds, urad dal, vendayam(methi seeds), red chilli and curry leaves.
When the dal turns golden brown color add sundakkai and pidi karanai.
Saute for five minutes in low flame.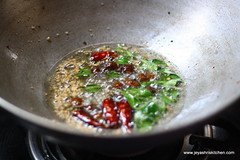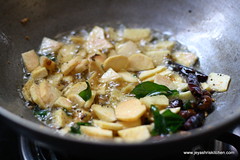 When the pidi karunai turns golden brown add sambar powder to this and saute for a minute.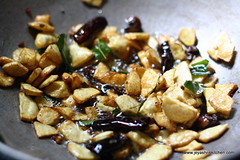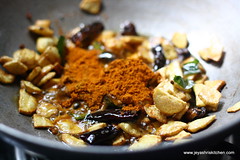 Add the cooked channa and mix well.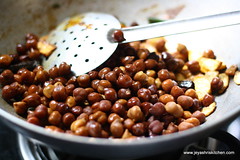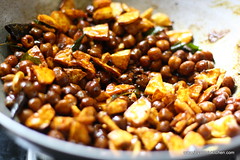 Add the tamarind extract and add 1 cup of water. Add salt, turmeric powder, asafoetida and jaggery.
Let this boil nicely for 12-15 minutes in a low flame. Stir in between
Once the raw smell goes off and the pidi karunai gets cooked , check for a thick gravy consistency.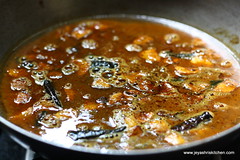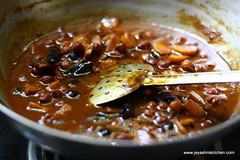 Kuzhambhu is ready to serve.
Enjoy with simple papad |appalam. This will taste heaven even with curd rice.