Poha idli | aval idli is an instant idli which needs no fermentation. Generally we make poha upma, and i have posted
milagu aval
,
puli aval
recipes too. Making idli with poha is a new one for me. Last week while talking with my cousin she was casually mentioning about this poha idli which she read in a magazine. I just gave it a try casually for a weeknight dinner alst week. That was a super hit at home. So yesterday i tried it again with few improvisations and added few veggies too. The highlight of this recipe is it was ready in 25 minutes and kids ate it without any complaints. The idlis stayed soft after 2 hours,so you can pack it for kids lunch box too. Try this aval idli | poha idli at home for breakfast or dinner. This is similar to
rava idli recipe.
Instant poha idli
  Preparation Time : 10 mins | Cooking Time : 15 Mins |Yields: 10-12 idlis
      Poha | aval    2 cups (thick or thin)
      Yogurt      1/2 cup
      Oil      2 tsp
      Mustard seed    1/4 tsp
      Channa dal    1/2 tsp
      Cashew nuts     4-5 (optional)
      Turmeric powder    2 pinches
      Salt     as needed
      Eno fruit salt    1 tsp
      Curry leaves + coriander leaves    few
      Carrot    2 tblsp (finely chopped)
       Peas      1 tblsp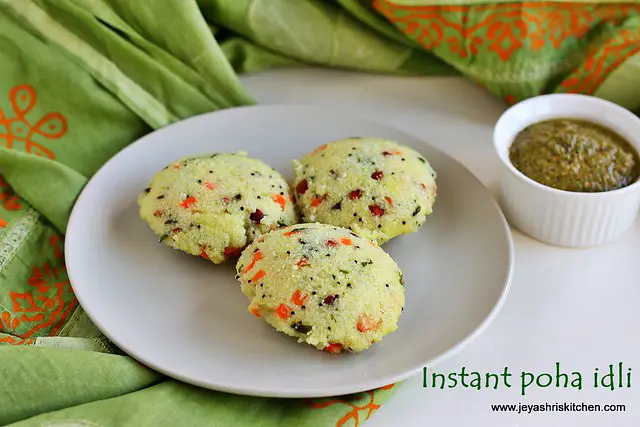 Method:
You can use any variety of poha (thick or thin). Roast the poha in a pan for 2 minutes without getting it burnt.
Coarsely powder them in a mixer. Just pulse them twice will do.

In a pan add oil and add in the mustard seeds, cashew nuts , finely chopped green chili, channa dal, cashew nuts ,chopped curry leaves and coriander leaves. When they are turning golden brown add the chopped carrot and peas. Adding veggies is purely optional.
Allow this to cool. Add the pulsed poha to this. When the seasoning is completely cool add the yogurt to this.
By this time heat the idli pan and grease the idli plates.

Add salt to this. Add water to get the right consistency. The poha will absorb more water but stop with 1 to 1 and half cup of water. After adding eno salt it will be ok .
Add eno salt to this and mix this well. Immediately add this to the idli pan.

Steam  the idli for 10 minutes .

Super soft poha idlis are ready to serve. You can serve with any side dish of your choice.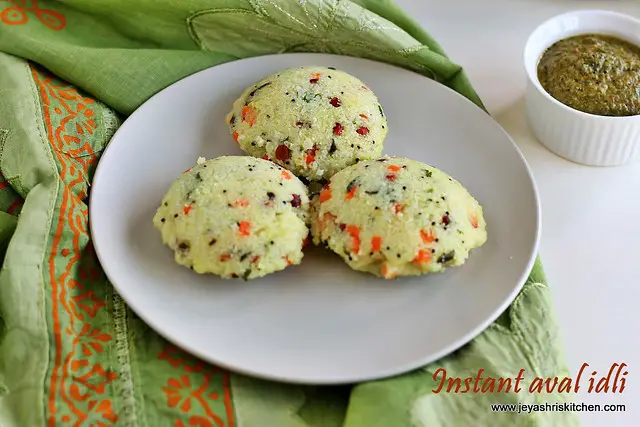 Notes:
You can add onions too while seasoning.
Instead of eno fruit salt you can add 1/4 tsp of baking soda and 1 tsp of lemon juice.
You can grate the carrots too instead of chopping it.