Saravana Bhavan style mini tiffin is my dream to make it at home. Though it has so many items in the menu, if planned well, it can be made easily. This can be made for a brunch and also for dinner too. I still remember the when i was pregnant with my first kid,i used to crave for this  mini tiffin in saravana bhavan. Though i won't eat outside food more often but once in a while i go and have this mini tiffin . Recently when i tried there, the quality was so bad and after that i stopped eating in saravana bhavan. But wanted  to make it at home and here i am with the post of
saravana bhavan style mini tiffin in cooking for guest series .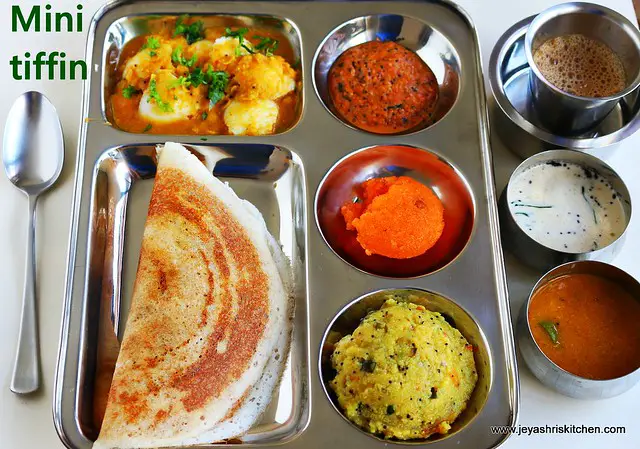 In this menu we have
Preparation when making for brunch or dinner
Make the batter the previous day itself and keep it ready.
Keep the dal for sambar in the cooker and when the dal is getting cooked cut the veggies and soak tamarind for the sambar. Also chop the veggies for kichidi. Cut the cauliflower for masala dosa.
If making potato masala dosa cook the potato along with the dal in pressure cooker.
Grind the coconut chutney too.
Once the dal is done, start making the sambar. Roast the ingredients for sambar and start making the sambar.
In another pan, roast the rava for kichidi and kesari  and roast the ingredients for kara chutney.
Wash the same pan and start making the kichidi.
When water is boiling for the kichidi, grease the idli pan and start making idlis.
By this time the sambar would be boiling and the veggies must have cooked. Add dal and the ground paste  to the sambar.
Mini idlis will get ready so fast and so keep an eye.
Let the sambar gets boiled nicely.
Switch off the sambar and also take out the idlis from the pan and keep it in a casserole.
Add rava to the kichidi and start making the kichidi.
Grind the kara chutney and season it.
Now make the masala for the dosa stuffing. Once done keep it aside.
Lastly make the rava kesari.
While serving, ensure the sambar should be hot, add the mini idlis just before the serving. Make dosa once the guest is ready to eat. Before making dosa keep the decoction ready.
Serve the coffee in the last.