Baby corn and Paneer Jalfrezi, a quick paneer and baby corn stir fry recipe pairs well with roti and rice. This recipe is  one of my favorite recipe i tried from Tarla Dalal cook book. During my visit to India last year i bought few cook books of tarla dalal . I have tried
Paneer Tawa masala
from that book which was really a super hit in my family. This is a simple stir fry recipe and i love to share this with you .
Also check out my
Baby corn paneer Jalfrezi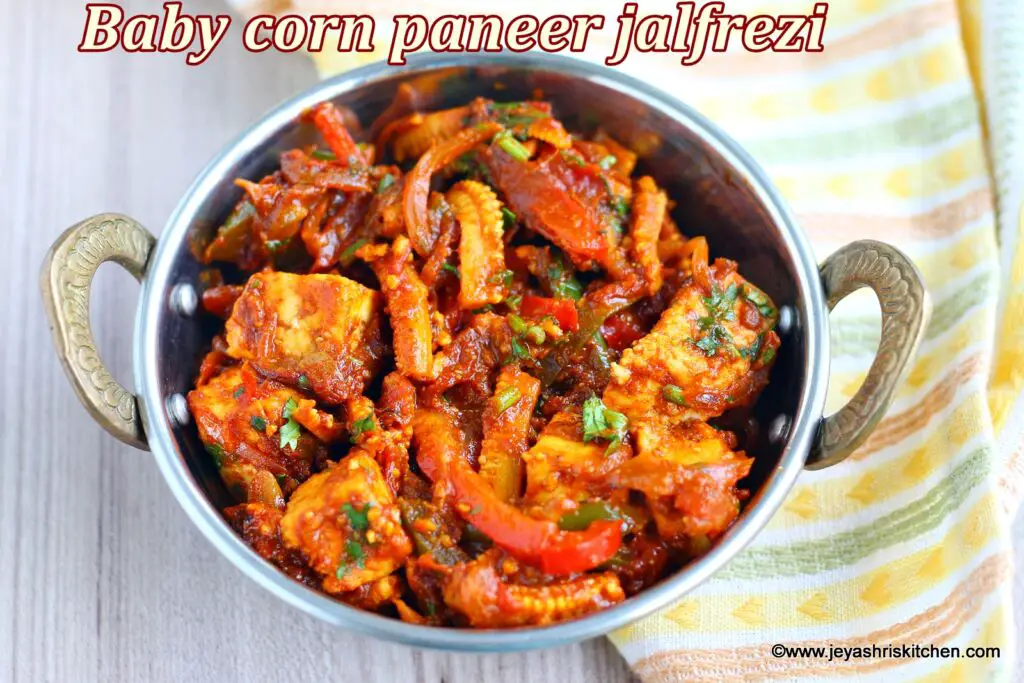 Recipe Cusine: Indian
Prep Time: 15 Minutes
Cook time: 15 Minutes
Serves: 2
Author: Jeyashri
Recipe Category: Lunch | Dinner
Description: Baby corn and Paneer Jalfrezi, a quick paneer and baby corn stir fry recipe pairs well with roti and rice.
    Baby corn  1 cup (cut into thin long strips)
    Paneer cubes  1/2 cup
    Onion  1
    Tomato  1 
    Capsicum  1/4 cup (thinly sliced)
    Tomato puree 2 tblsp
    Tomato Ketchup  1 tblsp
    Red chili powder  1 tsp
    Cumin powder  1 tsp
    Coriander powder  1 tsp
    Garam masala  1/2 tsp
    Turmeric powder  1/4 tsp
    Oil  2 tblsp
    Sugar  1/4 tsp
    Coriander leaves  few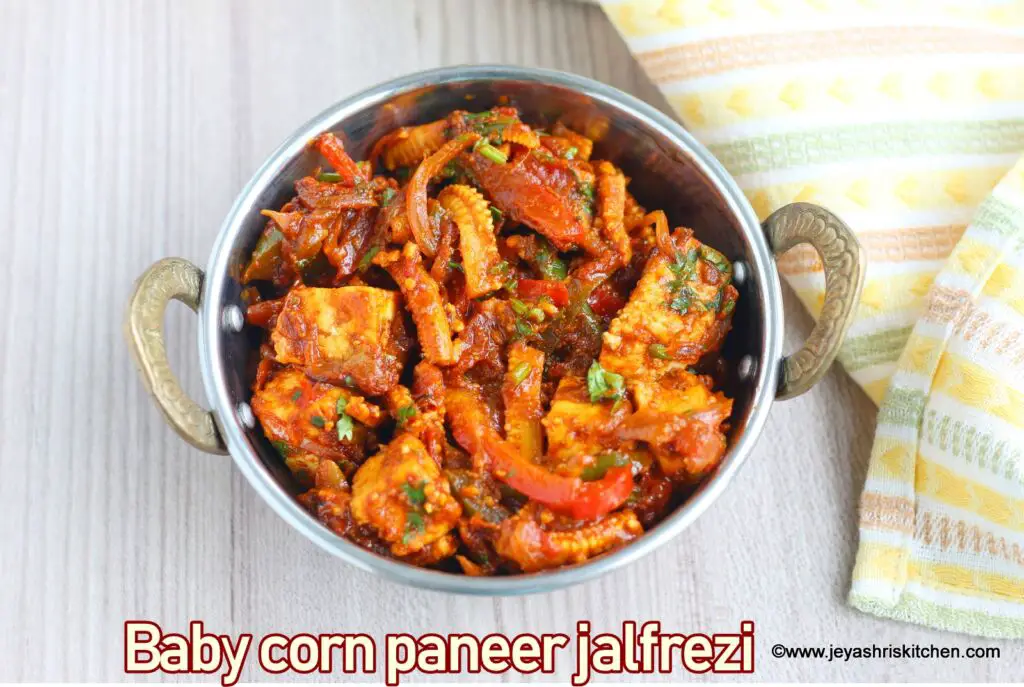 Method with step by step pictures:
Cut onions into thin strips.
Chop the tomatoes.
Heat oil in a pan and add onions. Cook till they become translucent.

Add the chopped tomatoes.
Saute for 2 minutes.
Add capsicum to this and saute for 2 minutes.

Add the baby corn to this and mix well. Cook for a minute.

Add in the turmeric powder, coriander powder, cumin seed powder, garam masala, redchilli powder, tomato ketchup, and tomato puree.

Saute in low flame for 5 mins till the baby corn is cooked.
If needed add 1/4 cup of water.
Add salt and mix well.

Add paneer  toss gently.
After 2 minutes add the sugar and mix well.

Switch off the stove.
Mix gently and garnish with coriander leaves.

Serve hot with rotis or rice.