Vegetable Rice is a common dish in my home,which i make once a week,since my hubby likes it very much. But always make raitha for that. Very rarely i make cauliflower manchurian for this. Though we all like the manchurian, since it is deep fried we avoid making this often. After a long time i made both the vegetable rice and cauliflower manchurian. Here is the recipe of Baby Corn Manchurian .
Vegetable fried rice
  Preparation Time : 15 mins | Cooking Time : 25 Mins |Serves: 2
    Basmati rice   1 cup
    Veggies*   1/4 cup 
     Garlic   3 pods
     Ginger  a small piece
     Green chili  2
     Soya sauce  1 tsp
     Tomato sauce   1/2 tsp (optional)
     Sugar  1/2 tsp
     Pepper powder  1/2 tsp
     Olive oil   1 tblsp
     Spring onion   few (to garnish)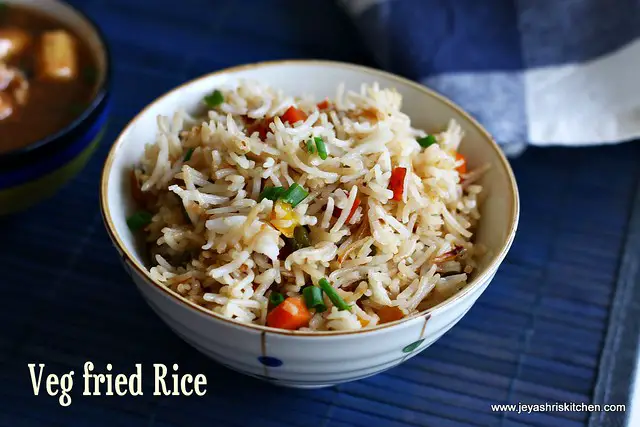 Method:
Soak rice in 1 and 1/4 cup  of water for 15 min and pressure cook it . Check out my post on How to cook basmati rice.
Allow it to cool.  Make the ginger,garlic and chilli into a coarse paste.Chop the bottom part of the spring onion finely and keep it aside. Don't discard the green part.
In a pan ,add 1 tblsp of oil and add sugar and add this paste. Saute for some time. Now add the white part of onion which we chopped. Saute for 2 to 3 mins. Now add the mixed veggies except capsicum.Saute in high flame . Add salt, aginamotto,( if using) tomato sauce and soya sauce. Saute for 2 mins. Add the  chopped capsicum.
Switch off the flame and mix it with rice and add pepper powder also and mix gently to have an even coat.
Garnish with the chopped green portion of the spring onion.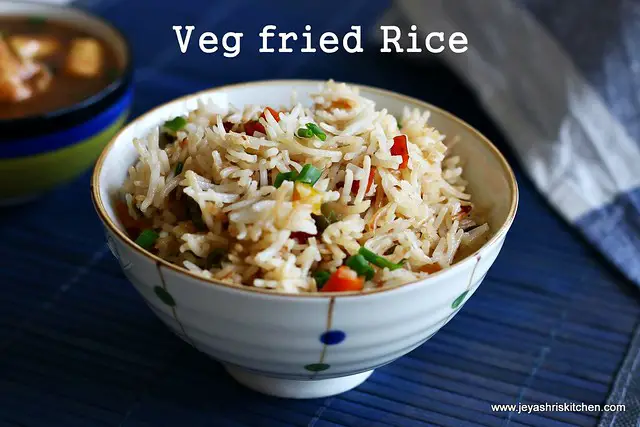 Note:
You can add finely chopped baby corn to the veggies.
Always ensure that the veggies should be crunchy and not over cooked.