Baby potato fry| small potato curry
is a super easy and yummy curry, which I learned from my friend. She generally makes this for most of our potlucks, at our request. It has been a very long time since I was planning to make this baby potato fry. Finally defeated my laziness and made this baby potato curry. It was super crispy and went well with
Sambar sadam. 
Check out my 
Potato curry recipe
Ingredients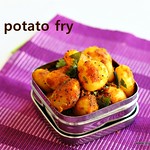 Preparation Time
: 20
 mins
|
Cooking Time
:15 mins |
  Serves
: 2-3
     Baby potato   20
     Sambar powder  1 and 1/2 tsp
     Rice flour     2 tsp
     Cumin powder  1/4 tsp
     Salt    as needed
     Curry leaves    few
     Coriander leaves   few
     Oil    1 tblsp
    Mustard seeds   1/4 tsp

Method:
Boil the potatoes and peel the skin . Do not over cook the potatoes.
Transfer it to a wide bowl.
Add the sambar powder, rice flour, jeera powder, curry leaves ,salt.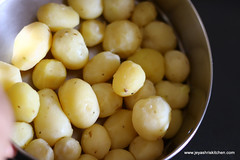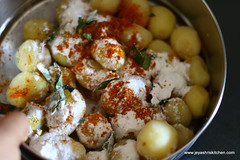 Mix well and marinate this for 20 minutes.
In a pan, preferably non stick add oil and throw in the mustard seeds.
Add in the marinated potatoes and fry for 10 to 15 minutes in a medium low flame.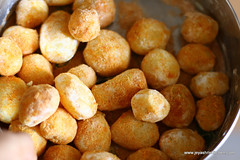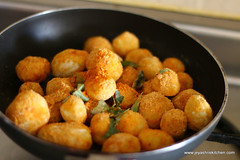 Switch off the flame when it becomes golden fried.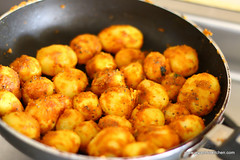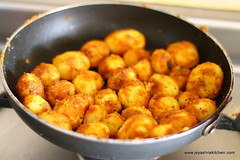 Serve hot with any rice of your choice.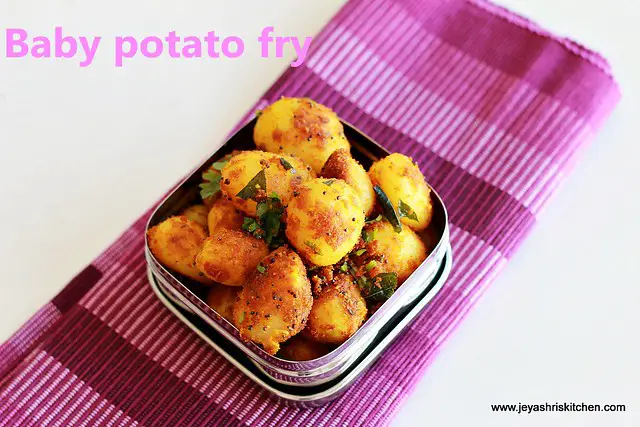 Notes:
If you want to make this for roti, you can add a pinch of garam masala and fennel seed powder too.
Kasoori methi will also enhance the flavour.
Do not add the rice flour more than the quantity mentioned. It will not taste good.