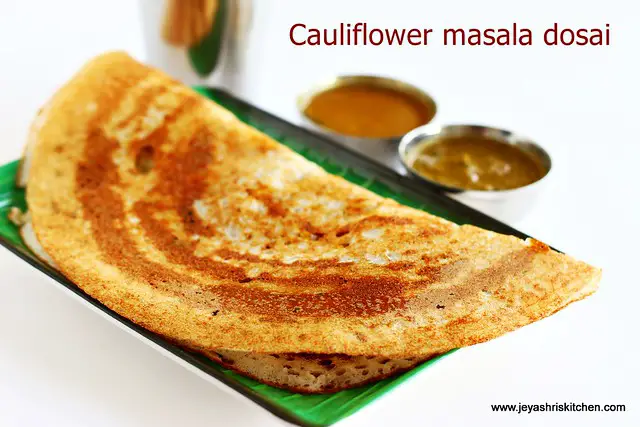 Cauliflower masala dosai I first taste some 20 years back when i was in school. My friend's sister got engaged and she took both of us to a famous restaurant in Madurai . In the menu board which was written outside as "Today's special", it was mentioned Cauliflower masala dosai. Though we always make masala dosa with potato, we tried this cauliflower masala dosa . It tasted very nice. In the past few years i tried this masala dosa few times at home but somehow couldn't click the pictures. Finally made this last week and clicked the pictures. Due to some technical problems, i have given my laptop for servicing. Finally got it back yesterday . Will be resuming to routine from today. Thank you so much for your support.
Cauliflower Masala Dosai
Preparation Time : 15 mins | Cooking Time : 30 Mins |Serves: 2-3
Dosa batter 1 cup
Cauliflower (finely chopped) 1 cup
Ginger garlic paste 1 tsp
Onion 1
Tomato 1
Cumin seeds 1/4 tsp
Curry leaves few
Sambar powder 1 tsp
Turmeric powder 1/4 tsp
Salt to taste
Oil 3 tsp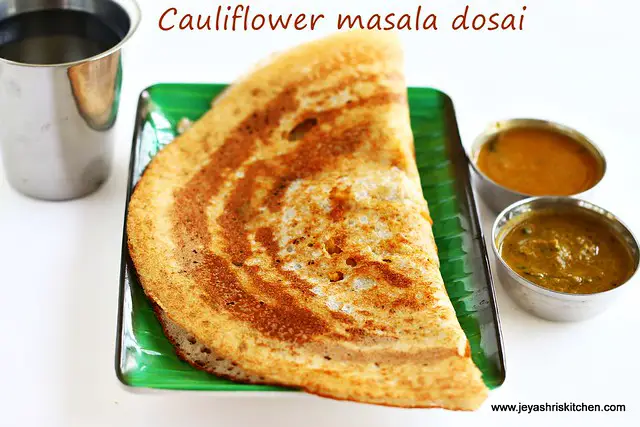 Method :
Wash the cauliflower nicely and chop them finely. Chop the onions and tomatoes very finely.
In a pan add oil and throw in the cumin seeds. Add the ginger garlic paste. Saute for few minutes in a low flame till the raw smell goes. Add the curry leaves.
Add in the onions. saute till they turn pink.

Add in tomatoes and cook till they becomes mushy.
Add the sambar powder, salt and turmeric powder.

Cook for 3-4 minutes and add in the chopped cauliflower.

Add 1/4 cup of water to this and cook this until the cauliflower becomes tender. If needed add 2 tablespoon more water.
Mash this mixture with a potato masher or with the back of the ladle.

When the water evaporates and the cauliflower mixture dries up switch off the flame.
Cauliflower masala is ready for stuffing.

Heat the dosa tawa and pour in a ladle full of batter and spread it into a thin circle of dosa.
Drizzle oil or ghee or butter around the dosa.
Keep the flame medium.
Place 2-3 tablespoon of cauliflower masala in the center of the dosa. You can either spread the masala or can just the place it in the center.
When the bottom part of the dosa becomes golden brown just fold the dosa and if needed drizzle little oil and take out the dosa from pan.

Since the dosa is thin no need to flip it and cook the other side.
Crispy cauliflower masala dosa is ready to serve.
I served with tiffin sambar and mint chutney.
Notes:
Instead of cumin seeds you can add fennel seeds.
Adding curry leaves enhances the flavour and gives a perfect south indian touch to the dosai.
You can add few bits of cashew nuts while adding mustard seeds.
You can make this masala and serve with chapathi too.