இனிய தமிழ் புத்தாண்டு நல்வாழ்த்துக்கள்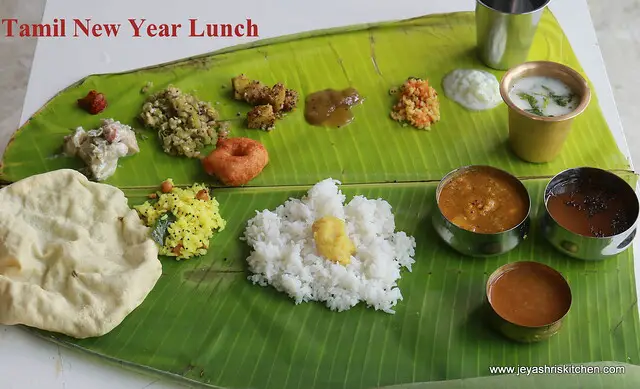 This week in cooking for guests series , i have made full elaborate meal we cook for Tamil New Year. Tamil New year is celebrated tomorrow . When we were in India i used to cook elaborate  meal for all festivals. After coming here though i make the important items for each and every festival. The reason behind this not due to laziness, but most of the festivals come on working days and for lunch i will be the only person at home. Suresh and kids will pack lunch for office and school. Even it is on a holiday, nobody will eat an elaborate meal. But i wanted to make an elaborate meal for this cooking for guests series and today i will be sharing the Tamil New year lunch menu.
I couldn't get proper banana leaf , and the one which we get in cover was not so proper when i opened. It was bit wide and was difficult to cover in my lens too. Though i am satisfied with the meal i am not satisfied with the pictures. But i don't have option , as i don't get banana leaf in near by shop and i opened the leaf . just before serving the food. So the food was ready already and i have to click. Will update sometime .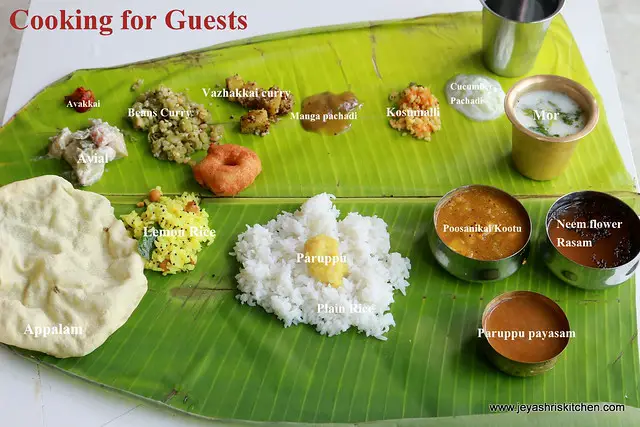 For Tamil new year generally we make the dishes with 6 different taste like sweet, salt, bitter,tangy,spicy,sour and uvarpu. Generally neem flower, raw mango is used in cooking. The lunch menu i cooked is which we follow in our family. Generally the menu doesn't involve onion or garlic. We do not add onin, garlic, garam masala in our cooking on festival days.
You can make the menu bit elaborate also, by adding few items extra. i have mentioned that below.
The menu is: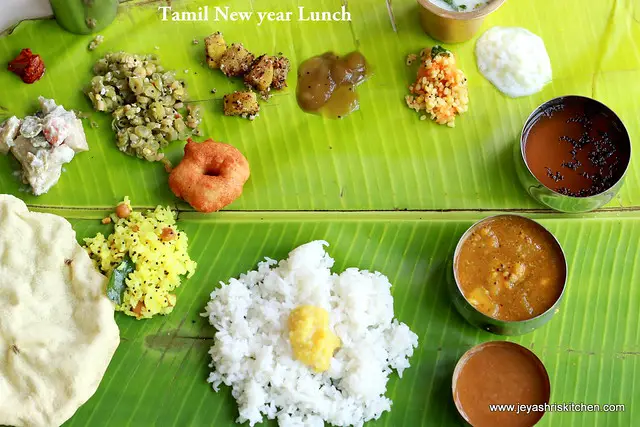 You can add poli, vazhakkai chips, tomato sweet pachadi in the menu. Puliyodarai or coconut rice can be replaced for lemon rice.
Wishing you all a very happy Tamil new year.