Aadi 18 2015| aadi perukku | 18 aam per|
is celeberated tomorrow (august 3) . Generally variety rice is prepared on this day. The word "perukku"means flourish , so whatever new thing you start in this day it will multiply. Generally, farmers sow seeds on this day. When we were kids we used to wear new dress for this aadi perukku. Amma used to buy something in gold on this day. But i won't say this tradition is followed in all houses. Mainly in our relatives houses i have seen them making them variety rice only. After i got married, in my in laws house, they are not much fond of variety rice and so for this aadi perukku just a
paruppu payasam
will be made along with usual lunch menu.
When i was pregnant with my younger one, my perimma who lives in Trichy, visited my mama's house in chennai. During that time aadi 18 was there and my perimma invited me for lunch . Even after 10 years, i could recall the items she cooked and the taste of all the dishes was awesome. So i thought, i will post a cooking for guest series with a South Indian aadi 18 lunch.
Check out my complete list of
aadi festival recipes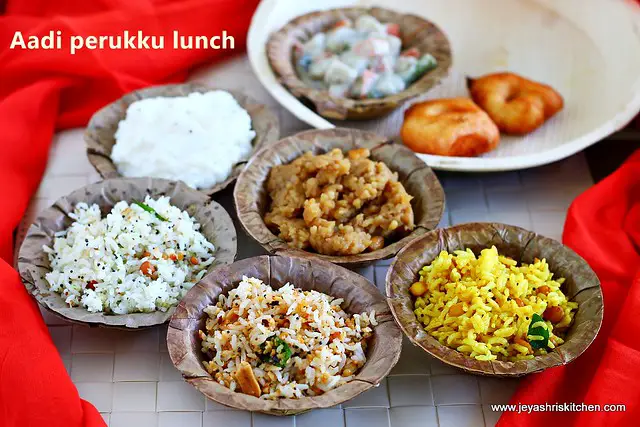 The menu includes,
For this menu, nothing needs to be super hot while serving except the vadais. So to make this lunch menu, cook rice in the morning and spread it on a wide plate for puliyodarai, thengai sadam, and peanut rice. For curd rice mash the rice and keep.
Soak urad dal for vadai for an hour.
Keep the pulikaichal ready before the day itself.
While the urad is getting soaked chop the veggies for aviyal and in a separate cooker keep the rice and moong dal for sakkarai pongal.
Make the aviyal and while the veggies are cooking grind the urad dal for vada. Keep the batter in the refrigerator. Do not add salt.
Grind the coconut mixture for aviyal and finish making it and keep it aside. Now start seasoning for peanut rice, curd rice, and peanut rice. Mix the pulikaichal for puliyodarai.
Now all the rice varieties are ready. Keep the curd rice in the refrigerator.
Keep the jaggery in a pan and start making sakkarai pongal.
If planning to fry appalam, do it just before making vadais.
Before you serve lunch, start making vadais.
The entire process is so easy to make. Today I made this spread for our lunch.
Also check out other no onion garlic rice varieties for aadi 18