KACHORIS STUFFED WITH MOTH DAL.
  Two years back when my neighbour called us for dinner, she made these kachoris and that was extremely awesome. After that i tried that once, but that doesn't turn out so well and i couldn't get the texture  and crispiness. Then after 2 years i tried out this  and that turned out real yum and so crispy.
I used MOTH DAL for stuffing . You can also make Kachori with moong dal stuffing and peas kachori. 
The key for this recipe is making the stuffing very dry and frying the kachoris in the oil.

Kachori
  Preparation Time : 15 mins+ 30 mins standing time | Cooking Time : 25 Mins |Yields: 10
     Moth dal   1/2 cup
     Maida | all purpose flour   2 cups
     Rava |sooji  1 tblsp
     Oil    1 tblsp (for kneading the dough)
     Salt  to taste
     Red chili powder   1 tsp
     Coriander powder  1/2 tsp
Garam masala   1/4 tsp
Amchoor powder   1/4 tsp
Oil   for deep frying
Method:
Pressure cook the dal for 3 whistles. Take care not to over cook and do not add more water while cooking it.
Here is the pic of moth dal. Sieve the maida and add rava, salt and oil .
Mix it nicely.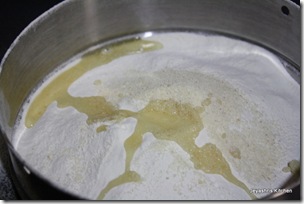 Knead it into a soft dough and cover it with a wet cloth and set aside for half an hour.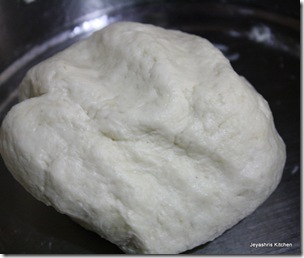 Take the cooked dal now and drain excess water if any.
Saute it in a kadai and add the chilli powder,coriander powder,amchoor powder ,garam masala and salt.
Saute it in a medium low flame till it becomes totally dry.
Now take out the dough and divide it into 12 equal sizes.
Take out a ball.
Roll into a small poori and keep a tblsp of filling in the center.
Close it carefully and take out the extra dough.
Keep it aside.
Do it for the rest of the dough.
Now gently make it into flat poori by using your palm.
If you are using rolling pins be careful, not to make any holes in the poori
It will not come up if there it gets a little  hole.
Repeat the same procedure for the rest of the stuffed balls.
Heat the oil and check whether it is in a right heat.
To check whether it is in a right heat, put a pinch of dough in oil it should come up slowly.
If it doesnt come up the oil is yet to be heated .
Put the kachoris in the oil , you can put 2-3  at a time, depending on the size of the kadai.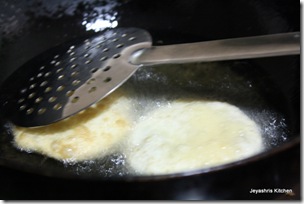 Drain it in a kitchen towel.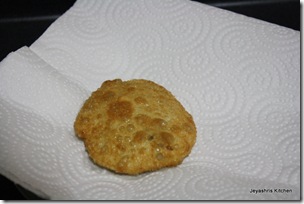 I cooked more of moth dal and made a gravy with that in the same way as i did for Green Moong dal.
Enjoy the crisp kachori with the gravy as my neighbor served for me.