Cooking mushrooms is a new addition in my kitchen as i have never attempted to cook any gravy with mushroom or include in any rice variety. Since kids doesn't eat mushrooms, even on the pizza topping, i am bit hesitant to try out Mushroom Recipes. But i was getting requests from readers for posting mushroom recipes. So finally i bought a small box of button mushrooms and thank you Nags for helping me out in choosing the variety of mushroom. But to my great surprise, kids loved this Kadai mushroom and i am making this the third time in the last one month. Check out my mushroom masala, mushroom pulao and mushroom soup recipe.

Kadai Mushroom
  Preparation Time : 15 mins | Cooking Time : 25 Mins |Serves: 3-4
     White button Mushrooms    300 gms (10 pieces approx)
     Capsicum |bell pepper      1/2
     Onion     2
     Tomato    2
     Coriander powder   1 tsp
     Red chili powder    1 tsp
     Cumin powder    1/2 tsp
     Ginger garlic paste     1/2 tsp  
     Oil   1 tblsp
     Garam masala    1/4 tsp
     Kasoori Methi    2 pinches 
     Salt   as needed 
                                             Video of Kadai maushroom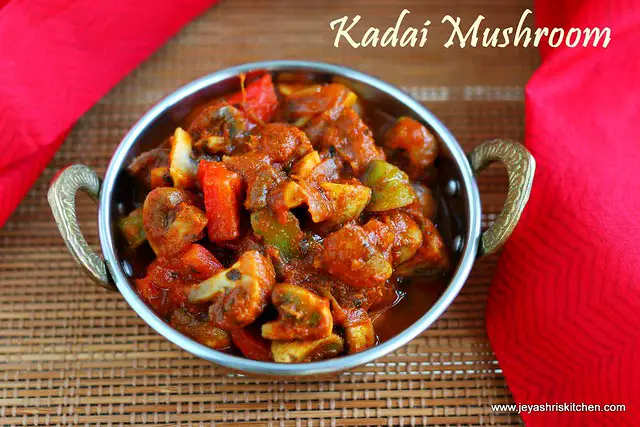 Method:
Wash and chop the mushrooms. While washing the mushrroms, run them in cold water and wash nicely with hands to remove dirt if any on the top.
Chop the mushrooms into cubes. Chop the capsicum into cubes.

In a pan add oil,and add the ginger garlic paste and add when the raw smell goes add the cubed onions.

Puree the tomatoes and add to the pan once the onions become translucent.
Add the red chilli powder, coriander powder, cumin seed and garam masala.

Cook till the raw smell of the masala goes.

Add the mushrooms  to this.
Add water to this ( 1/2 cup of water is enough) and cover it for 2 minutes.
Open the lid and let it cook in a low flame for 5-7 minutes.
Add kasoori methi to this.

Add capsicum to this and cook for 2 minutes.

Switch off the flame . The gravy will be semi dry.
Serve hot with Rotis or Jeera Rice.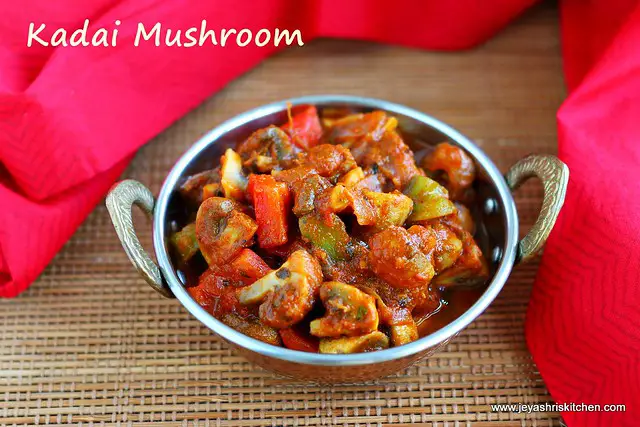 Normally for any Kadai recipe, coriander seeds  will be coarsely pound and added. /since we doesn't like the taste of coriander seeds, i didn't add.