Paneer do pyaza  is a restaurant style paneer recipe and the recipe calls for more onions and less tomatoes unlike the usual tomato based paneer recipes. When i recently visited a restaurant here i saw the name Paneer do pyaza in the menu card, though i didn't try on that day but noted down the name and searched in net, and finally landed in Vah chef's video which was truly awesome and tempted me to try out this one soon. I tried this twice but couldn't get the clicks better as i expected. But still i don't want postpone as i want to finish off posts which are lying on my drafts first and wanted to move on. So let me share the recipe of how to make Paneer do pyaza which i learnt from
Vah chef's video
.
Check out my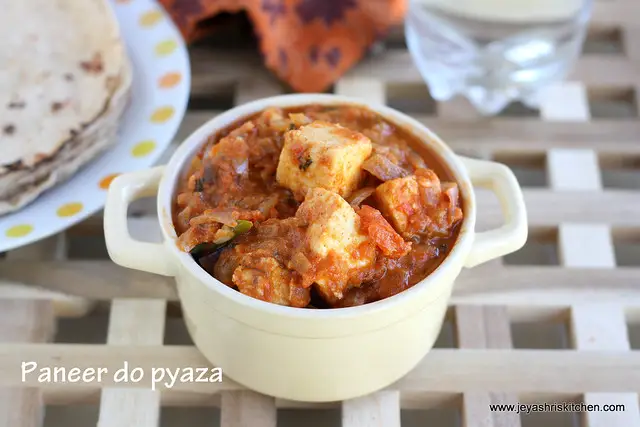 Paneer do pyaza recipe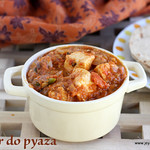 Recipe Cuisine: Indian|  Recipe Category: Lunch | Dinner
Prep Time: 15 mins   |  Cook time: 30 mins |  serves: 4 | Author: Jeyashri
Paneer do pyaza is a restaurant style paneer recipe and the recipe calls for more onions and less tomatoes unlike the usual tomato based paneer recipes.
    Onion  4 + 1
    Tomato 1
    Paneer cubes  1 cup
    Green chili  1
    Red chili powder  1 tsp
    Coriander powder  1 tsp
    Cumin powder 1/2 tsp
    Turmeric powder  1/4 tsp
    Garam masala  1/2 tsp
    Kasoori methi  2 pinches
    Oil  1 tblsp
    Salt  to taste
    Cumin seeds  1/2 tsp
    Cashew nuts  7-8    

Method with step by step pictures:
Chop 4 onions  finely and add oil in a pan.
Add cumin seeds and add the finely chopped onions.
slit the green chilli and add it to the onions.
Add salt and turmeric powder.
Saute till the onions become translucent.
Add the coriander powder, red chilli powder, garam masala and cumin powder.
Saute till the raw smell of the powder goes off.
Add little water(1/2 cup approx.) and cook for few minutes.
grind the tomatoes and capsicum into a fine paste and add it to the onion masala.
Let it cook for some time , now add the 1 onion which we have (see the ingredient list), chop it into cubes and add it to the masala.
add little water and add the paneer cubes.
If you want you can shallow fry the paneer cubes too.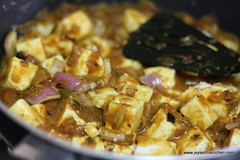 Add crushed kasoori methi leaves.
Add 1/4 cup of water and adjust the consistency.
Dry roast the cashew nuts for few minutes and coarsely powder them using a mortar and pestle.
Add it to the gravy and switch off the flame.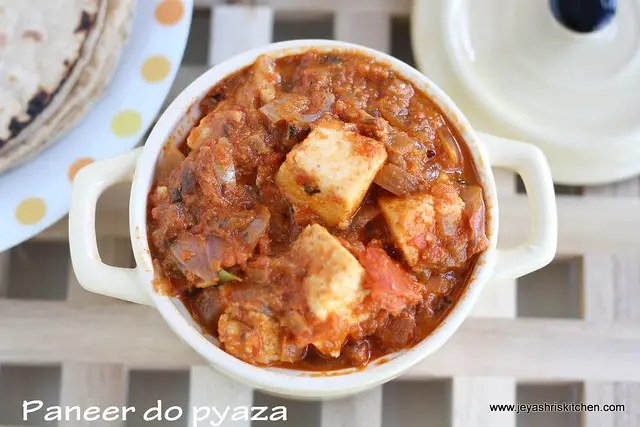 Note:
The color of the gravy depends upon the color of capsicum you use.
Paneer cubes can be deep fried or shallow fried and added.
I added as it is and it tasted yum too.
you can add ginger garlic paste too, after adding onions in the beginning of making the paneer do pyaza.