Generally, Kaju katli we make during Diwali time as it is one a must recipe for diwali at my in laws place. But my mil makes in a different way which i have posted already as
Kaju coconut burfi
. I tried this version of Kaju katli 3 years back when i learned from my cousin. This method is extremely easy and doesn't involve much of ghee as we use for other sweets and also it is mild in sweetness too.
Yesterday was my son Varun's bithday and i asked what to make for his birthday . He is not a big fan of cake or sweets or ice creams and he told me to make the "diamond shaped sweet". so i made Kaju katli and he loved it too. Over to the recipe of Kaju katli now: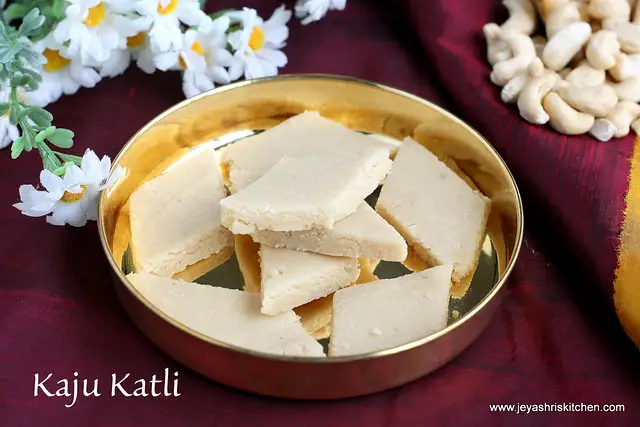 This recipe i got from my cousin and followed few tips from
Lavi's blog
also.
INGREDIENTS:  (MAKES 12-13 –PIECES)
| | |
| --- | --- |
| CASHEW NUT | 1 CUP |
| SUGAR | 1/2 CUP |
| WATER | 4-5 TBLSP |
| GHEE | 1 TSP |
| MILK | 1 TBLSP |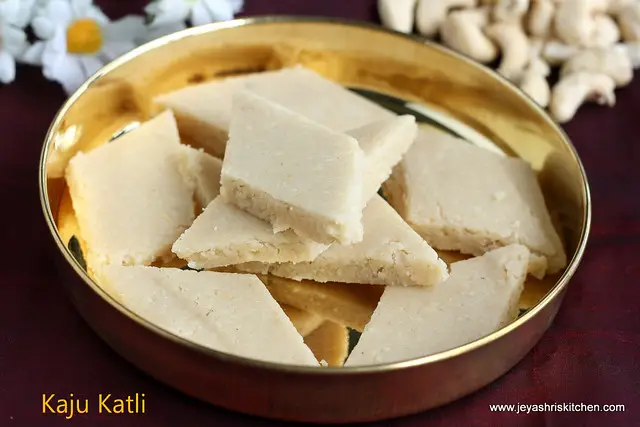 METHOD:
Before starting the process keep the cashew nuts out from the refrigerator and pat dry it and bring it to normal room temperature. It should not contain any moisture while grinding else it will become soggy and not into a powder..
Grind the cashew into a fine powder , please ensure that the mixie should be dry.
Do not over do as the cashew nuts will start emitting oil and the powder will become soggy.
Take 1/2 cup of sugar and melt this in a wide pan with just 5-6 tblsp of water.
Do not add more water.
Heat till the sugar gets dissolved stirring in between.
Once sugar gets dissolved stop stirring and boil till this reach one string consistency.
You can check the one thread  consistency of the syrup between the thumb and the index finger. This step is important.
Once the consistency is reached you can add the cashew nut powder and start stirring it in a low flame. Keep doing till it reaches a soft dough consistency. Over doing this will result in hard burfis.
When done transfer it to a plate and when it is warm grease your hands and start kneading it into a  soft dough. I sprinkled little milk as my was bit dry. but my cousin told generally by practise we will come to know the right stage and adding of more milk also reduces the shelf life of the burfis.
Once done, transfer it to a wide greased plate and start rolling it thinly with a rolling pin. Cut them into diamonds and the kaju katlis are ready to eat now.
My son loved this and he had a very nice birthday with his friends.