Gooseberry pickle | Amla pickle
Pickles are usually a rare one which I make at home. When I was in India, I used to make a variety of pickles but after coming here to Singapore I generally make few varieties only and especially the Raw mango pickle, which Varsha loves the most. A few days back, when I met a friend in kids school, she wanted me to post the recipe for Gooseberry pickle (amla Pickle) I promised her that I will post it soon. The very next day another friend of mine happened to go to the Indian market and bought me these gooseberries and finally, i made the nellikai oorugai (Gooseberry pickle) When I called up my mom to ask for the recipe, she was busy that time and she told everything in a hurry. So I just followed her method and somehow made the gooseberry pickle, and it came out very well. I didn't get the bright red color of the pickle as the reason being my chili powder was slightly old and the color was not there and also since I grind the mustard seeds the dark color dominated a little.  Here is the recipe for Gooseberry pickle: INGREDIENTS:
| | |
| --- | --- |
| GOOSEBERRY(BIG) | 10 |
| METHI SEEDS (VENDAYAM) | 2 TSP |
| RED CHILLI POWDER | 5 TSP |
| SALT | AS NEEDED |
| ASAFOETIDA | 1/2 TSP |
| MUSTARD SEEDS | 1 TSP + 1/2 TSP |
| SESAME OIL | 1/4 CUP |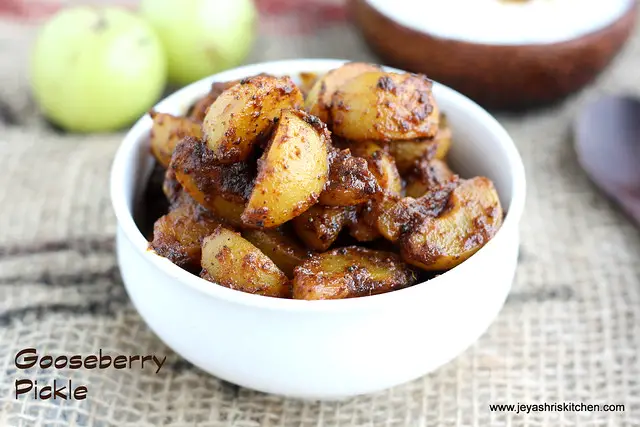 METHOD:
Wash the gooseberries and pat dry them. In a wide pan, boil water and add in the gooseberries. Add salt and turmeric powder to this and boil for some time (10 mins) till the gooseberries become soft. [ i didn't add salt and turmeric and later tasting the pickle i felt i should have added it while boiling – This is to get the salt infused into the gooseberries) Do not over cook, check with a fork to see whether it is soft or not.
Drain the water completely and take out the seeds from the gooseberries.Since it is cooked it is easy for you to take it out.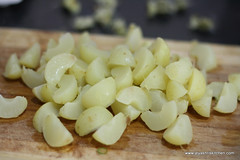 Dry roast the mustard seeds and methi seeds. When cool grind this into a powder and keep it aside.
In a pan add sesame oil and add the 1/2 tsp of mustard seeds and asafoetida.
When it splutters add the ground mustard seeds and methi seed powder.( the powder won't be very fine as it is small in quantity)
Add the red chilli powder ,turmeric powder and salt. Saute in a low flame for few minutes and add in the cooked gooseberries.
Mix them nicely for and let it be in the pan for a 5 minutes in a medium low flame.
Switch off the flame and allow it to completely cool.
Transfer this to an airtight container. Always handle with clean dry spoon.
Enjoy with curd rice.        
Note:
Always cook the gooseberries with salt and turmeric powder.
I felt mine was slightly undercooked so you can cook it little extra to get the gooseberries soft in the pickle.
Add sesame oil as mentioned.