Maharastrian snack- Tea time snack- no onion no garlic recipe
 Kothimbir vadi | kothimir vadi is a Maharastrian snack. It is similar to the
muthia recipe 
but it is steamed and deep fried. But you can pan fry it with little oil too. I wanted to give this for the no onion no garlic recipe supplement book which I have given for Kungumam thozi last year, but last minute i don't have time to make this. But I have this in my list to try. Few weeks back when I visited my Maharastrian friends for Ganesha chathurthi, while talking about food they were mentioning about kothimbir vadi. Though i roughly know the idea of how to make this recipe, but the inputs from all them were very useful. So finally I made this 2 days back at home and we all liked it very much. Check out my other
no onion no garlic recipes
Kothimbir Vadi
  Preparation Time : 10 mins | Cooking Time : 30 Mins |Serves: 2-3
     Besan| Kadalaimaavu     1/2 cup
     Coriander leaves          1/2 cup (finely chopped)
     Green chili    1
     Ginger    a small piece
     Red chili powder     1 tsp
     Rice flour     1 tblsp
     Peanuts     1 tblsp (optional but recommended)
     White sesame seeds   1 tsp
     Cooking soda    a pinch
     Salt   as needed
     Lemon juice    1/2 tsp
     Turmeric powder    1/4 tsp
     Oil     2 tblsp
     Mustard seeds    1/4 tsp
     Asafoetida    2 pinches
     Grated coconut    1 tblsp (to garnish)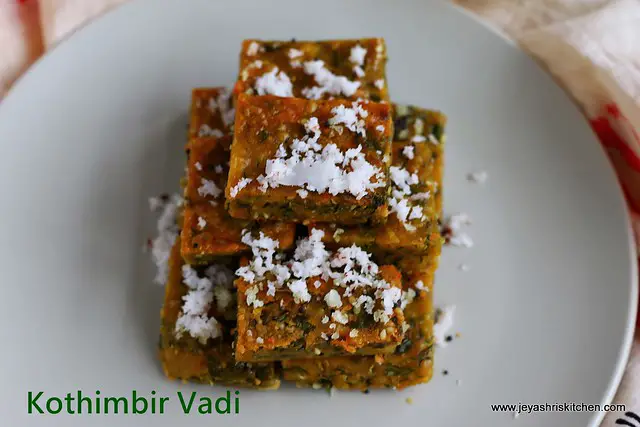 Method:
Make a paste of ginger and green chili using a mortar and pestel. Else you can grate the ginger and finely chop the green chilli too.

Roast the peanuts and take out the skin and coarsely powder it in a mixie. I used the store bought roasted peanuts.

In a wide bowl add the besan, coriander leaves,rice flour,ginger chili paste, peanut powder, sesame seeds(no need to roast), red chili powder, turmeric powder, salt and baking soda.
Mix the ingredients well.

Add water to make this into a thick batter.
It took 1/2 cup water for me to reach the right consistency. It depends upon the texture of the flour. So adjust accordingly. Let the consistency be like a idli batter.
Grease a shallow plate and pour the batter to this.

Steam this in a idli maker or u can use a pressure cooker too. If using pressure cooker do not put the weight.
I put water inside the idli pan and put a vessel filled with water and on the top of the vessel i kept the plate. Cover it and let it steam for 15-20 minutes.

Once it is done allow it to cool and cut them into squares or diamonds.


Now you can either deep fry this as it is done traditionally or you can pan fry it.
Heat oil in a flat non stick pan and put the mustard seeds to this. Add asafoetida to this. When the mustard splutters, lower the flame and add place the cut squares on the pan.

When one side become golden brown,flip on to the next side.

When both sides become golden brown colour, switch off the flame. Sprinkle some freshly scrapped coconut.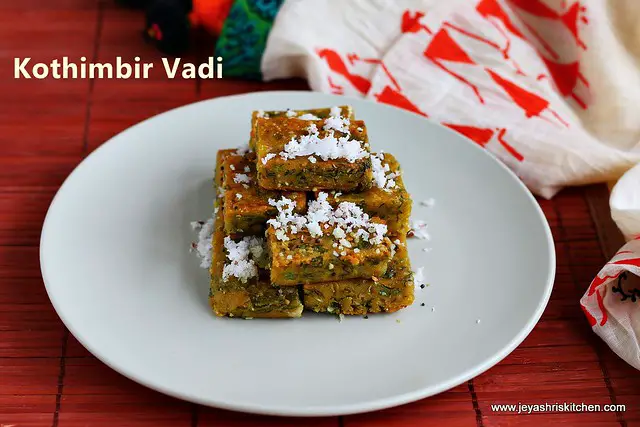 Notes:
Instead of steaming you can microwave the batter for 3-4 minutes  and then proceed with the other steps.
You can cook it on a pan too instead of steaming or microwave. But this will involve continuous stirring.
You can add garlic paste and 2 pinches of garam masala to the batter, if needed.