No onion no garlic recipes
Dahi bhalla chaat
is always a super hit at my house. But making vadai is a slightly lengthy process and needs planning too. But you can make a super chaat with bread too. As i mentioned in my earlier post i will be posting
No onion no garlic recipes
for the next 1 month. From today the Mahalaya Paksham starts and after 15 days Navaratri will begin. So many people will refrain from using onion and garlic in their food. Also i have lot of request form my friends and readers to post some interesting no onion no garlic recipes. I have few collections which are yet to be posted here, the recipes which i gave for Kungumam Thozi last year. This bread chaat i gave for the magazine and posting it here now. Do try it at home and let me know how they turned out.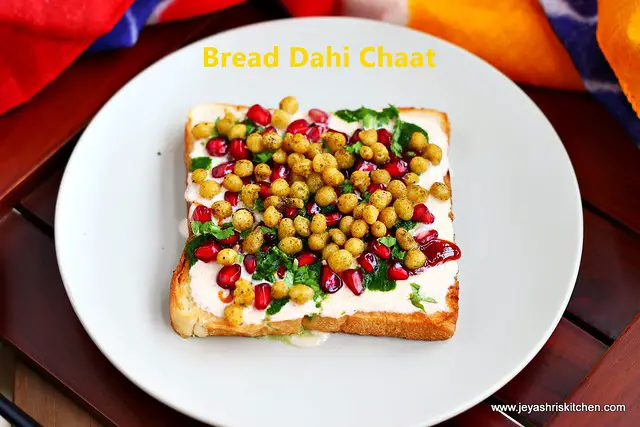 Dahi Bread chaat
  Preparation Time : 5 mins | Cooking Time : 5 Mins |Serves: 3
     Bread Slices     6
     Butter | Ghee   to toast the bread (optional)
     Yogurt     1 cup
     Jeera powder   1/2 tsp
     Chaat masala    2 pinches
     Red chili  powder   1/2 tsp
     Salt   as needed
     Green Chutney     to taste
     Sweet Chutney     to taste 
     Pomegranate    few (to garnish)
     Coriander leaves   few (to garnish)
     Sev| boondi     few (to garnish)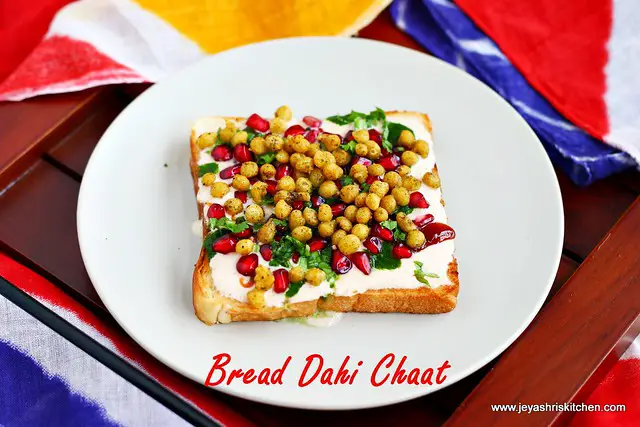 Method:
In a bowl add the yogurt and add the red chili powder, chaat masala, jeera powder and salt. Whisk this well and keep it chilled.

Toast the bread in a tawa, with butter or ghee. Alternatively you can toast this in a toaster too. Or you can keep the bread in a microwave for 2 minutes too.

In a plate arrange the bread slice. Keep one slice in a plate. If you want you can cut the bread into triangles and keep it  on the plate. Add few spoons of yogurt mixture to this. Do not add much, just cover the entire top portion.
Add little sweet chutney to this. Just add it here and there using a spoon.

Add some green chutney to this. Add some pomegranate seeds to this.

Add finely chopped coriander leaves and sprinkle sev or boondi to this.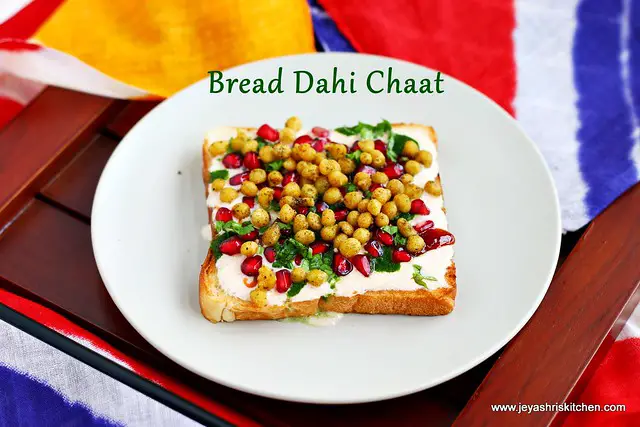 Notes:
You can cut the bread into small pieces and also make the dahi bread chaat.
Even you can keep plain bread croutons ready at home and make this bread chaat anytime.
You can add few slices of potato to the chaat.
If adding add it to the yogurt mixture.