I have tried few dishes with Oats but never thought we can make a Chaat with oats. When i went to book shop in Chennai, during my trip last time, kids were totally busy in filling the basket. I am not an avid reader, and i just sat in a place with a cookery book in hand and started just going through the book. I was so tired after roaming around in the mall for few hours. So without must interest just to spend time i was going the book. Suddenly this name Oats chaat caught my eyes and it sounded very new and interesting to me. So i just noted the name of the recipe in my mobile notepad. Finally tried this Oats chaat yesterday and it was very nice  and quite filling too. I took this for lunch and i stayed energetic till 5 pm. Stay tuned for more interesting Oats recipes coming up next week.
Feel free to adjust the quantities as per your taste.
Check out my Other Oats recipes:
Ingredients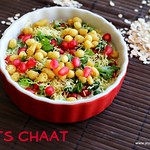 Preparation Time
: 10
 mins
|
Cooking Time
:Nil|
Serves
:1
Quick cooking Oats   1/4 cup
 Green chutney
    1/4 tsp
Sweet chutney
  1/4 tsp
Yogurt | curd       3 tblsp
Pomegranate      1 tblsp
Chaat masala    1/4 tsp
Jeera powder    2 pinches
Sev    as needed(optional)
Boondi   As needed (optional)
Salt      To taste
Cucumber   little (optional)
Coriander leaves   few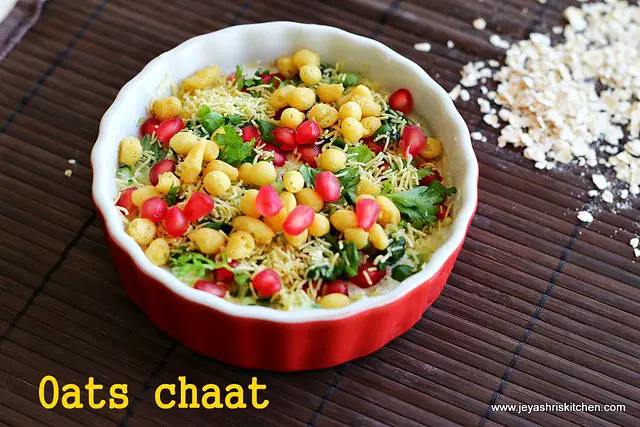 Method:
Dry roast the Oats in a pan in a low flame for 5 minutes . Take care not to get this burnt.
Allow this to cool completely.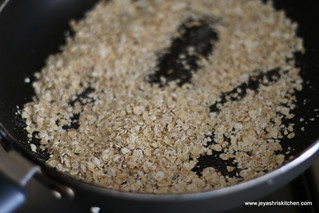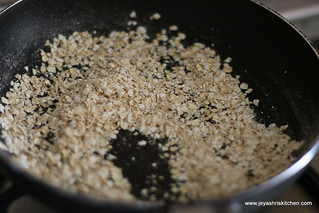 In a vessel, add the yogurt and add the chaat masala, jeera powder and mix well.
Add the sweet chutney and green chutney.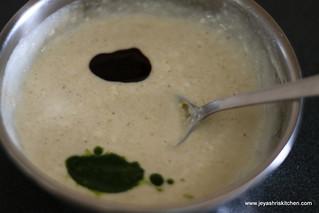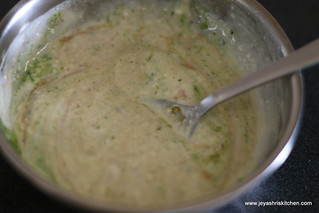 Add this to the roasted oats. Mix well.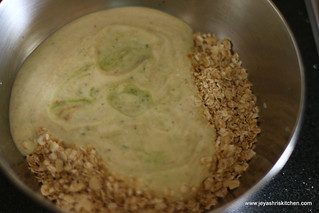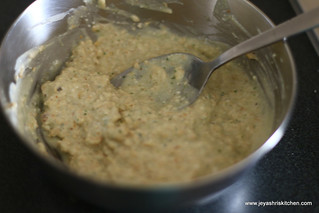 Add the chopped cucumber and pomegranate. Add the coriander leaves, sev and boondi.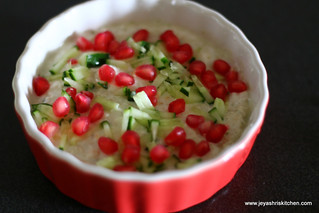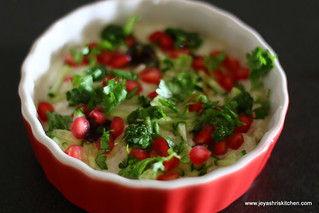 Sprinkle some chutney on the top if you want. Eat as it is.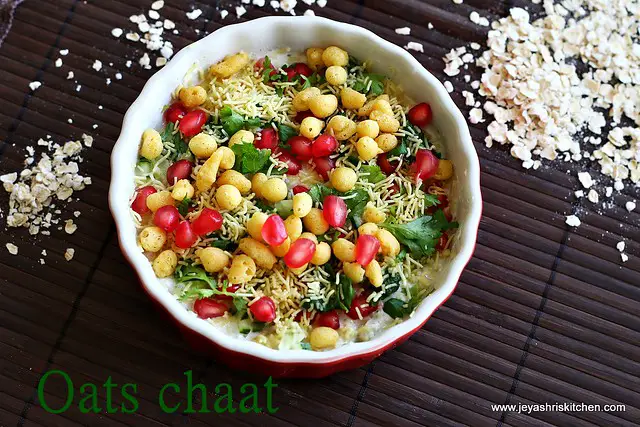 Note:
You can add some chopped apples also .
Tomatoes can also be added.
No need to cook the Oats.