Pindi chole | Pindi chana is a popular one in Punjabi cuisine generally served with bhatura or Kulchas or pooris. When i came to Singapore 8 years back, i bought a ready to eat pindi chole masala of some popular brand. And it tasted horrible and i discarded it immediately after the first bite. Later after many years, i tried this at home but still not convinced by the output. Last week when i was again browsing for pindi chole recipes, got hooked up with this recipe by Vah chef and tried at home yesterday. It was a huge hit recipe at home. It tasted like the pindi chole which is served in restaurants. Will post the recipe of bhatura soon. Check out my
Pindi Chole recipe
Preparation Time : 20 mins+ soaking time 10 hours | Cooking Time : 35 Mins |Serves: 5
Chickpeas| Chole 1 and 1/4 cup
Tea bag 1
Ginger garlic paste 1 tsp
Onion 2
Tomato 1/2
Red chili powder 1/2 tsp
Salt as needed
Asafoetida a pinch
Turmeric powder 1/4 tsp
Kasoori methi 2 pinches
Black salt 1/4 tsp
Coriander leaves few
Oil 2 tblsp
Jaggery a small piece
Amchoor powder 1 tsp
To roast and powder
Coriander seeds 1 tsp
Cardamom 2
Cloves 2
Mace 1
Fennel seeds 1/2 tsp
Anardana seeds |powder 2 tsp
Cumin seeds 1/2 tsp
Black pepper 1/4 tsp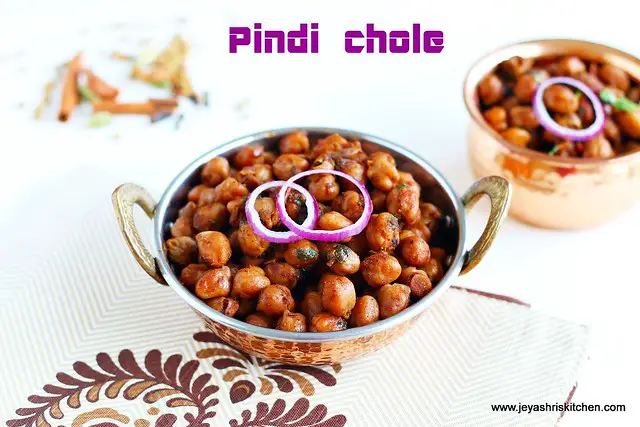 Method:
Soak the chickpeas| kabuli channa for 10 hours preferably overnight.
Add salt, turmeric powder,tea bag to this and pressure cook this till 6-7 whistles.
If you don't have tea bag, take a muslin cloth and add 2 tblsp of tea powder to this and tie it tightly and put it inside the chickpeas and cook.
Tea leaves gives the nice dark colour to the chole.

Roast the ingredients given under the table to roast and grind . I didn't have anardana seeds, so i used the ananrdana powder which was bit coarse.

Grind this into a fine powder.

Finely chop the onions and tomato.
In a pan add oil and add in the ginger garlic paste and once the raw smell goes off add the onions.
Saute this for a while till they turn nice golden brown.
Add the chopped tomatoes.

When the tomatoes turns mushy add the red chili powder and little salt.
Add the ground masala too. If you don't have whole spices and want to skip the roasting and grinding part, you can add store bought chana masala powder too. But the flavour will be too nice when you add fresh ground masala.

Cook this for some time and add the cooked chole to this. Add black salt and amchoor powder to this. Check for salt. Boil this for sometime.
Add kasoori methi and coriander leaves. I forgot to add kasoori methi and added later. So you couldn't find that in the picture.
Mix well, add the jaggery and boil this for 2 minutes. This recipe generally has less gravy when compared to regular channa masala.

Pindi chole is ready to serve.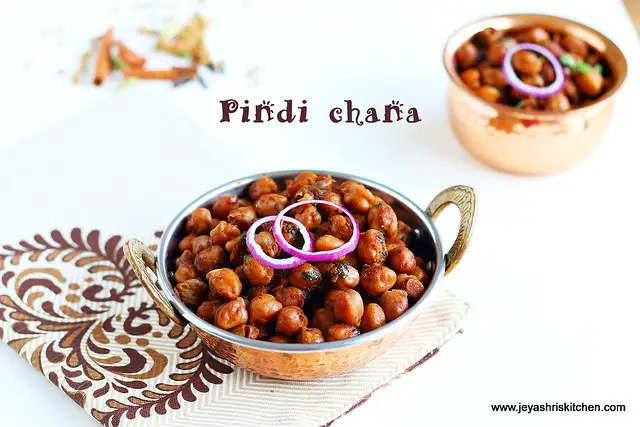 Notes:
Always cook the chana till it becomes soft.
You can add 1 or 2 green chilies while adding ginger garlic paste.
In the original recipe he mentioned to add chopped mint leaves in the last. I didn't have mint leaves with me so i didn't add.
Instead of amchoor powder you can add 1/4 cup of thick tamarind extract.