Potato Kurma is an easy and delicious side dish. I have given this recipe in Aval Vikatan supplement in August 2014. This can be had with poori, chapathi and also for biryanis too. I want to post all the recipes i have posted in the supplement books so far, here. Since many of my non tamil readers are asking me to post them, i will be posting them here one by one every week. This restaurant syle potato kurma recipe is a must one to try, also potatoes can be replaced by mixed vegetables too.
  Check out my other kurma recipes:
Potato kurma
  Preparation Time : 10 mins | Cooking Time : 20 Mins |Serves: 3-4
    Potato          2
    Onion      2
    Tomato      1
    Green chili    1
    Coconut  grated   1 tblsp
    Cashew nuts    4-5
    Salt    to taste
    Kalpaasi | stone flower    a small piece
    Bay leaf    1
    Corinader leaves   few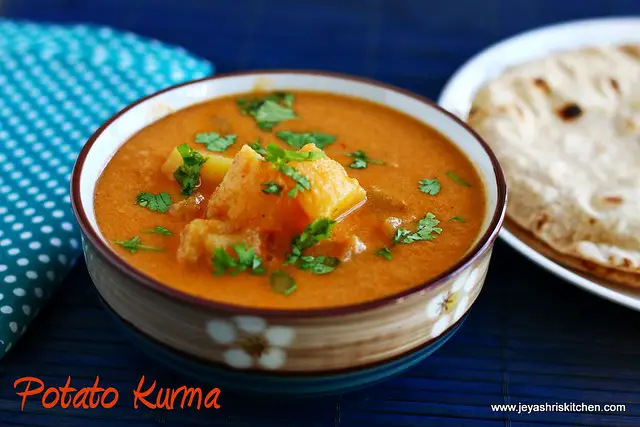 Method:
In a pan add oil and add the roughly chopped onion and tomato, add in the green chili.
Once it is cool add the coconut and cashew and grind this into a fine paste.

Chop the other onion into long thin slices. Cut the potatoes into cubes.
In a pressure cooker add oil and add the bay leaf and stone flower(kalpaasi)
Add in the sliced onions.

When the onions turn translucent add the potatoes. Saute for a minute.
Add in the  ground paste.

Add 1 cup of water and salt. Cover the cooker with lid and pressure cook for 2 whistles.

If the gravy is too thin mash 2 potatoes and give it a boil.
If it is thick add little water and bring it to boil.
Notes:
Instead of tomato, you can add 2 tblsp of thick yogurt too. If adding yogurt add while adding the ground paste.
Stone flower|kalpaasi brings out the true flavour of restaurant style kurma.